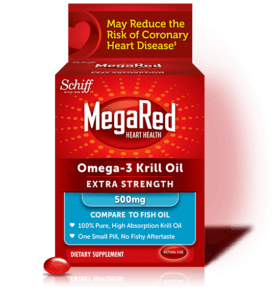 Why is it that so few diet products are backed by science? Let's find out if Mega Red Krill Oil is one of the good ones. We looked at the side effects, ingredients, clinical studies, and customer service. Then, we looked closely at comments and reviews from actual users to make sure you got the bottom line.
What is Mega Red Krill Oil?
To begin with, Mega Red Krill Oil is a fish oil supplement. The ingredients include Krill Oil 300 mg, Omega-3 Fatty Acids 90 mg, EPA (eicosapentaenoic acid) 45 mg, DHA (docosahexaenoic acid) 27 mg.
Mega Red Krill Oil is made by Schiff, a developer of nutritional supplements. The company has been in business for more than 70 years, and creates a variety of vitamins. They are part of Schiff Nutrition Group, based in Salt Lake City. We like the longevity and the number of product options, but read on…
Health Risks – "Watch Out"
Our first concern is for those with shellfish allergies, or people who taking anticoagulants. "The krill oil comes from a shellfish, which can pose issues for those with allergies. Because it can help heart health, there could be issues for those on certain medications. Talk to your doctor first," said our Research Editor.
"My doctor cautioned me against this because of the krill oil," said one user.
"I'm on too many medications to safely use this product," said another.
There were many users who had good experiences.
"We have taken these for many many years. Helps us with our joint aches. If we miss a few, the aches come back. Helps with dry skin too. I can always tell when I haven't taking these when my skin gets dry and my joints ache. Also, my blood cholesterol levels are always excellent," exclaimed one dieter.
"I love this stuff… no fishy burps," said another.
Scroll below for one of the best products we've seen over the last year.
Side Effects – "Yuck"
Our next concern is multiple reports of side effects, such as stomach issues and fishy burps.
"Well, it is not easy on the stomach, in my opinion, and I start burping it almost immediately. The smell coming out of the container is awful too. Will definitely not buy again for those reasons," said a disappointed shopper.
"They made me feel nauseous and gave me horrible heartburn and indigestion," according to one review.
Fortunately, not everyone experienced these side effects.
A happy reviewer claimed, "No side effects whatsoever, but I kept my dose low and gradually increased it until I found what I could tolerate."
"This stuff works great and my doctor is impressed with my health numbers now," agreed another.
Over the years, we've learned that a small thing can send customers looking for alternative products. Issues like allergy concerns and side effects turn them away in search of something that works better to meet their needs. If Mega Red Krill Oil comes with a risk of issues like this, it could be a problem.
The Science – "Validated?"
Fish oil has been proven to help with heart issues, but has only spotty evidence to support it as a valid weight-loss product. It is not a fat burner or an appetite suppressant, so any change in weight is likely a result of including it in your overall nutritional improvements. At DietSpotlight, we want to see science before we can recommend any product. You can get basic fish oil at this dose for much cheaper in other brands.
The Bottom Line – Does Mega Red Krill Oil Work?
Should I race out for a bottle of Mega Red Krill Oil? If you're looking for a supplement to better improve your health, this could work, but if you're looking to lose weight, it may not pack the punch you're looking for. That's why we're hesitant to make a recommendation.
If you're ready to lose weight, we suggest using a supplement that contains clinically tested safe and effective weight-loss ingredients known to help support a healthy metabolism. It should be free of allergens and come supported with positive customer reviews.
Among the best products we've seen in 2016 is Leptigen. It's made using only clinically tested ingredients shown to help fight hunger, boost metabolism and promote fat loss. We didn't find any negative reviews, but we did find some amazing testimonials.
Plus, all customers can take advantage of a Special Trial Offer, directly from the makers of Leptigen. We love to see this kind of thing.