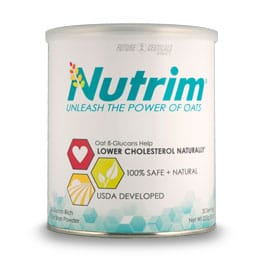 We're hearing a lot of buzz about Nutrim, which provides as much fiber as two cups of oatmeal, so naturally we were intrigued. Our in-depth review focused on the ingredients, side effects, customer service and research behind it. Additionally, we read hundreds of experiences from current and former users. Then, we condensed and summarized to give you with the info you need.
What is Nutrim?
First off, Nutrim is produced by Futureceuticals and is a water-soluble fiber supplement that you mix with your food or drink. Their company claims that this will improve overall digestive health and lower your cholesterol. Nutrim contains as much fiber as two servings of oatmeal and the only ingredient is concentrated whole oat bran. Nutrim is to be taken twice per day, once at breakfast and again at lunch. The canister is easy to take with you anywhere.
Futureceuticals is a family-owned business with roots stretching back into the 1800s. Their background is farming and agriculture, so when it comes to oats, they know what they're doing. Their products are available from their official website, as well as third-party retailers like Amazon. We like the company's history, their solid BBB rating and the affordability, but read on…
Lack of Results – "No Change?"
The first concern we had with this product was that many didn't see a drop in their cholesterol, which is one of the main benefits that the makers claim you'll see. Other customers saw no change in overall health at all. "Nutrim is affordable, but why spend money on something that may not help you? That could put quite a damper on sales," said our Research Editor.
"I took Nutrim for 90 days, and my cholesterol only dropped by 2 points," said one user.
"This stuff works for some people, but I didn't see any change in my cholesterol or overall health from taking Nutrim. I guess it's back to the drawing board," offers another.
Among the disappointed users, there are a few that saw some results. One said, "Seems to do what it claims."
Another shared, "So far, so good."
Scroll below for one of the best products we've seen over the last year.
Nutrim Texture – "Yuck, Ewww!"
Although the company claims that Nutrim doesn't have a taste, there were several complaints about the texture. Because it only contains oat bran, the texture can be a bit difficult to swallow, especially with the bland taste. "There really isn't a taste to Nutrim, which is part of the problem. I struggle to eat bland foods with that kind of texture," said one customer.
"I quickly got tired of the lack of flavor and the unusual texture," said another.
Texture is important as it can affect how often and for how long you use Nutrim. Not all dieters felt it was difficult to swallow. A user claimed, "Tastes great with orange juice."
One person said, "Mixes easily with any liquid."
Our research has indicated that if there is a certain aspect of a weight-loss program that is unusually difficult (painful workout routine, pills with side effects, high priced supplements, bad taste/texture, etc.), the likelihood of seeing permanent results is slim. If Nutrim really does feel weird in the mouth and it's difficult to get down, it could be a problem for those looking for long-term success.
The Science – "Legit?"
Another concern that we had with Nutrim was the lack of science behind their claims. Their label says that it meets the FDA requirements for supporting your heart, but Nutrim itself has never been examined by the FDA. We also were unable to find any research on Nutrim that proved it did help improve overall health. Here at DietSpotlight, we know you work hard for your money, so we want to make sure that we are only recommending products that prove that they're worth spending money on. That's why we emphasize supplements that have unbiased, published data that confirms their claims.
The Bottom Line – Does Nutrim Work?
So, we've come to the end of this one – what's our take? We like that Nutrim is made by a family-owned business that has been around for more than 130 years and that it's an affordable weight-loss product, but we are uncomfortable recommending it as a healthy solution to dieters because of the lack of results and missing clinical studies. We're also concerned about the bland taste and unusual texture that may put off some customers.
If you'd like a supplement that offers you great results at an affordable price, we suggest you go with a product that has a formula with ingredients that are backed by unbiased clinical trials and scientific research.
Among the best products we've seen in 2016 is one called Leptigen. This formula has a proprietary blend of four ingredients, all of which have been reviewed in published research and proven to be effective weight-loss tool by helping speed up metabolism and fat loss. In our studies, we've been unable to find no side effects and customers have seen great results.
Also, Leptigen is currently being made available as part of a Special Trial Offer, which is an encouraging sign that the makers of are confident that it will help you lose weight.