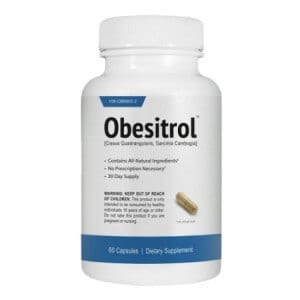 We've heard plenty of discussion pertaining to Obesitrol diet pills, so we created a comprehensive review, looking closely at the ingredients, side effects, customer service and scientific research. Plus we focused on countless user reviews and customer comments from the internet. At last, we compressed the feedback and facts we found in order to give you the info you need.
EDITOR'S TIP:
Substitute Obesitrol with a proven fat burner such as
Leptigen
for better results.
What You Need To Know
Obesitrol is a diet supplement available from NutriPharm. This product contains the following ingredients; Irvingia Gabonensis, Kola Nut, Caffeine Anhydrous, Garcinia Cambogia, Cissus Quadrangularis, Lady's Mantle, Coenzyme Q10, Green Tea, Green Coffee Bean, Olive Leaf, Cumin Seed, Wild Mint Leaf and Oolong Tea. Obesitrol should be taken twice a day (one capsules is a serving). This supplement is supposed to help decrease water retention, promote the breakdown of fat cells, increase energy levels, suppress appetite and boost metabolism.
From what we could tell, Obesitrol was released back in 2013. It is available via the official website for $19.95 (plus 4.95 for shipping and handling). There is no special diet required with this supplement, and a 90-day money-back guarantee is posted on the website, but read on…
Fad Diet Ingredients!
According to our Research Editor, "Obesitrol uses fad weight loss ingredients that have not been proven with clinical studies. These include Garcinia Cambogia, Cissus Quadrangularis, Coenzyme Q10, Wild Mint and Lady's Mantle."
One customer stated, "Did not work at all. No appetite suppressant either."
"Terrible product. It gave me a small of energy, but I wanted to eat everything I could find. Took it for just about a month and gained 5 pounds," said another user.
Scroll below for one of the best products we've seen in 2015.
Too Many Customer Complaints!
There are quite a few negative customer reviews posted on dealer websites like Amazon. In fact, one user said, "Have not noticed a change in my weight at all."
Another dieter commented, "I've been taking it for 2 weeks. I worked out every day and really watched what I ate. I've gained 2 pounds. Worthless stuff. It also got me a bit wired which I could deal with if it actually did anything."
The research we've done has shown if there is one certain facet of a weight loss pill that is especially problematic (too many user complaints, serious side effects, fad diet ingredients) the likelihood of real fat loss for a long period of time is slim. In other words, if Obesitrol uses fad weight loss ingredients and leads to countless customer complaints, this could be a major concern.
The Science
We took a close look at the official website and noticed one "clinical study" regarding Irvingia Gabonensis, but the actual amount required for weight loss is not revealed. Furthermore, the amount of Irvingia Gabonensis used in Obesitrol is not disclosed either. Unfortunately, we at DietSpotlight need to see more concrete clinical evidence that supports the weight loss product.
The Bottom Line
It's nice to see that Obesitrol contains natural plant extracts, but this does not mean it's effective for weight loss. Judging from the customer feedback posted online, we definitely can't recommend this supplement. While we did find three success stories posted on the official website, we found many more negative reviews on sites such as Amazon.
If you would like to shed more excess fat and see better weight loss results, we recommend you choose a diet formula that is backed by clinical trial research, as well as positive customer reviews.
One of the finest diet products we've come across in 2015 is Leptigen. This unique supplement offers a blend of four key ingredients, which have been shown in documented scientific studies to help ignite metabolism and encourage fat loss. Moreover, we were unable to find any complaints concerning harmful adverse effects and customer responses around the web indicate people are seeing solid results.
Also, the makers of Leptigen are so confident in their product they're offering a special trial offer, which is a good sign.