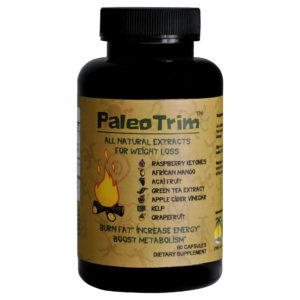 Diet products either work or they don't. Period. Let's find out which one PaleoTrim is. We focused on the side effects, ingredients, clinical research and level of customer care. Additionally, we picked apart hundreds of user remarks and comments. Then, we summarized and condensed to give you the info you need.
What is PaleoTrim?
Firstly, PaleoTrim is advertised as an all-natural weight-loss formula. The ingredients are raspberry ketone, grapefruit powder, apple cider vinegar, kelp, African mango, caffeine anhydrous, greet tea, acai berry and resveratrol. You'll take two capsules per day. Supposedly it helps boost metabolism, increases energy levels and curbs food cravings.
It looks like PaleoTrim has been available since at least 2012 and made by Briland Brands. It's sold on the official website and through trusted retailers. We like that we found some positive customer comments and that it contains a few natural ingredients, but read on…
Fad Ingredients – "A Consideration?"
One concern we have is with PaleoTrim ingredients. "This weight-loss formula contains extracts like raspberry ketone and resveratrol, which have not been proven to aid with weight reduction," reported our Research Editor.
One customer said, "It simply does not work. Took it for three months. Save your money."
Then again, a different user stated, "This product did not help as far as weight-loss goes. But it did give me more energy."
"PaleoTrim is okay. Not sure what I was expecting, but it helps a little. Just be sure to exercise and eat right too," mentioned another.
Scroll below for one of the best products we've seen over the last year.
Minimal Results – "Is PaleoTrim Effective?"
Another issue is the minimal results that some users have reported. In fact, one person posted, "I've been taking this for a month and haven't had any results at all."
But, a different customer said this, "I really haven't had any weight-loss with the product, but it is a good energy booster."
Another revealed, "On the bright side, it helps reduce my appetite. On the downside, I had some PaleoTrim side effects like headache and dizziness."
The research we've conducted has revealed that if there's a specific aspect of a diet product or weight-loss program that's quite burdensome (fad supplement ingredients, minimal results, side effects) the likelihood of long-term success is slim. Therefore if PaleoTrim does in fact fail to produce real fat-loss effects in a lot of people, this could be a real problem.
The Science – "Any?"
Unfortunately we did not pinpoint any clinical studies pertaining to PaleoTrim capsules. However, this diet supplement does contain some green tea and caffeine, which have been shown to boost metabolism. On the other hand, at DietSpotlight we do prefer to see some actual research that supports the weight-loss product we're reviewing.
The Bottom Line – Does PaleoTrim Work?
Okay, now the moment you've been waiting for. Here is our bottom line on PaleoTrim. Firstly, we appreciate that this diet formula contains natural ingredients. We also like that this supplement is easy to use anywhere. However, we have some doubts about this weight-loss product because it's not supported by any clinical studies. Also, we're concerned about the minimal results some customers have reported.
If your main goal is to drop some excess pounds, then we suggest you select a product that is backed by solid research, does not rely on any fad supplement ingredients and is supported by plenty of encouraging user reviews.
Among the best products we've seen in 2016 is one called Leptigen. This supplement uses a blend of four unique ingredients. Some of which have demonstrated in published clinical studies to help spark metabolism and increase fat loss. So far we have not found any discouraging user feedback, and comments around the web indicate people are seeing substantial results.
The makers of Leptigen are so positive about their product they're offering a Special Trial Offer, which is uncommon.