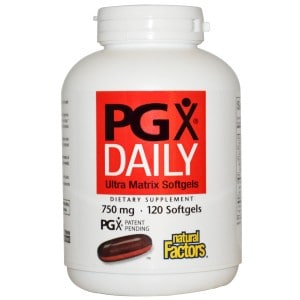 PGX Daily is a diet product I will surely never forget. At DietSpotlight, we did one of our in-depth reviews, looking closely at the side effects, ingredients, customer-service quality and scientific studies. We additionally spent hours reading hundreds of dieter reviews and customer comments from around the internet. Lastly, we condensed everything we discovered about PGX Daily to give you the facts you need.
EDITOR'S TIP:
Combine Pgx Daily with a proven fat burner such as
Leptigen
for better results.
What You Need To Know
PGX Daily is supposed to help reduce appetite, promote healthy blood sugar levels and assist with weight management. This product is available in packets, which are simply added to water. To use this product, you add one packet to eight ounces of cold water or juice and then consume. You can take PGX Daily twice a day. The ingredients found in this diet product are PGX (PolyGlycopleX) 2.5g, Konjac Root, Sodium Alginate and Xanthan Gum. This supplement can be used with any weight loss program. There are also PGX Daily softgels available.
This product has been available since at least 2007. You can buy PGX Daily online for $23.99 (30 sticks/packets). There are some positive comments posted on the web, but read on…
Bad Taste – Can You Handle It?
"Unfortunately many customers have complained about the taste of PGX Daily. This is never a good sign. You need to ask yourself how is the product really going to benefit you if you have difficulty consuming it on a regular basis," says our Research Editor.
According to one customer, "These do not dissolve well at all, and if you mix in water it's like you're drinking water with gelatin chunks in it."
"Didn't like it at all. It was like gel consistency. Awful tasting and won't buy again," commented another user.
Scroll below for one of the best products we've seen over the last year.
Another Concern – Side Effects
Numerous customers have reported side effects from PGX Daily. One user stated, "Followed the directions and it gave me the absolute Worst Gas Ever!!! That's not an exaggeration either, it was horrendous, so I stopped using it!"
Another customer revealed, "SENT ME TO THE DOCTOR. If you tend to be on the constipated side and don't like drinking water, this product is NOT FOR YOU! I drank the recommended amount of water with it and it didn't help. I ended up going to the doctor because of it. Taking this pretty much makes you feel like you have irritable bowel syndrome."
The research we've conducted has shown if there is one facet of a supplement or diet program that is very concerning (a painful/difficult exercise routine, unpleasant taste, too many side effects) the real likelihood of weight loss for the long term is slim. This means if PGX Daily does in fact taste bad to a lot of people, this could be a deal breaker.
Any Actual Science?
It is mentioned online that PGX Daily is clinically proven. However, the details of this "clinical research" are not disclosed. Therefore we cannot state whether or not PGX Daily is actually backed by real science. At DietSpotlight, we need to see published clinical research before we get behind a diet product.
The Bottom Line: Does PGX Daily Work?
So, should you run out and buy PGX Daily? Well, we like PGX Daily's longevity as a product and some positive comments we saw about it online. On the other hand, we are a little concerned because it's not backed by solid science. Moreover, numerous customers have complained about side effects and this product's less-than-savory taste.
If you'd like to shed more pounds of fat, we recommend you go with a product that does not taste bad, contains clinically-proven ingredients and does not lead to any harsh side effects.
Among the best products we've seen in 2015 is one called Leptigen. This product uses a proprietary blend of four ingredients that have been shown in published scientific studies to help improve fat loss and kick-start metabolism. You should know that we can't find any talk of harmful side effects and user feedback around the web shows people are seeing great results.
The makers of Leptigen are so satisfied with their product they're offering a Special Trial Offer, which is a good sign.