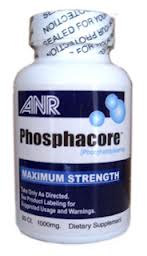 We've heard plenty of discussion about Phosphacore pills for weight loss, so we conducted an in-depth review, scrutinizing the ingredients, side effects, customer care and scientific studies. We additionally scoured the web for all sorts of user comments and customer reviews. Lastly, we summed up all the data we collected to give you the bottom line.
EDITOR'S TIP:
Combine Phosphacore with a proven fat burner such as
Leptigen
for better results.
What You Need To Know
Phosphacore is a weight loss formula created by ANR, LLC. This supplement contains three key ingredients, which include Pharmaceutical-Grade Conjugated Linoleic Acid (CLA), Pharmaceutical-Grade Phosphatidylserine (PS) and Pharmaceutical-Grade Ascorbic Acid (Vitamin C). Put simply, Phosphacore is claimed to get rid of belly fat, target problem areas like cellulite and reveal lean muscle tone. This product is supposed to help you "slash" one inch of belly fat in only 28 days. Furthermore, according to the website, Phosphacore accelerates fat loss by 900 percent. You simply take one capsule 15 minutes before breakfast and lunch.
This weight loss aid has been around since 2010. It can be acquired through the main website for $37 and a 100% money-back guarantee is provided. Furthermore, a couple before and after photos are posted on the website, but read on…
Unproven Ingredients – Not Good
According to our Research Editor, "Phosphacore uses ingredients that are not proven to help with fat loss or weight reduction. CLA, Vitamin C and Phosphatidylserine are not supported by real science. For instance, Phosphatidylserine is used to treat mental decline and Alzheimer's."
According to one user, "Product was a complete joke. Did not do nothing. Not a single ounce lost. Do not waste your money or your time."
Another customer stated, "Have been training hard and using this product and have zero results."
Scroll below for one of the best products we've seen in 2015.
Customer Complaints – Uh Oh
Be sure to see what actual customers are saying about Phosphacore. One user commented, "I have been on Phosphacore for over a month now and have not lost an inch. Am I only supposed to take 2 capsules a day( am) which is what I've doing."
"I too have seen no difference after 30 days," said another dieter.
Our research has proven that if there is one facet of a weight loss pill or diet system that is especially bothersome (a painful/difficult exercise routine, too many user complaints, unproven ingredients) the chances of long-term fat loss are not good. Therefore if Phosphacore does result in a vast number of user complaints, this could be a deal breaker.
The Science
While the key ingredients used in Phosphacore are explained on the official website, we did not find any solid clinical data to support these ingredients for effective weight loss. In fact, the claims made on the Phosphacore website do not match medical research we discovered on other websites, such as WebMD. Since we at DietSpotlight need to see documented scientific studies supporting the diet product, we cannot recommend Phosphacore.
The Bottom Line
First of all, we appreciate that Phosphacore uses natural ingredients like Vitamin C and CLA. However, these ingredients have not been proven to help with substantial weight loss. Furthermore, many customers have complained that this diet pill is ineffective.
Those interested in dropping excess weight at a faster rate, we recommend you go with a diet supplement that is backed by solid clinical research and is supported by plenty of positive customer feedback.
Among the top products we've seen in 2015 is one called Leptigen. This weight loss pill uses a proprietary blend of four effective ingredients, which have been proven in documented clinical research to elevate metabolism and encourage fat loss. Furthermore, we can't find any complaints regarding harmful adverse effects and dieter feedback posted on the web shows people are seeing solid results.
Also, the makers of Leptigen are so confident in their product they're offering a special trial offer, which is a good sign.