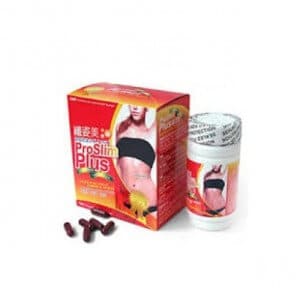 My love of diet products is bested only by my passion for reviewing them 🙂 So, we detailed the ingredients, side effects, customer service and clinical research in Proslim Plus. We took on hundreds of user reviews and comments into consideration. Then, we consolidated, condensed and summarized to give you the info you need.
What You Need to Know
Firstly, Proslim Plus is a weight-loss supplement that has lingzhi, tuckahoe, seman pruni, natural substance and sibutramine. You take one capsule each morning and that's supposed to be enough to help you lose more. The bottle is small enough to take it with you.
The product, formulated by Universal ABC Beauty Supply International, was released sometime prior to 2009. Most of the ingredients are listed on the label, a good start. We like that information is available online and there are some positive reviews, but read on…
Customer Service Not Helpful – "A Problem?"
Our first concern with Proslim Plus is poor customer service. "No matter the reason a buyer wants to talk to a representative, the company needs to make sure someone is there," says our Research Editor. "If the dieter can't reach anyone that leaves a bad taste in their mouth."
"I called to cancel and I spoke to the most idiotic guys in "customer service." They were unwilling to help or refund my money. They refused to transfer me to a superior. They said that I had no options but to pay the money and they really do not care if they work for a scam company," explains one caller.
"The last time I talked to them they didn't said they would mail it to me on the 17 of August still haven't got them. I feel that I'm getting the run round," reports another.
Some never get to even talk with a representative, "Today 9/10 agent by the name of Amanda answer when explain my situation she said hold on get back on the phone and ask how can I help you with the most nasty customer service voice, placed on hold again get back and said there is a delay and hang up."
Scroll below for one of the best products we've seen over the last year.
FDA Infraction – "Serious"
In April 2009, Universal ABC Beauty Supply International, the company behind Proslim Plus, voluntarily recalled all bottles of the supplement. The FDA found undeclared sibutramine, an appetite suppressant only available by prescription. Customers were soon aware of the situation.
"This company is a dangerous total rip-off. they have dangerous drugs not authorized by FDA that can KILL you or cause SEVERE side effects..to add insult to injury, just TRY to find a working phone number for this company..one hangs up immediately and the other to a company totally unrelated to PROSLIM," says one buyer.
Unapproved Charges – "Can't Stop It!"
We found numerous reports of unauthorized charges, some from customers who never ordered products. "This company ripped me off by charging my debit card the same day I cancelled the order. I called and spoke to the operator and she specifically told me the subscription was cancelled," one buyer explains.
"You are charging me for orders I didn't order. That is fraud and against the law. I didn't even receive the product. Stop taking my money I didn't authorize," offers a customer.
With our experience, we've found it takes something simple, like poor customer service, to derail chances of long-term success. If Proslim Plus doesn't offer the buyer the support they need, they'll just go to another company.
The Science – "Legit?"
There's no clinical research that supports weight-loss claims made by the company. We did find more than enough information about Proslim Plus ingredients, especially the one that wasn't listed on the bottle. Sibutramine is a prescription medication used to control appetite. Trials show it comes with the potential for some pretty serious adverse reactions. In this case, that would be the reason there are reports of Proslim Plus side effects. At DietSpotlight the key is to find studies to support the promise that you'll lose more. In this case, that is simply not available to the consumer.
The Bottom Line – Does Proslim Plus Work?
So, what's the final take on this one? Our look into Proslim Plus was interesting and we quickly came to a conclusion about the supplement. The company behind the diet pill has been around for a while and we did find a few positive reviews, but we have some reservations about a product that contains a prescription medication associated with some pretty harsh side effects. We're also concerned with the voluntary recall of all bottles under FDA supervision and the lack of information on Universal ABC Beauty Supply International.
If you're ready to start shedding those pounds, we suggest going with a supplement that gives you clinically-proven ingredients, with no known side effects offered by a company that is transparent and there when the dieter needs them to be.
Among the best products we've seen in 2016 is one called Leptigen. The formula is a proprietary blend of four ingredients with clinical proof it helps spark metabolism and increase fat loss. We've not found a single dieter talking about adverse side effects, but we found plenty of users sharing stories of great results.
Also, the company behind Leptigen is confident enough in the formula to offer a Special Trial Offer, not something you see every day.