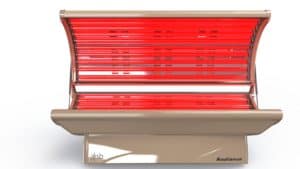 In the weeks that led to this review, I figured out whether Red Light Therapy actually works. We took the time to dig deep and really investigate, examining the ingredients, side effects, level of customer service and scientific studies. Then we sorted through all kinds of user comments and feedback that is posted online. Finally, we summed up all of the facts and details we discovered to give you the crucial information you need.
What is Red Light Therapy?
First off, Red Light Therapy is a non-invasive treatment. The ingredients includes infrared light beams that penetrate the skin about 8-10 millimeters in depth. This professional treatment is claimed to help with signs of aging, skin inflammation, hyperpigmentation, eczema, joint pain, psoriasis, stretch marks, scarring, sun damage, wrinkles, acne and dryness. This therapy is also said to improve skin tone and firmness. A single session generally lasts 15-20 minutes. Often one to four sessions a week are encouraged.
Just so you are aware, Red Light Therapy is regulated and approved by the FDA. These light beds are often found in common salons and spas. There are no known Red Light Therapy side effects. Furthermore, both women and men of all ages can benefit from this treatment, but read on…
Discouraging Customer Comments – "Concerning?"
According to our Research Editor, "There are quite a few discouraging customer remarks posted on the web for Red Light Therapy. In fact, many people have stated that this type of infrared treatment does nothing at all."
One person stated, "Not a believer. Already had three sessions of Red Light Therapy. Did absolutely nothing for me."
On the other hand, some customers have seen results. For instance, one person reported, "Helps with broken capillaries and scars. I dig it so far."
Another commented, "Doing six sessions for sun damage. Hope it works as I was told it does."
Scroll below for one of the best products we've seen over the last year.
Reviews of Red Light Therapy – "No Real Weight-Loss?"
We could not find any real research that connects Red Light Therapy to weight-loss. It appears that this type of treatment is mainly just for skin concerns. One customer said, "Not really for fat loss or anything like that. Some doctors claim is helps reduce cellulite, but I have seen no results so far. It's been a few months now."
However, a different person posted this, "Been trying this Red Light Therapy for my cellulite. I think it helps a little. Keeping my fingers crossed."
"Too soon to tell at this point. Doing this for skin firmness and anti-aging," mentioned another.
Our research has shown if there is a specific part of a weight-loss treatment or diet program that is very concerning or burdensome (discouraging customer comments, no real weight-loss results, side effects) the probability of long-term success is low. Therefore if Red Light Therapy does lead to all sorts of negative user reviews, this could be a serious issue.
The Science – "Is It Solid?"
First of all, we at DietSpotlight like to see some actual science that supports the product or treatment we're looking into. As for Red Light Therapy, there are some clinical studies that back up this treatment's claims. However, this professional infrared therapy is not boasted as an effective weight-loss option.
The Bottom Line – Does Red Light Therapy Work?
Now the moment you've been waiting for. Here is our bottom line on Red Light Therapy. To start, we like that this infrared treatment is approved by the FDA. We also appreciate that it's commonly available in many salons and spas. However, there does not appear to be any actual science that supports this therapy as an effective weight-loss option. Furthermore, we're concerned about the discouraging customer comments we found online.
If you're interested in getting rid of some excess pounds, then we suggest you choose a weight-loss treatment or supplement that is backed by solid science, does not break your bank account and is supported by numerous user testimonials.
Among the best products we've seen in 2016 is one called Leptigen. It contains a powerful blend of four ingredients. Some of them are clinically tested and are shown to help spark metabolism and improve fat loss. We can't find any discouraging user comments, and customer feedback online reveals people are seeing great results.
The makers of Leptigen are so sure about their product they're offering a Special Trial Offer, which is a positive sign.