Updated: 09/29/2015 - Sponsored by Leptigen
Revatrol Review - Does This Weight Loss System Work?
Are lack of results and negative side effects deal breakers?
PUBLISHED: 09/12/2015 | BY: SUMMER BANKS, SENIOR REVIEWER
Editor
's Review:
3.0
/ 5.0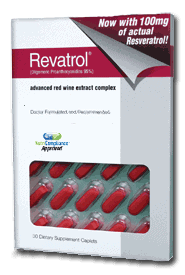 Revatrol has soared into the diet supplement scene as a red wine extract supplement. Because of the popularity and known benefits of red wine for heart health, we decided to do an in-depth review on Revatrol. We looked at its ingredients, side effects, quality of their customer service, and any scientific studies that have been published on this product. We also looked at as many online reviews as we could to find out if this was a good weight loss supplement that we could pass on to our readers.
EDITOR'S TIP:
Combine Revatrol with a proven fat burner such as
Leptigen
for better results.
What You Need to Know
Revatrol is a red wine extract supplement that claims to offer the benefits of 50 bottles of wine in a single capsule. The ingredients include Resveratrol, Alpha Lipoic Acid, Carnitine, and Quercetin. These ingredients are meant to help stabilize blood pressure, improve heart health, and improve brain power by using the positive benefits of red wine.
Revatrol was introduced by Renown Health Products in 2006 to take advantage of the growing popularity of red wine extract products. Their products are readily available online, are moderately priced, and they have an A+ rating from the BBB, which are all good signs that their company offers quality products, but read on…
Lack of Results – No Weight Loss Claims
When looking at weight loss products, the first thing we look at is naturally the weight loss that customers see. The problem with Revatrol is that it doesn't claim to help people lose weight; it isn't designed as a weight loss product. Because of this, most customers see very little benefit of Revatrol. "Red Wine has been linked to heart health," said our research editor. "But it has no weight loss benefits, so Revatrol won't help dieters lose weight." This was a disappointment to many customers because Revatrol is sold on diet websites along side with diet supplements and weight loss pills.
"Saw no results at all, probably just a placebo effect for those that do see results," said one user.
"I took this for 2 months and didn't lose any weight, then I found out it isn't even a weight loss product,," said another.
Scroll below for one of the best products we've seen in 2015.
Negative Side Effects – Another Concern
While Revatrol claims that it has no side effects, a number of customers have complained of numerous side effects ranging from moderate to severe. Some common complaints include difficulty clotting or increased risk of bleeding, bladder infections, liver failure, joint pain, cramps, acne, rash, and more.  "I had joint problems and severe muscle aches after taking Revatrol," said one customer.
"I saw a liver specialist after my physical saw increased liver activity. Turns out Revatrol was responsible for increased enzymes in my liver," said another. Many reviewers had similar comments: "I've been taking Revatrol for heart health, but all it's doing is giving me a headache."
Our research has shown that when a particularly difficult or troublesome element of a weight loss program or exercise routine exists (cost, taste, negative side effects, etc.) the likelihood of maintaining permanent weight loss is slim. If Revatrol really does lead to these moderate and severe side effects, it could be ineffective for many people.
If you do start using Revatrol, we recommend you consult your doctor to make sure that the benefits that it supposedly offers are worth the risk of the negative side effects that many customers have seen.
The Science
There's plenty of research detailing the benefits of Red Wine for heart health, but there hasn't been anything linking it to weight loss. At DietSpotlight, we're concerned with a product's ability to help our readers lose weight, but Revatrol has no weight loss claims, and no real benefit for weight loss. Most users agree that its effects are primarily caused by the placebo effect, and with no research contradicting these claims, we're inclined to believe that the weight loss and overall health benefits of Revatrol are minimal.
The Bottom Line
Because of the nature of this product, it made for an intriguing review. This red wine extract has been on the market for nearly 10 years, is readily available online, and has the benefit of significant research supporting the heart health benefits of red wine. This product specifically though has no supporting research that proves weight loss benefits or overall heart benefits of Revatrol, so we cannot recommend this as a diet supplement for our readers. We're also concerned about the negative side effects that many customers have seen, as well as the overall ineffectiveness of these capsules as a weight loss product.
If you're still looking for a product that does have substantiated weight loss claims, we suggest you find a product without negative side effects that has unbiased data and scientific studies backing its claims.
One of our favorite products so far in 2015 that meets these criteria is Leptigen. Leptigen has clinical studies proving that not only does its proprietary blend of four ingredients help users lose weight by boosting metabolism and increasing fat loss, but it is also safe and free from side effects. Actual customers online have great things to say about Leptigen and have seen moderate, healthy weight loss without the long list of side effects.
Also, Leptigen is currently being made available by its makers in a special trial offer because they're so confident in their product that they're allowing all new customers to try it risk-free.