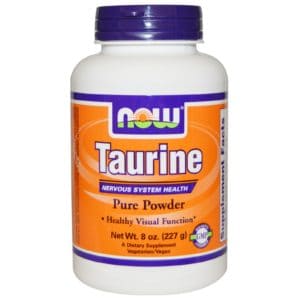 I'm here to cut through the noise and get you the bottom line on Taurine. We took the time to create a comprehensive review, focusing closely on the ingredients, side effects, customer-service quality and scientific studies. Then we scrutinized numerous user comments from all over the internet. Finally, we condensed the data we collected to give you the facts.
What is Taurine?
To start, Taurine is an organic compound that is often described as an amino acid. It is readily available in animal tissue and is thought to play a vital role in various biological functions. There is a direct connection with improved heart health, though research has not proven how it works.
Taurine is frequently included in energy drinks and dietary supplements. It is often used with caffeine to improve mental function but it has also been linked to improved exercise capacity for individuals with congestive heart failure. We like that it's natural and that science says it can help improve health for some people, but read on…
Limited Evidence– "Where is the Proof?"
Our first concern is that while Taurine is marketed as a diet supplement and energy enhancer, very few of the studies that are cited as support were conducted on humans. According to our Research Editor, "Tests performed on animals are a great place to begin verifying how a substance will work on people but it isn't the same as testing on people. Without this there is no way to know for sure that the effects will be similar."
One customer said, "I use an energy drink that has Taurine in it because it was supposed to make it easier to work out and lose weight. To be honest, I don't notice any difference."
Another complained, "I tried a supplement to help boost my weight-loss that advertised Taurine as one of the active ingredients but it didn't work for me at all."
Others aren't so sure. One said, "I just lost a little weight with a product that contained Taurine but I don't know if that's why it worked or if it was the other ingredients."
This user thought it helped saying, "I like when diet supplements include Taurine, I think it gives them a little extra boost. I don't need research studies to know when something works for me."
Scroll below for one of the best products we've seen over the last year.
Side Effects– "It Made Me Feel Weird"
The main concern with any dietary supplement is that it works as advertised. For some people this simply doesn't seem to be the case. With this one that could be a problem as evidenced by reports of Taurine side effects.
According to one customer, "I started feeling jittery and jumpy soon after I started drinking this energy drink with it in the ingredients. I've never had a problem with any of the other ingredients so I think that's what it was."
Another said, "I have some issues with depression. I started getting worse symptoms after starting a diet supplement with Taurine in it then I found out it can actually make it worse for some people so I stopped."
Others didn't notice anything overly worrisome. One said, "I always feel different when I use energy boosters but that's kind of the point. I expect the stuff that goes along with it."
Another explained, "I live on energy drinks and most of the ones I like have this in them. Nothing but good things to say."
According to our research, lack of clinical research and troublesome side effects can directly affect your chances of long-term, lasting results. If Taurine isn't clinically support for weight-loss or it causes negative reactions, that's a deal breaker.
The Science – "Not Enough Evidence?"
At DietSpotlight, we want companies to prove the ingredients in their products are going to add to the overall health and well-being of our readers. We know dieters want to lose weight, but they want to do so as safely as possible. We simply weren't able to find enough proof to indicate that this ingredient was effective for weight-loss.
The Bottom Line – Does Taurine Work?
What's the real deal with Taurine? There has been some really interesting research focused on Taurine, but more is needed before anyone can say conclusively that it is an effective energy enhancer or that it promotes healthy weight-loss. So little evidence and reports of some side effects is why we are skeptical about giving it the green light.
If you want to drop those extra pounds why not try a product with tested ingredients that are backed by solid scientific research. Check reviews to see if users are experiencing harmful or irritating side effects.
Among the best products we have seen in 2016 is one called Leptigen. It is made of four key ingredients, which have been shown in documented clinical research to help increase fat loss and jump-start metabolism. We didn't find any negative consumer reviews in our online research but we did find many dieters talking about their excellent results.
The manufacturers of Leptigen are so confident about their product that they are offering a Special Trial Offer, which we find reassuring.