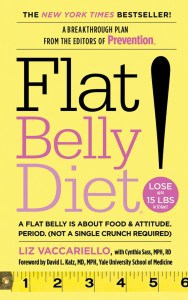 Well over half of all diet plans on the market have absolutely ZERO scientific backing. Let's see if the Flat Belly Diet is one of those. We went on a fact-finding mission looking into the ingredients, side effects, customer service and clinical research. We took into account hundreds of dieter reviews. We then gathered all the details, condensed and refined to give you the info you need.
EDITOR'S TIP:
Combine The Flat Belly Diet with a proven fat burner such as
Leptigen
for better results.
What You Need to Know
First off, The Flat Belly diet is a book written by Liz Vaccariello. The plan aims to increase weight-loss by reducing calorie intake, increasing healthy fats and taking out processed foods and some other "unhealthy" items. You can prepare meals at home and take them to eat anywhere.
The book, which was written in 2012, does support healthier food choices, a biggie. You can order the it online or follow the diet via the website. We like the reasonable sounding weight-loss claims and the price is affordable, but read on…
Results – "Not What Customers Want?"
The first problem we came across was Flat Belly Diet results, based on customer reviews. "Eating reduced calorie will likely work to help you drop pounds," says our Research Editor. "But this theory is no good if the plan doesn't work for dieters."
"Like some other readers, I was disappointed in Flat Belly Diet, and I feel like a complete idiot for wasting money on something that made me suspicious when I first read about it," one dieter explained.
"This book is stupid. So you lose water weight only… I don't see how this can make you slender. And I also don't see the benefit in being on a 1600 calorie diet after the first month and yet they tell you no exercise is needed," another reader says.
Another follower offers, "Today is my second day, and I am following the 4 days that you are removing the excess water of your system, and I am traumatized with the migraine headache I have!! Not to mention how hungry, starving I am right now."
Scroll below for one of the best products we've seen over the last year.
Recipes – "Overpriced Ingredients"
The Flat Belly Diet menu offers quite a few meal ideas that leave the dieter wondering just how high the grocery bill will climb. "I can't eat that kind of food for the rest of my life. Ingredients that were complicated and expensive… recipes that were not easy," a reader explains.
"The first 4 days grocery list was not too bad, but when I tried to follow the recipes, I could not find food and ingredients that they recommended and when I did, it was expensive – had to go to specialty stores," says another dieter.
A customer having trouble with Flat Belly Diet recipes offers. "Well, I can fairly say I ran myself ragged going to four (yes, four!) Different stores to round up the lengthy and expensive list of ingredients required to start the program."
Our research has found that it takes something that seems small, like complicated recipes, to reduce chances of long term success. If the Flat Belly Diet is difficult to follow, what's the incentive for dieters?
The Science – "Clinical Evidence?"
There's a lot of good advice within the Flat Belly Diet menu. You should steer away from frequently eating processed foods or carbohydrates from pasta or bread. You are supposed to increase healthy fats and eat every four hours. The trouble with all of these claims is that the plan does not offer any proof it works better than the traditional "eat healthy" options. At DietSpotlight, we believe science is critical to help dieters see slimming results. Without that, there's no reason to spend the time changing your life.
The Bottom Line – Does the Flat Belly Diet Work?
Let's get right to the conclusion about the Flat Belly Diet, shall we?. We like the idea of reducing calorie intake to improve weight-loss and the company offers a professional headquarters and strong BBB rating, but we have trouble getting behind a supplement that doesn't have customer support and fails to back up claims with clinical research.
If you're ready for a body transformation, we suggest you go with a product that's supported with clinical research, priced right and backed up by a dedicated customer service team.
Among the best products we've seen in 2016 is one called Leptigen. The formula is a clinically proven proprietary blend designed to help boost fat loss and increase metabolism. When we put our ear to the ground we heard nothing about negative side effects, but we did find many dieters talking about achieving great results.
Also, the producers of Leptigen are confident in the product so they're offering a Special Trial Offer, impressive to say the least.