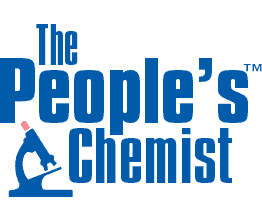 We're hearing a lot of buzz about The People's Chemist, so we did one of our in-depth reviews, investigating the side effects, ingredients, level of customer service clinical research. We additionally examined all sorts of customer comments and user reviews posted on the web. Finally, we summarized and compressed the info we found to give you the bottom line.
EDITOR'S TIP:
Combine The People's Chemist with a proven fat burner such as
Leptigen
for better results.
What You Need To Know
The People's Chemist is a website started by Shane Ellison, M.S. The focus on this site is natural medicines and improving overall health. Prescription drugs and medications are essentially discouraged. The People's Chemist offers an ebook called "The 5 Deadliest Pills Checklist," as well as numerous supplements that are supposed to help with weight loss, sleep, muscle building, digestive health and cardiovascular health. These products are organic, gluten-free, soy-free and do not contain GMOs or fillers.
It's unclear when The People's Chemist was founded. However, all of the supplements offered by this brand are available directly from the official website and a helpful FAQ section is provided, but read on…
Dangerous Ingredients – Something to Think About?
"We noticed that The People's Chemist Thermo FX, which is a weight loss supplement, contains Synephrine, an ingredient that mimics Ephedra (a banned ingredient). Synephrine can lead to dangerous adverse effects like high blood pressure, rapid heart beat, heart attack and stroke," says our Research Editor.
One customer commented, "Made my heart race like crazy. Don't think this is safe."
Another user stated, "I don't like the way this makes me feel. I won't buy it again."
Scroll below for one of the best products we've seen over the last year.
Another Concern – Poor Customer Service
There are plenty of customer complaints regarding The People's Chemist's customer service. One person revealed, "People who are as rude to customers as Shane Ellison's company should be investigated by the appropriate governing body. It is suspect to me that whenever you ask a valid question, this company will find numerous ways to side-step the query, instead literally turning on you with disrespect and comments that I can only categorize as cruel. They come across as hiding something."
According to another customer, "I received the most defensive and inflammatory customer service response of my lifetime."
According to our extensive research, if there is a particular part of a diet program or weight loss product that is especially troublesome (dangerous ingredients, poor customer service, unpleasant taste) the odds of lasting results are not good. This means if The People's Chemist does fail to provide good customer service, this could be a serious dilemma.
Any Actual Science?
We were unable to find any solid science presented on the official The People's Chemist website. However, it's good to see that the supplements in this range use natural ingredients and avoid fillers. On the other hand, we at DietSpotlight like to see actual clinical research that supports the products we're reviewing.
The Bottom Line: Does The People's Chemist Work?
So, should you run out and buy The People's Chemist products? Well, we like that The People's Chemist products are natural and can be purchased directly from the official website. Then again, we are leery about these products because they are not backed by any real science. Also, we're concerned about the dangerous ingredients found in some of these supplements, as well as the poor customer service some consumers have complained about.
If you'd like to drop more weight, then we recommend you select a product that comes with excellent customer service, contains clinically proven ingredients and is supported by positive user reviews.
Among the best products we've seen in 2015 is one called Leptigen. Its formula is a unique blend of four potent ingredients that have been proven in published scientific studies to help speed up fat loss and elevate metabolism. Furthermore, we can't locate any talk of harmful adverse effects and user reviews around the web show people are seeing solid results.
The makers of Leptigen are so satisfied with their product they're offering a Special Trial Offer, which is a good sign.