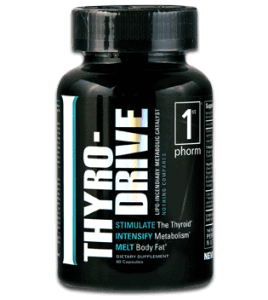 If you want the bottom line on Thyro-Drive, give me just two minutes of your time. We chose to dig deep into the ingredients, side effects, clinical research and customer service. We also read through hundreds of comments and experiences. Then, with all that in hand, we condensed and refined to give you the info you need.
What You Need to Know
Firstly, Thyro-Drive is a supplement that supposedly stimulates and supports thyroid function. Ingredients include chromium, vitamin B12, guggulsterones, tyrosine, kelp, bladderwrack, threonine, green coffee bean extract, raspberry ketones, cayenne pepper, coleus forskohlii and evodiamine. You take two capsules twice a day, meaning one bottle will last you a little less than three weeks.
Thyro-Drive is produced by 1st Phorm. We couldn't find any information as to when the company released the supplement. You can buy it on the official website, but no other outside retailers appear to sell it. We like that the formula is available online and that the price is comparable to similar products, but read on…
Lack of Reviews – "Who Takes It?"
The first thing that concerned us with Thyro-Drive ingredients was the lack of reviews. "We checked the official website and other sources of information and not a single comment or experience was available," reports our Research Editor.
According to researchers and internet specialists, between 79% and 88% of consumers look to reviews before deciding whether or not to try out a product or make a purchase. Studies say, "For nearly 9 in 10 consumers, an online review is equally as important as a personal recommendation." When there are none to be found, that's a warning sign.
Scroll below for one of the best products we've seen over the last year.
Narrow Focus – "Not for Everyone"
Thyro-Drive does not focus on all dieters, just the small section of the population that lives with an underactive thyroid. If there are no health issues in that area, the supplement will not work to improve metabolism or increase weight-loss.
According to Dr. Victor Bernet, an endocrinologist, "Even a little too much T4 can give a person palpitations, could give atrial fib and blood pressure issues and such. We have people coming in feeling nervous, can't sleep, decreased exercise tolerance, hearts running overtime." So, if this supplement were to work as claimed on a person with healthy thyroid function, the dieter may face some potentially harmful Thyro-Drive side effects.
Our research has concluded that it takes only a small thing, like lack of information, to offset any chances of long-term success. If Thyro-Drive does not have consumer support and comes with the potential for side effects, that's a red flag to dieters.
Is There Any Legitimate Science?
There are studies into a number of the ingredients in Thyro-Drive, including kelp and bladderwrack. The first has shown some effect on thyroid stimulating hormone, but the second is considered potentially unsafe when taken by mouth. At DietSpotlight, it's the science that helps us make a final decision. In this case, we're not sure dieters should give this one a shot.
The Bottom Line – Does Thyro-Drive Work?
So, what's the bottom line on this one ladies and gentlemen? We like that Thyro-Drive is available online. The price is affordable and we had no trouble reaching the customer service department, but we're skeptical about giving this one the green light, because there's no clear evidence it works to improve weight-loss. There's also the potential for side effects, as reported by a licensed endocrinologist.
If you're ready to shed those extra pounds, we suggest trying out a supplement that offers a ton of customer reviews and focuses on all dieters, not just a small portion of the population.
Among the best products we've seen in 2016 is one called Leptigen. The formula is made up of four ingredients in a proprietary blend that have been proven to help speed up metabolism and spark fat loss. We found experiences that point to some amazing results, but no mention of negative side effects.
Also, the business responsible for Leptigen is offering a Special Trial Offer, quite the show of confidence.