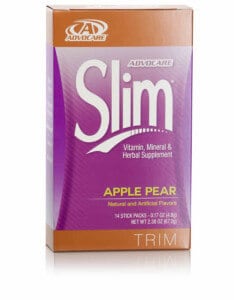 Some diet products work and some don't; it's as simple as that. The current product in question is Advocare Slim. We did one of our in-depth reviews to examine the side effects, ingredients, clinical research, and customer-service quality. We then looked around the web to try and find user reviews. Here's the summary of our findings, condensed for your easy perusal.
EDITOR'S TIP:
Substitute Advocare Slim with a proven fat burner such as
Leptigen
for better results.
What You Need to Know
Let's jump right in. Advocare Slim is a supplement containing the following ingredients: Svetol, an extract collected from green coffee bean, chromium, Thiamine, extract of fruit called Garcinia Cambogia, inositol, taurine, biotin, Super CitriMax, and caffeine. Advocare recommends that you consume the product by mixing the contents of one packet into 8 oz. of water twice per day. One plus is that the taste seems to be relatively pleasant.
Advocare, which is a member of the Council for Responsible Nutrition, has been around since 1993, and Advocare Slim has been a staple supplement for a while now. The supplement is available on Advocare's main website as well as through "advisors" and "distributors" in your region. We like the longevity of Advocare as a business, and it's nice to see all the ingredient information displayed on the website, but read on…
Price–"Is this supplement worth the price tag?"
We noticed right away that Advocare Slim came with an unusually high price tag. "If you take Advocare Slim as directed, it would be surprising if you didn't feel any results," said our research editor. "It's not that the ingredients enclosed won't work at all; the question is whether or not those ingredients warrant $30.00 for 14 servings." The real kicker–Advocare suggests taking two servings per day for best results. That amounts to $30.00/week to take Advocare Slim.
Let's do a brief survey of the cost of some of these ingredients when sold separately.
• You can buy 90 pills of garcinia cambogia for under $20.
• Svetol is available for $20-$25 for 90 capsules.
• Citrimax is available for under $15.
• Chromium is under $10.
While Advocare holds the rights to their proprietary blend of the ingredients, the materials in Advocare Slim can be purchased for a fraction of the cost that Advocare commands. You could likely purchase a 60- or 90-count bottle of each ingredient in Advocare for less than the monthly cost of Advocare Slim.
Scroll below for one of the best products we've seen over the last year.
One More Concern–Caffeine Side Effects
Whenever a weight loss supplement includes caffeine as a staple ingredient, you should be extra careful. The National Library of Medicine mentions the risk of nervousness, jitteriness, and vomiting in a report, and people with heart conditions or irregular blood pressure should consult a doctor before consuming caffeine.
While we found hardly any user reviews online, caffeine is one of the leading causes of negative reviews. Shakiness and "the jitters" are relatively common, especially among people who are already sensitive to caffeine. Unfortunately, Advocare Slim doesn't show on the website how much caffeine is in the product.
Our time in the industry has shown us that even a minor annoyance can derail the future success of a dieting supplement. A high monthly price–which is more than a minor annoyance–may discourage dieters, especially if they don't feel like the ingredients warrant the cost. Furthermore, anyone sensitive to caffeine should be extra careful when using Advocare Slim.
What if you are dead set on trying Advocare Slim? If you really want to try it, it may be wise to start with only one serving per day. This will allow you time to test your body's response to the caffeine, chromium, and other ingredients without any side effects hitting you too hard. It may also allow you to save some money and add a better diet and exercise to your regimen rather than relying on a supplement alone.
The Science–Is Advocare Slim Clinically Verified to Work?
Any customer would want to know if Advocare Slim has been clinically proven to do its job. While several of the individual ingredients–caffeine, citrimax, chromium, etc.–have been shown to have mild metabolic or appetite suppressant qualities, Advocare Slim itself hasn't participated in any clinical studies. Advocare has a tab on their website entitled "Science," but the only content we could find was about the people on their advisory councils or the organizations they are a part of. There was no mention of the methodology they use to test products.
The Bottom Line–Did Advocare Slim Pass the Test?
So here is the verdict you've been waiting for. While we have a lot of respect for Advocare as a company–it's been around since 1993, has a great online presence, and has a well-managed brand–we have some reservations about the product itself. The price seems awfully high for ingredients that are nothing new, and there is no information on the specific quantity of caffeine on the website. These and other reasons prevent us from recommending Advocare Slim.
If you're looking for a supplement to help you shed a few pounds, we recommend using something that gives you a good value for your investment and doesn't come with the risk of harmful side effects.
One product we've noticed in 2015 that fits the description is called Leptigen. With a proprietary blend of four ingredients, it has been clinically shown to burn fat and boost metabolism. Harmful side effects haven't even entered the conversation, and comments around the web indicate people are seeing great results.
Also, the makers of Leptigen are offering a special trial offer for the time being, which is always a good sign.