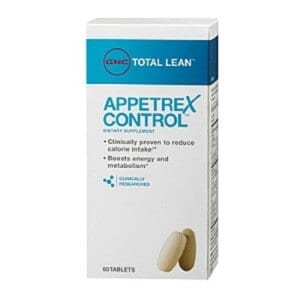 Looking at some diet products can be painful, especially if there's no scientific backing for the formula. Let's find out if Appetrex Control is in this group. We dug deep into the ingredients, side effects, research and customer service. Additionally, we focused on hundreds of consumer comments and reviews. We then summarized and refined to give you the info you need.
EDITOR'S TIP:
Substitute Appetrex Control with a proven fat burner such as
Leptigen
for better results.
What You Need to Know
First off, Appetrex Control is an appetite suppressant with ingredients that include B-vitamins, black tea extract, green tea extract, yerba mate, grape skin extract, chrysin, ginger root extract, grape seed extract and dill weed extract. The recommended serving of two capsules, once per day, supposedly supports weight-loss and suppresses appetite. One benefit is the compact size of the pills.
There is no information about when GNC introduced Appetrex Control, but the business has been in operation for more than 75 years, a good sign. The supplement is available to purchase on the official website and through retail stores. We do like the longevity of the company and a there are some positive customer comments, but read on…
Side Effects – "A Bit Itchy?"
The first negative relates to Appetrex Control side effects. "Dieters go into the weight-loss journey with one thing in mind, success," says our Research Editor. "If a supplement doesn't leave you feeling right, that's enough reason to move on."
"This made me very itchy and I had to take first thing in the morning – only one – or I couldn't get my body to relax enough to go to sleep at night," said a customer.
"This product simply made me feel nauseous & dizzy. I would start feeling a burning sensation in the pit of my stomach each time I took them," reported a user.
Scroll below for one of the best products we've seen over the last year.
Regulatory Concerns – "What?"
On March of 2015, the Attorney General of New York reached an agreement with parent company GNC to put in place a system to authenticate supplements. This stems from findings that the formulas didn't contain the listed ingredients.
Weight-Loss Claims – "Not True?"
Based upon multiple customer reviews, Appetrex Control ingredients do nothing. "This product did not work for me. I worked out with it and didn't lose any weight," commented one consumer.
"Have been taking max dosage since I received. Gives me the jitters inside, and have not lost a pound!," said a customer.
"Doesn't really work. It doesn't help suppress my appetite at all and I'm still hungry after taking it," offers another.
Our research reveals that a small concern with a supplement, like ineffectiveness, could inhibit long-term success. If Appetrex Control doesn't work, we can't see a reason for the dieter to keep taking it.
The Science – "Valid and Proven?"
According to the official website, Appetrex Control ingredients have been tested, but we couldn't locate any published clinical studies linking the formula to weight-loss. At DietSpotlight, having the opportunity to find supporting scientific research is critical. If there is no science, dieters will walk away.
The Bottom Line – Does Appetrex Control Work?
So, what do we have to say about this one? After an extensive look at Appetrex Control, we've reached a verdict. There are some positives, like the longevity of the company and a few favorable customer reviews, but we have some reservations about it because of the lack of scientific research supporting weight-loss claims. Plus, we have concerns about the investigations into GNC and the comments side effects.
If you'd like slimming results, we recommend going with a product that contains ingredients backed by published scientific studies with no known side effects. It's also important to check to make sure the company has not had any legal issues.
Among the best products we've seen in 2016 is one called Leptigen. The supplement contains a proprietary blend of four ingredients, which have been shown in published scientific research to promote fat loss and heighten metabolism. There's no one talking about negative side effects and customer reviews highlight exceptional results.
Additionally, the makers of Leptigen are offering a Special Trial Offer, an excellent show of confidence in a product.