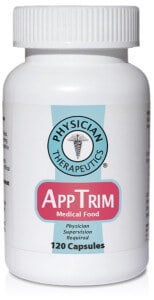 Lately we're hearing a lot of buzz regarding AppTrim diet pills, so we did one of our in-depth reviews, examining the side effects, ingredients, clinical studies and overall customer care. We also focused on countless dieter comments found online. Lastly, we summarized all of the info we found to give you the bottom line.
EDITOR'S TIP:
Click here
to substitute AppTrim with a proven fat burner such as Leptigen for better results.
What You Need To Know
To start, AppTrim is a weight-loss formula that contains cocoa, caffeine, tyrosine, grapeseed extract, hydrolyzed whey protein, serine, choline bitartrate, glutamic A, histidine and 5-hydroxytryptophan. It is taken twice daily, in between meals. This product is used to reduce appetite and cravings for carbohydrates. According to the official website, AppTrim is not a drug or a supplement, but a medical food. It is intended to improve your body mass index (BMI). While no prescription is required to obtain this product, "physician supervision" is recommended.
This weight-loss aid was released about 10 years ago by Physician Therapeutics. It is available for purchase online. Furthermore, the official website provides plenty of information on AppTrim, and diet and exercise are both recommended with this product, but read on…
High Price – "Lost Your Wallet?"
Our first concern with AppTrim ingredients was the high price tag. "We noticed that the cost is not readily available or presented clearly on the official website. In fact, you have to register online in order to see the price. Fortunately we did find an alternative website that listed the price at $100 (120 capsules), which is a lot," says our Research Editor.
One dieter said, "After one bottle, I gave up. Just too expensive for me."
Another claimed, "The price is just not affordable."
Scroll below for one of the best products we've seen over the last year.
Negative Customer Feedback – "A Concern"
There are certainly some negative user reviews posted online for AppTrim. One user said, "This stuff causes serious stomach pains."
Another stated, "Can't sleep when I take this diet pill."
According to our extensive research, if there is a certain aspect of a diet program or weight-loss product that is especially concerning (pills that cause side effects, high price, no clinical support) the likelihood of long-term success is minimal. If AppTrim does in fact lead to a lot of customer complaints, this could be problematic.
The Science – "Clinically Proven?"
After taking a close look at the official website, we did find some clinical research presented for AppTrim. A double-blind placebo controlled trial was done over the course of six weeks. This is good to see, but the title of the study does not lead to an online or offline third-party publication where results are revealed. While there may be some clinical research presented on the website for AppTrim, the high cost and customer complaints are still major concerns that should not be overlooked.
The Bottom Line – Does AppTrim Work?
So, here's the final take on AppTrim. It's nice to see that it has been around for several years and it's also good to see that diet and exercise are encouraged with this obesity treatment. However, due to the high cost, we are skeptical about recommending this weight-loss aid. It's certainly not very forthcoming of the company website to hide the price. We're also concerned about the side effects that can occur, which are chronic sleeplessness, stomach irritation and nervousness, as reported by dieters.
Those who need to shed pounds of fat more quickly, we recommend you select a diet formula that is easy on the wallet, backed by plenty of customer testimonials and contains proven weight-loss ingredients.
Among the best products we've seen in 2016 is one called Leptigen. It contains a proprietary blend of four ingredients that have been proven in documented scientific studies to help increase fat loss and ignite metabolism. Also, we can't pinpoint any discussion of harmful side effects and dieter feedback around the web expresses people are seeing good results.
Plus, the makers of Leptigen are so confident in this formula that they're offering a Special Trial Offer, quite the positive.