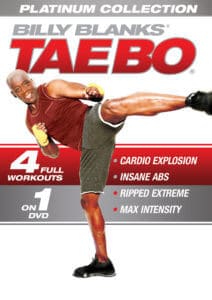 We've heard a lot of buzz about Billy Blanks workout DVDs and fitness programs. Therefore, we created a comprehensive review, closely examining the side effects, ingredients, customer-service quality and clinical studies. We additionally looked at hundreds of user comments and responses from all over the internet. At last, we summed up all of the facts and details to give you the information you really need.
Who is Billy Blanks?
First of all, Billy Blanks is a former kickboxing champion. He developed a type of fitness training back in 1976 called Tae Bo. It combines kicking and punching techniques from taekwondo and boxing with cardiovascular exercise. This workout gained a great deal of popularity in the 1990s. While Blanks taught Tae Bo to many celebrity clients, it is also available on DVD so it can be done at home. This program aims to help with flexibility, balance, weight management, coordination and strength.
According to the official website, there are several Tae Bo fitness DVDs available at this point. These include classic, express, cardio sculpt, cardio explosion, advanced, boot camp shred, max intensity and others. There is also a supplement available that includes Billy Blanks ingredients like amino acids, vitamins, minerals and herbs. Furthermore, men and women of all ages and fitness levels can use this workout system, but read on…
Complicated Exercises – "Something to Consider?"
The first concern we have with Billy Blanks DVDs is complicated exercises. According to our Research Editor, "Some of the fitness routines involved with Tae Bo workouts are too complicated for some people, which may lead to sore muscles and poor results."
One person stated, "Don't care for the Tae Bo routine. It has fancy footwork that just confuses me and I end up getting a weak workout. It just leaves me frustrated."
On the other hand, a different individual revealed, "Pretty good workout overall. Makes me sweat a lot."
Another posted, "Definitely burns some calories, but I hurt my neck doing this."
Scroll below for one of the best products we've seen over the last year.
Customer Complaints – "Uh Oh"
There are quite a few negative user reviews and discouraging comments posted on the web for Billy Blanks workouts. One person said, "I don't care for Tae Bo Max Intensity program. Made me quite sore and I get bored with the routine."
However, a different user reported, "Still like the Tae Bo classic. Gives me a good workout. No pills. No Billy Blanks side effects or protein powders. Just a bunch of sweating."
"Decent workout. I prefer my P90X, but this is not bad for a change," mentioned another.
Our research has revealed if there is some particular part of a fitness program or diet supplement that is especially bothersome (complicated exercises, customer complaints, high cost) the probability of long-term success is actually quite low. In other words, if Billy Blanks programs do in fact lead to a lot of discouraging user comments, this could be a serious problem.
The Science – "Is There Any?"
First off, we at DietSpotlight like to see some actual science that supports the product or program we're looking into. As for Billy Blanks DVDs and workout routines, the regular exercise involved can certainly aid with weight-loss and getting fit. On the other hand, this system may not be right for everyone due to the type of exercises incorporated. In other words, if you don't like the workouts, it will not help you shed any pounds.
The Bottom Line – Does Billy Blanks Work?
So, should place an order for Billy Blanks Tae Bo or workout DVDs? Well, we do appreciate that this program involves regular exercise. It's also nice to see that several fitness DVDs are available. Then again, we have reservations about this product because some customers have complained about the exercises being too complicated. Also, we're concerned about the other discouraging user comments we found on the web.
If you're really serious about dropping some pounds, then we encourage you to go with a product that does not involve any complicated workout routines, is easy to use anywhere and is backed by solid clinical research.
Among the best products we've seen in 2016 is one called Leptigen. Its formula is a proprietary blend of four powerful ingredients, which have been shown in published clinical research to help accelerate fat loss and spark metabolism. There are no complicated exercises and reviews are fantastic.
The makers of Leptigen are so sure about their product they're offering a Special Trial Offer, which is a positive sign.