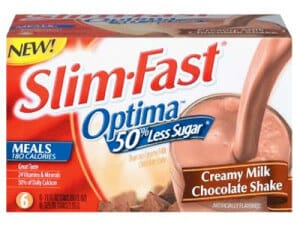 Convenience and efficacy are the two biggest factors in modern weight loss programs, and we've heard consumers discussing the pros and cons of Slim Fast for a while now. We decided to pick apart the ingredients, side effects, customer service and clinical studies. Additionally, we dissected hundreds of customer reviews and comments. Then we condensed and summarized to give you the information you need.
What You Need To Know
Slim Fast is a meal replacement shake containing fat free milk, water, sugar, cocoa, gum Arabic, calcium caseinate, cellulose gel, canola oil, potassium phosphate, cellulose gum, soybean lecithin, mono and diglycerides, artificial flavor, carrageenan, maltodextrin, and dextrose. Users are instructed to replace breakfast and lunch with these 11 oz. shakes and to supplement with a few small snacks. The shakes seem fairly portable, so the user can consume them at home, in the car, or at the office.
Slim Fast was introduced in 1977 and today is owned by Unilever. You can purchase Slim Fast from online retailers, although you can't purchase the shakes directly from Slim Fast website. We like that Slim Fast is readily available and the longevity of the company, but read on…
Poor Taste – "Not the Best?"
The first concern about Slim Fast ingredients was taste. "Meal-replacement shakes are intended to substitute regular foods" said our Research Editor. "If the drinks aren't flavorful, will you still want to use them?"
"I purchased Cappuccino Delight. Delightful it's NOT. The taste reminds me of burnt coffee beans," said one customer.
"Too much sugar, way too sweet and chocolaty. Does not feel like a meal," said another user.
Scroll below for one of the best products we've seen over the last year.
Side Effects – "Digestive Issues?"
As we read through more and more reviews, Slim Fast side effects was a concern. "It gave me gas and diarrhea. Never tried it again," said a customer.
"The first gave me stomach pain. Within an hour the diarrhea began again," said another. "18 grams of sugar – it is so sweet. It stays in your system for days," commented a dieter.
Our research has shown that side effects can hamper the ability of a supplement to produce long-term results. If Slimfast casues slight digestive discomfort, a user is unlikely to stick with it.
The Science- "Any Proof?"
Slimfast does mention some studies relating to its effect on weight loss. Unfortunately, there's no links to the information and we found that the parent company performed some of the tests. At DietSpotlight, we look for all of the research prior to making suggestions. If a company doesn't offer science-based evidence, we become skeptical about it.
The Bottom Line – Does Slim Fast Work?
So, are you heading out to buy a case of Slim Fast? Well, we like the longevity of the company and that it seems affordable, but we're hesitant about this one becuase of research isn't readily available to customers. We aslo have concerns due to customer commenting about poor taste and some negative side effects.
If you still need to trim down a bit, we suggest going with a supplement with no mention of negative reactions and a formula containig some clincially-tested ingredients.
Among the best supplements we've come across in 2016 is one called Leptigen. It features a proprietary blend of four ingredients – some clinically-tested – which have been shown to help burn fat and boost metabolism. We can't find talk of negative side effects and online reviews are showing customers seeing great results.
Better yet, the makers of Leptigen are offering a Special Trial Offer. It's always a good sign when the makers of a product are willing to stand behind it.