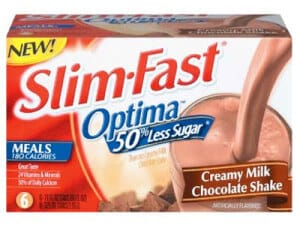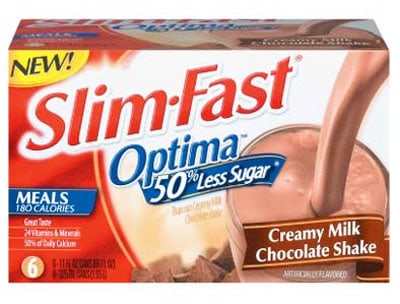 Convenience and efficacy are the two biggest factors in modern weight loss programs, and we've heard consumers discussing the pros and cons of Slim Fast for a while now. We decided to review the product carefully to get a feel for the ingredients, customer service, clinical studies, and side effects. Then we explored as many customer reviews online as we could find, and we condensed all of that information here into a brief summary.
EDITOR'S TIP:
Combine SlimFast with a proven fat burner such as
Leptigen
for better results.
What You Need To Know
Here' a brief summary of the product: Slim Fast meal replacement shakes contain fat free milk, water, sugar, cocoa (processed with alkali), gum Arabic, calcium caseinate, cellulose gel, canola oil, potassium phosphate, cellulose gum, soybean lecithin, mono and diglycerides, artificial flavor, carrageenan, maltodextrin, and dextrose. Users are instructed to replace breakfast and lunch with these 11 oz. shakes and to supplement with a few small snacks. The shakes seem fairly practical, so the user can consume them at home, in the car, or at the office.
Slim Fast has been around the block once or twice–it was initially introduced in 1977. Fueled by Tony Lasorda's spokesmanship, the product grew, and today it is owned by Unilever. You can purchase Slim Fast from online retailers or from stores like Walgreens and Walmart, although you can't purchase the shakes directly from Slim Fast online. There are some studies suggesting that Slim Fast works, and the emphasis on keeping calories down is a plus, but read on…
Side Effects–Can Users Handle the Taste for Very Long?
We read through many online reviews, and the question of taste kept coming up. "Simply put, you will lose weight if you burn more calories than you eat," said our research editor. "Slim Fast provides you with a way to quickly replace breakfast and lunch with a shake rich in protein, and if you stick to it, you should shed some pounds. The problem is, you have the same shake to look forward to two times every day." That's replacing two meals with shakes twice a day for 8-10 weeks.
"I purchased Cappuccino Delight. Delightful it's NOT. It tastes gross and reminds me of burnt coffee beans," said one customer. He wasn't the only one.
"Too much sugar, way too sweet and chocolaty. Does not feel like a meal after either," said another user about a different flavored shake.
Scroll below for one of the best products we've seen over the last year.
Another Concern–Digestive Side Effects
As we read through more and more reviews, another trend began to emerge–undesirable digestive discomfort. "It gave me very bad gas and diarrhea. Never tried it again," said an unhappy customer.
"The first gave me stomach pain followed by diarrhea. I had a bottle this morning and within an hour the diarrhea began again," said another. Other customers seemed to think that the high concentration of sugar (not found in every flavor) had a negative impact on the way they felt. "18 grams of sugar–it is so sweet. It stays in your system for days," said another reviewer.
It's no secret that side effects can hamper the ability of a supplement to produce long-term results, but our research has shown that even a minor annoyance with a product can really disrupt a customer's loyalty to it. If Slimfast does have a bad taste, and if it does lead to undesirable (albeit minor) digestive discomfort, a user is unlikely to stick with it for the necessary 8-10 weeks.
That brings us to the science–Is it proven to work?
Slimfast, believe it or not, is one of the few diet products that has been clinically verified to have an effect on weight loss. Given the longevity of the product, the fact that it has been featured in clinical studies is no surprise, and you can be sure that a lengthy and regular engagement with Slim Fast will lead to a few pounds lost. Unfortunately, digestive discomforts and the prospect of drinking two Slim Fast shakes per day may not be worth the moderate weight loss.
The Bottom Line: Should you try Slim Fast?
While the decision of whether or not to try Slim Fast is ultimately up to you, the information found in this review has hopefully been a help. We like the longevity of Slim Fast, and the fact that it is featured in clinical studies is reassuring. The poor reviews regarding the taste and the fact that it just doesn't "sit well" with everyone are certainly cause for concern, however, and there are plenty of other meal replacement programs out there to try.
If you still need to trim down a bit, we suggest looking for a product that won't replace actual meals with a bad-tasting substitute and won't lead to digestive irregularities.
We've been repeatedly impressed with a supplement called Leptigen this year. It features a proprietary blend of four ingredients–all of which have been clinically studied–that burn fat and boost metabolism. We've looked for talk of negative side effects, and we can't find any; the online reviews are overwhelmingly positive.
Better yet, the makers of Leptigen are offering a special trying offer for the time being. It's always a good sign when the makers of a product are willing to stand behind it.