Updated: 09/29/2015 - Sponsored by Leptigen
Cell Press Review - Does This Appetite Suppressant Really Work?
Are unproven ingredients and bad customer reviews deal breakers?
PUBLISHED: 09/04/2015 | BY: SUMMER BANKS, SENIOR REVIEWER
Editor
's Review:
3.5
/ 5.0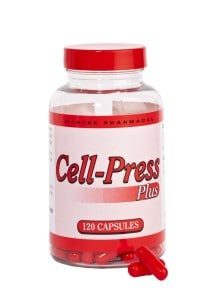 Lately we've heard a lot of talk about Cell Press appetite suppressant capsules, so we created a comprehensive review, examining the side effects, ingredients, scientific research and level of customer service. We also scrutinized hundreds of customer responses and user comments from all over the web. At this point we compressed the facts and dieter feedback we found to give you the info you need.
EDITOR'S TIP:
Combine Cell Press with a proven fat burner such as
Leptigen
for better results.
What You Need To Know
Cell Press Plus is boasted as a "safe and effective" appetite suppressant for women and men trying to lose weight. It is made by Martek Pharmacal. This supplement can be taken with other mediations. It contains Cellulose and Natural Gums (500mg) to serve as bulking agents that suppress hunger. This supplement also contains Chromium Picolinate (50mcg) to help regulate blood sugar levels and Benzocaine (3mg) to numb the stomach. You need to take one or two capsules an hour before each meal (along with 16 ounces of water).
This supplement has been available since 2013 and can be purchased via Amazon for $29.70 (120 capsules). There are some customer reviews posted online for Cell Press Plus, and no special diet is required with this product, but read on…
Unproven Ingredients!
According to our Research Editor, "Cell Press relies primarily on Cellulose and Natural Gums to curb appetite and reduce food cravings. However, there is no solid clinical evidence that this works for appetite suppression."
One customer stated, "I took the Cell Press Plus capsules on four occasions, along with at least 16 ounces of water as directed. I didn't really notice that it staved off hunger or made me feel full — other than just drinking the water would have done all by itself."
"These expensive capsules did nothing for me. I took them as directed but they really had no impact at all. I would not recommend them to anyone," said another user.
Scroll below for one of the best products we've seen in 2015.
Bad Customer Reviews!
There are plenty of negative and discouraging user reviews posted online for Cell Press capsules. One dieter commented, "Not at all, no change in my appetite what's so ever."
Another user stated, "No appetite suppression, no results, no nothing!"
Our research has revealed that if there is some specific facet of a diet formula or weight loss system that is especially concerning or bothersome (bad customer reviews, unproven ingredients, terrible taste) the odds of lasting weight loss results are not good. So, if Cell Press Plus does lead to a great deal of discouraging customer reviews, this could be a serious dilemma.
The Science
While the few ingredients used in Cell Press capsules are explained online, there is no clinical proof that this supplement works as claimed. In fact, we did not even find this diet supplement on the official website. Since we at DietSpotlight need to see published clinical science, we cannot encourage you to use this product for weight reduction.
The Bottom Line
It's good to see that Cell Press Plus can be taken with other medications, but there is simply no evidence that this diet pill actually works. Furthermore, we did not find this supplement on the official website, which is concerning. Also, there plenty of user complaints that Cell Press does not curb appetite at all.
Dieters who wish to get rid of excess body fat more rapidly, we suggest you try a diet supplement that actually contains proven fat-loss ingredients and is supported by plenty of positive user feedback.
One of the top-rated products we've seen in 2015 is Leptigen. This weight loss supplement uses a proprietary blend of four unique ingredients, which have been proven in documented clinical studies to help improve overall fat loss and kick-start metabolism. Furthermore, we can't locate any talk of negative side effects and user reviews posted on the web express people are seeing solid results.
Also, the makers of Leptigen are so confident in their product they're offering a special trial offer, which is a good sign.