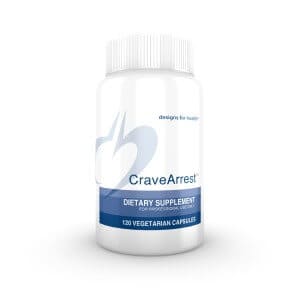 Give me two minutes and I'll tell you whether Crave Arrest actually works. We took a 360-degree look at the ingredients, side effects, clinical research and customer service. We also dug through hundreds of user comments and reviews. Then, we gathered, refined and condensed to give you the info you need.
EDITOR'S TIP:
Combine Crave Arrest with a proven fat burner such as
Leptigen
for better results.
What You Need to Know
Firstly, Crave Arrest is an appetite suppressant that contains vitamin C, niacin, vitamin B6, vitamin B12, l-tyrosine, 5-HTP and taurine. When taken as two capsules daily, it is supposed to boost weight-loss. You can carry the bottle anywhere, making it portable, a bonus.
The product is from Designs for Health, but there's no information on the company or when it was released. There is an official website where you can buy the supplement and it's available through other retailers. We like the natural ingredients and we did find some positive comments, but read on…
Results – "Where Are They?"
The first concern we had pertains to Crave Arrest ingredients. Dieters aren't happy with the results. "All you want from a supplement is effectiveness," says our Research Editor. "If the product doesn't work as claimed, the user will notice and they will remember. This affects trust in the company."
"If I could give no stars I would. I tried this stuff for 6 months and never felt any difference in my carb cravings," reports one dieter.
"I've tried many things over the years and was hopeful this would help with my sweet tooth, but CraveArrest did absolutely nothing," says another.
A customer offers, "I didn't see any difference taking this supplement for my cravings."
Scroll below for one of the best products we've seen over the last year.
Mental Health – "Problems Reported"
According to the official website, Crave Arrest ingredients are supposed to affect serotonin and dopamine levels. Both are neurotransmitters that affect mood. It is unsafe for some dieters to use supplements that have this effect on the mind.
According to the Indian Journal of Psychiatry, "When consumed alone on an empty stomach, tryptophan, a precursor of serotonin, is usually converted to serotonin. Hence, tryptophan can induce sleep and tranquility. This implies restoring serotonin levels lead to diminished depression precipitated by serotonin deficiencies.[8] Tyrosine and sometimes its precursor phenylalanine are converted into dopamine and norepinephrine."
If a dieter has a mood disorder or if they are taking medications that affect levels of serotonin or other neurotransmitters, Crave Arrest could have a negative effect.
Our research has come to a simple conclusion, a negative, like lack of results, is more than enough to stave off long-term success. If Crave Arrest fails to live up to weight-loss claims, why would you waste your time or money?
Is the Science There?
Science is there supporting claims of mood changes, but this could be defined as Crave Arrest side effects instead of benefits. Changing how you feel can alter how you react to food, but if this is how the ingredients work to promote weight-loss it can mean trouble for some dieters. According to the International Bipolar Foundation, it's extremely important to take interactions into consideration. "Supplements can and do interact with prescription medication and create serious problems. It's important to research what medications your supplement of choice may either render ineffective or make toxic."
The Bottom Line – Does Crave Arrest Work?
So, we were quite interested in Crave Arrest, but what was the final take? We like that you can buy the product online and we did find a few positive comments, but we are skeptical about recommending something that is not effective, based on consumer reviews. We're also concerned that it could alter mood; something that is not safe for all dieters.
If your time to lose weight is now, we suggest going with a product that combines clinically proven ingredients that offers results without causing negative side effects.
Among the best products we've seen in 2016 is one called Leptigen. We found a proprietary blend of four ingredients clinically proven to help boost metabolism and support fat loss. Dieters have not reported a single negative side effect, but plenty have written about seeing great results.
Plus, the company behind Leptigen is confident in the supplement so they're offering a Special Trial Offer, nice addition.