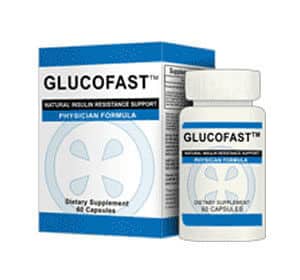 In the weeks that led to this review, I figured out whether Glucofast actually works. We at DietSpotlight took the time to take a thorough look, examining the ingredients, side effects, customer-service quality and scientific studies. We also sorted through hundreds of user comments and responses posted on the web. Finally, we compressed all of the data we collected to give you the important facts.
What is Glucofast?
To begin with, Glucofast ingredients include cayenne fruit, juniper berry, vitamin C, bitter melon, licorice bark, zinc, gymnema sylvestre, guggul gum resin, chromium and banaba leaf. This diet supplement is primarily marketed at people who enjoy eating a lot of carbohydrates. The claim is that this product will help balance blood glucose and insulin levels, which in turn should aid with weight management. You may experience fewer food cravings and have higher energy levels. A healthy diet and exercise plan is recommended with this formula.
It's unclear when Glucofast was originally released. However, this product is available from a company called HelloLife, and they offer several other supplements as well. A 60-day satisfaction guarantee is provided, and contact information is presented on the main website. Also, this formula may be helpful to those with type 2 diabetes, but read on…
No Real Results – "Concerned Yet?"
The first issue we have with Glucofast ingredients is no real results. According to our Research Editor, "Many users have complained of no actual effects from this diet supplement. Apparently they still have food cravings and have not seen any real weight-loss."
One customer commented, "This does nothing. Been taking it for three weeks now. Save your money."
However, a different user said this, "I think it does reduce my cravings for sweets, which is what I wanted."
"Not bad. I can't say I've lost a lot of weight at this point, but it's okay," said another.
Scroll below for one of the best products we've seen over the last year.
Unpleasant Reactions – "Yikes"
Some users have experienced some Glucofast side effects, which is concerning. In fact, one person posted, "This stuff makes me very queasy and sick to my stomach. Never again."
But, not all users experienced adverse reactions. One individual reported, "Just started taking it about a week ago, and I think it's working so far."
Another said, "It's okay. Not the best if you're really serious about dropping pounds of fat, but not bad."
According to our research, if there is a certain part of a weight-loss formula or diet program that is very burdensome or difficult (no real results, unpleasant reactions, steep cost) the probability of long-term effects is rather low. Therefore, if Glucofast does in fact cause side effects in a lot of people, this could be a serious issue.
The Science – "Is Any Presented?"
Here at DietSpotlight, we like to see some actual research that supports the product we're reviewing. As for Glucofast, this supplement does contain some herbs that may help balance blood glucose levels. On the other hand, based on the ingredients, we do not believe it will aid with fat loss or serious weight reduction.
The Bottom Line – Does Glucofast Work?
Now the moment you've been waiting for. Here is our bottom line on Glucofast. We like that this supplement is packed with natural herbs, vitamins and minerals. It's also nice to see that this formula is backed by a 60-day guarantee. On the other hand, we have some doubts about this product because some users have complained of no real results. We're also concerned about the unpleasant reactions that some people have reported.
If you'd like to really shed some excess pounds of fat, then we advise you to select a product that is backed by solid clinical research, does not cause any harmful side effects and is supported by numerous user testimonials.
Among the best products we've seen in 2016 is one called Leptigen. It offers a proprietary blend of four powerful ingredients, which have been shown in documented clinical studies to help boost fat loss and kick-start metabolism. We can't find any negative comments online, and user remarks around the web indicate people are seeing excellent results.
The makers of Leptigen are so excited about their product they're offering a Special Trial Offer, which is very reassuring.