Updated: 09/29/2015 - Sponsored by Leptigen
Isometric Diet Review - Does This Weight Loss Plan Really Work?
Are lack of published research and dietary restrictions deal breakers?
PUBLISHED: 09/05/2015 | BY: SUMMER BANKS, SENIOR REVIEWER
Editor
's Review:
3.1
/ 5.0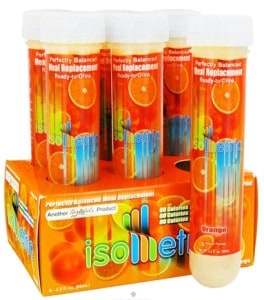 There's been all sorts of buzz regarding the Isometric Diet plan, so we decided to create an in-depth review, examining the side effects, ingredients, scientific research and customer service. We additionally took the time to read hundreds of dieter reviews and user comments posted on the web. Finally, we summarized all the data to give you the relevant information you need.
EDITOR'S TIP:
Combine Isometric Diet with a proven fat burner such as
Leptigen
for better results.
What You Need To Know
The Isometric Diet was created by a former bodybuilder by the name of Dan Duchaine. The main concept of this diet plan is to consume an equal amount of protein, fat and carbohydrates each day. This dietary balance is supposed to help with fat loss and long-term weight management. There are five principles used to improve health and weight loss success. These principles are as follows; protein diversity, low-glycemic carbohydrates, balance, unsaturated fats and MTCs (medium chain triglycerides) and awareness of food priority.
This diet was created in the mid 1990s, and is fine for women and men of all body types. Furthermore, no special supplements are needed for the Isometric Diet. Saturated fats are also limited with this diet plan, but read on…
Lack of Real Research
According to our research editor, "While the Isometric Diet does cut out some saturated fats and high-glycemic foods, we did not find any science linking this diet to real, long-term weight loss."
One customer said, "Not for me. I have trouble following the eating plan, so it doesn't really work for me."
"Doesn't really help me lose weight, but I think I get all my nutrients."
Scroll below for one of the best products we've seen in 2015.
Dietary Restrictions – Another Concern
Like other diet programs, the Isometric Diet has too many eating restrictions for some people to keep up with. One dieter stated, "The 30-30-30 thing is too much trouble. I like to eat some of the foods that are not recommended, so this is not good for me."
Another user said, "The carb restrictions are no good. There's gotta be a better alternative."
After doing some research, we have discovered that if there is a specific part of a weight loss system or diet program that is very troublesome (too many diet restrictions, high price, no clinical studies) the chances of success for the long term is slim. So, if the Isometric Diet does have too many dietary restrictions for a lot of people, this could be a major issue.
The Science
Aside from this weight loss system being created by a former bodybuilder, we did not pinpoint any scientific research that supports the Isometric Diet for weight loss purposes. At DietSpotlight, we need to see documented studies and research that shows the diet plan or supplement truly helps with fat reduction and weight management.
The Bottom Line
We are excited to see that the Isometric Diet is okay for pretty much anyone to try. However, this diet plan is clearly not for everyone. Sticking to 33 percent protein, fats and carbohydrates every day may be more challenging than you think. Also, we did not pinpoint any scientific evidence that links the Isometric Diet to fat loss.
If you would like to slim down and rock your best body, we advise you to go with a diet program or weight loss supplement that is supported by clinical research, is affordable and is backed by positive customer feedback.
Among the top-rated weight loss products we've encountered in 2015 is Leptigen. This fat-loss supplement contains four important ingredients, which have been shown in documented clinical studies to help accelerate metabolism and improve fat loss. We can't locate any discouraging feedback concerning harmful side effects and user reviews online reveal people are seeing real results.
Also, the makers of Leptigen are so confident in their product they're offering a special trial offer, which is a good sign.