Updated: 09/29/2015 - Sponsored by Pronabolin
Nugenix Review - Does This Testosterone Replenishment System Work?
Are cost and ineffective products deal breakers?
PUBLISHED: 09/16/2015 | BY: SUMMER BANKS, SENIOR REVIEWER
Editor
's Review:
3.5
/ 5.0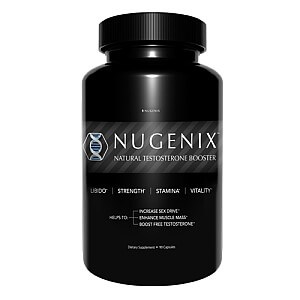 Testosterone replenishment supplements are becoming more and more prevalent as Low-T is being diagnosed. Because of the popularity of this type of supplement, we did an in-depth review of Nugenix, looking at its ingredients, side effects, effectiveness, and as many customer reviews online as we could find. We then provided this review for our readers so that they could make an informed decision on whether or not this is a supplement that would give them the results they're looking for.
EDITOR'S TIP:
Combine Nugenix with a proven testosterone booster such as
Pronabolin
for better results.
What You Need to Know
Nugenix is a testosterone replenishment supplement that is designed to boost your body's production of testosterone. This product contains Testofen ®, Zinc, Vitamin B6, and Vitamin B12. Nugenix is to be taken 3 times per day, meaning that each 90 capsule  bottle will last about a month. The benefits of this type of testosterone booster include convenience, it's readily available, and it provides results for some customers looking to build muscle.
Nugenix has been around since the mid-2000s, which is encouraging to see. It's readily available online and in many health stores. It is not available through the company's official website however. Nugenix also has a good BBB rating, and is generally regarded as a reputable company, but read on…
Price – "Yee-Ouch"
The cost for testosterone boosing products is generally fairly low. All natural products are available starting from just $25 per month, and offer similar reviews. "Nugenix is overpriced as a testosterone booster and muscle growth formula," said our research editor. "Alternatives that offer the same results are available for 1/3 of the cost."  We're also concerned with the automatic subscription that seems difficult to cancel and automatically charges your credit card each month.
"I switched to a product that cost me $40 less per month and it offered the same results," said one user.
"My credit card was charged every month, and I couldn't figure out how to cancel the subscription, so I had to cancel my credit card to avoid paying for a product I didn't benefit from," said another.
Scroll below for one of the best products we've seen in 2015.
Lack of Results – Another Concern
Because this is a testosterone booster, and not a weight loss product, many users saw mixed results. Some saw toned muscle and slimmed down as a result of the increased energy, while others saw no results at all after a month of taking Nugenix. There are also some side effects including congestion, upset stomach, swelling, bloating, and hair loss. Most reviews had something to say about the lack of results, the side effects, or both, and because this is a testosterone booster, it cannot be used by women or children. One reviewer stated that he "started having headaches and stomach pains, and I haven't seen any of the promised results."
"I saw some benefits, but the potential health risks aren't worth the minimal results that I'm seeing," said another. While reading through online forums, most genuine reviews were similar, with some people offering advice to help improve the results you see: "I added this to my daily intake, while increasing my exercise and decreasing my calories. I saw a 5 pound weight loss in the first month, but most of that can be attributed to my overall lifestyle," said one user with a neutral review.
We've found in our research of health supplements that any time there is a difficult element of a supplement or weight loss program (painful exercise, taste, cost, lack of results, etc.) it's difficult to maintain consistent weight loss and keep it off. Because of the lack of results that many customers have seen, this may be an issue with Nugenix.
The Science
The claims made by Nugenix are not medically reviewed, so there is no information backing up what is said by the company. At DietSpotlight, we emphasize published scientific research as an important part of a weight loss or health supplement. When a product is missing this clinical research, we feel like we can't trust their claims or that they're hiding something. In addition to their claims not being backed up, this product also has no evidence suggesting that it performs better than more affordable alternatives. If you're going to pay a premium for a product, it should have data proving that it is a superior product that will offer better results than its cheaper counterpart.
The Bottom Line
We started off encouraged by the all-natural ingredients, the easy to obtain product, and the results that some customers have seen, but because this product does not have any scientific research or clinical studies backing up their claims, we cannot recommend this to our readers. We're concerned about the overall cost of this product compared to alternatives, the side effects, the lack of results that some customers have seen, and the billing issues that seem a little suspicious.
If you'd like a healthy way to build lean muscle, boost free testosterone and discover vitality we suggest you find a product that is affordable, is scientifically proven to provide the claimed results, and does not come with a long list of negative side effect.
Among the best products we've found in 2015 is one called Pronabolin. The formula is a proprietary blend of nine ingredients clinically proven to help you reclaim energy and naturally boost testosterone levels. There's no talk of adverse side effects and comments all around the internet show people are seeing great results.
The makers of Pronabolin are so confident in their product they're offering every customer a 120-day money-back guarantee and multiple-bottle discounts.