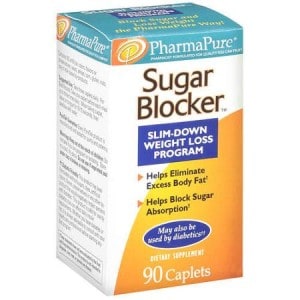 We've been noticing a fair amount of conversation surrounding the Pharma Pure Sugar Blocker, so we did an in-depth review and examined the ingredients, side effects, clinical research, and customer-service quality. Not to be left out were the scores of customer comments on their experiences from third-party websites and an examination of the cost. Here is our condensed summary on Pharma Pure Sugar Blocker.
EDITOR'S TIP:
Combine PharmaPure Sugar Blocker with a proven fat burner such as
Leptigen
for better results.
What You Need to Know
Pharma Pure Sugar Blocker is a dietary supplement containing a mixture of Chromium, Gymnema Sylvestre, and Vanadyl Sulfate. It's unclear how many pills a user should take per day–the website says "enclosed" next to the directions prompt–but a benefit is that the supplement is easy to take and can be consumed anytime and anywhere. The 90 pills are affordable at just $9.00, and they claim to regulate blood glucose levels, block the absorption of sugars, and prevent cravings.
PureTek, the California-based company behind Pharma Pure, was founded in 1991. It has enjoyed the success of many products under its umbrella, and Sugar Blocker is no exception. If interested in this product, you can find it on Pharma Pure's website, in Walmart, or on Amazon. We like the inclusion of researched appetite suppressant ingredients, but read on…
Efficacy–"How Effective Is It?"
One of the first questions we usually have with a new supplement is how well it actually works. "Using this product regularly will probably result in a degree of appetite suppression," said our research editor. "While the user reviews are inconclusive, we have seen these ingredients used effectively before, and for less than $10.00, you really don't have anything to lose." All three ingredients on the label are geared toward blood glucose levels and appetite, but there were still some negative comments about efficacy.
"Did not see any change," said one user. He wasn't alone, but the customers reporting a lack of results were in the minority.
"I don't see it stopping my cravings– I'm hopeful so two stars. It's only been a few weeks," said another.
Scroll below for one of the best products we've seen over the last year.
One-dimensional Product–Another Concern
A thorough review of Pharma Pure Sugar Blocker suggests that it is really a one-sided product related to gymnema sylvestre. The NIH says that "[gymnema sylvestre] therapy appears to enhance endogenous insulin, possibly by regeneration/revitalisation of the residual beta cells in insulin-dependent diabetes mellitus." There's no mention of fat burning or metabolism boosting, though: this ingredient is solely used for glucose regulation.
Chromium also has "minimal effect on body weight and body fat," according to the National Library of Medicine. A further study of the composition of Pharma Pure Sugar Blocker corroborates the fact that the supplement doesn't boost metabolism in any way.
While there isn't necessarily a problem with sticking to one facet of dieting, a supplement is much more effective when it combines ingredients that burn fat, boost metabolism, and regulate blood glucose levels.
We have found that even a slightly troublesome aspect in a product can lead to a lack of long-term success. If users realize that they can get appetite suppression plus other vital weight loss benefits in a different supplement, they are unlikely to continue using Pharma Pure Sugar Blocker. If Pharma Pure Sugar Blocker would add another ingredient or two dedicated to burning off excess fat, it would be a truly formidable product.
The Science–Sound?
Since Pharma Pure Sugar Blocker only uses three main ingredients, it is able to ensure that each comes from a body of clinical research. The National Library of Medicine mentions the appetite controlling properties of chromium, and the other two main ingredients are proven to be effective in this regard as well.
The problem is that a consumer will most likely need to "stack" this supplement with something else to get a well-rounded boost in weight loss. This isn't a huge issue since Pharma Pure Sugar Blocker is so affordable, but it would certainly be a step in the right direction to add a metabolism boosting ingredient.
The Bottom Line–Does Pharma Pure Sugar Blocker Work?
We think Pharma Pure Sugar Blocker is a very interesting product with great ingredients for appetite suppression. If you are on a diet, the goal is obviously to burn more calories than you consume; this product will help you achieve that goal by eating less.
If you'd like to melt off more pounds, however, we suggest adding a supplement that delivers fat burning properties and is proven to be effective in that regard.
Leptigen is a great supplement to try–in fact, it's one of our favorites in 2015. Its proprietary blend of four ingredients is guaranteed to burn fat and boost metabolism, and each ingredient has been clinically verified. User reviews online look fantastic, and harmful side effects are a non-issue.
There's a special trial offer for Leptigen going on as well, and it's always great to see a company stand behind its product.