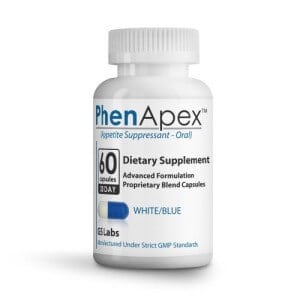 I kept hearing about the supplement PhenApex, so I decided to research the product and see what all the buzz was about. I looked into the ingredients, checked out the side effects, read customer service complaints, and looked for any clinical research. Then I tried to find a collection of user reviews online to see if it works. Here is the condensed summary of my research.
EDITOR'S TIP:
Substitute PhenApex with a proven fat burner such as
Leptigen
for better results.
What You Need to Know
PhenApex is a dietary supplement that claims to burn fat and boost metabolism. While the ingredients aren't listed online at phenapex.com (a giant red flag), we traced the ingredients to a combination of L Phenylalanine, Synephrine, L Carnitine, Taurine, and 7 Keto. The pills are intended for use 30 minutes before breakfast and 30 minutes before lunch. One plus is that they're easier to use than mixes or shakes.
We tried to dig up some information about the company that makes PhenApex, and strangely enough, that information isn't readily available. We were able to track the supplement to GS Labs, a supplement distribution company based in Draper, Utah. They can be reached at 866.731.7319 or on gslabsinc.com, but when the number is called, a health company with a name other than GS Labs answers the phone. We like the fact that the pills can be easily purchased online, and there is currently a special offer going on, but read on…
Ingredients–"Yikes!"
Our first concern is with the list of ingredients associated with PhenApex. "At first glance, PhenApex doesn't look like anything unusual," said our research editor. "When I looked more closely, though, I was concerned with the presence of synephrine and 7 Ketone, both for very different reasons." While some of the ingredients, phenylalanine and carnitine to be exact, have been shown to promote moderate weight loss, 7 Ketone is largely a speculative ingredient that hasn't been linked to much progress. Furthermore, Taurine doesn't provide energy, contrary to popular belief. It's actually a sulphonic acid that can work to calm blood pressure and the nervous system. Claims that it helps congestive heart failure are yet to be verified.
The real kicker is synephrine, though. According to the National Library of Medicine, synephrine has been linked to a rise in blood pressure and heart irregularities, two issues not to be tampered with. Synephrine exists as a common substitute for ephedrine, an ingredient banned for causing heart issues. Customers should exercise caution when using synephrine because some people react violently to the stimulant.
Scroll below for one of the best products we've seen over the last year.
"Scam?"–Our Second Concern
As we skimmed through customer reviews, our "scam radar" started to beep. "Just did a search on the company and they're a scam. They send you bogus pills and will not refund your money," said one user.
"I'm pretty sure it's a scam . . . they don't do returns!" said another. The comments about the business's shady practices kept on coming. "Looks like it's a dinky website set up as part of a scam, or a website that used to sell but doesn't anymore," said a third customer.
One more customer said, "I just wasted a lot of money and now have to start over to find what I thought I was getting. DO NOT waste your money on these fakes!"
We have found that customers who can't trust the business behind their diet pills rarely have success losing weight in the long term. If it is true that PhenApex isn't a legitimate product or that the company, GS Labs, is involved in a scam, you had better steer clear. If, on the other hand, the product is real and the company is ok, be careful when using the synephrine-infused supplement.
Is There any Science Behind PhenApex?
It probably won't come as a surprise that we weren't able to turn up any clinical research about PhenApex or GS Labs. As we mentioned before, two ingredients are in the clear (phenylalanine and carnitine can actually aid weight loss), but the others are not. Ketone 7 hasn't been proven to do much of anything yet, and synephrine is outright dangerous. Taurine is a nice ingredient, but it won't do much for your weight. The business practices and ingredients associated with PhenApex don't look promising.
What's the Bottom Line?
While we were initially interested, none of our research turned up anything positive regarding PhenApex. The ingredients were our first disappointment–synephrine isn't a very safe choice for weight loss, and the other ingredients don't make up for that. A lack of transparency from GS Labs is also a huge deal-breaker since customers need to be able to trust the company they purchase from.
If you need a supplement to help you burn fat or boost metabolism, we recommend that you find a product with scientific substance and ingredients that really work.
We've seen a lot of supplements this year, and one of the best to date is a product called Leptigen. It's a supplement composed of 4 ingredients in a proprietary blend that burn fat and boost metabolism–the clinical studies show that these ingredients work. Online reviews look fantastic so far, and we can't find any word of harmful side effects.
Better yet, the makers of Leptigen are currently offering a special trial offer.