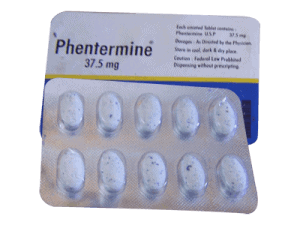 My love of diet products is bested only by my passion for reviewing them. This is why we took a close look at Phentermine, scrutinizing the ingredients, side effects, customer care and scientific studies. We additionally examined hundreds of user comments and customer reviews that are posted all over the web. Lastly, we compressed all of the feedback and facts we found to give you the info you actually need.
EDITOR'S TIP:
Combine Phentermine with a proven fat burner such as
Leptigen
for better results.
What You Need To Know
Phentermine is a weight loss medication that assists by suppressing appetite. This diet pill needs to be taken in conjunction with a healthy diet and exercise plan. Also, Phentermine is only intended for short-term use (typically three months or less). It is usually taken once each day (15-37.5mg), 1-2 hours prior to breakfast. This drug works by "stimulating the hypothalamus gland," which results in decreased appetite. Brand names of Phentermine are Meridia and Xenical. In order to obtain this diet pill, you must speak with a licensed physician to find out if you qualify for Phentermine.
This weight loss drug was first available in the United States in 1959. Phentermine is regulated by medical professionals and you will find some success stories posted on the official website, but read on…
Serious Side Effects – Something to Consider?
According to our Research Editor, "Phentermine can lead to side effects such as; restlessness, headache, dizziness, sleep problems, tremors, diarrhea, upset stomach, changes in libido, constipation, dry mouth and impotence."
One customer commented, "The sleepless nights and irritability is so not worth it. It can be addicting because you want that oomph in the morning, but you have to remember the side effects are no good. I knew I needed to end the cycle when I starting feeling a little chest pain."
"I took this diet pill for 6 months and now I have blood clots down my whole leg,"said another user.
Scroll below for one of the best products we've seen over the last year.
Numerous Customer Complaints
You will find a high number of customer complaints posted online regarding Phentermine diet pills. This is quite concerning. One dieter stated, "I started to have vertigo in the end and the doctor took me off cold turkey! I have now experienced terrible anxiety (the fear of dying), which I have never had before. I'm always tired with no
energy and really weak feeling all the time. I also get real shaky and stay foggy-headed every day. This all started after taking the pill."
Another person said, "I took 1/2 a pill and about 5 hours later I felt sweaty and felt a thud in my chest."
The research we've conducted has shown if there is some particular aspect of a diet pill or weight loss system that is quite troublesome (serious side effects, a lot of user complaints, high cost) the chances of long-term success are not good. This means if Phentermine does in fact lead to serious side effects and a lot of user complaints, this could be a serious concern.
The Science – Solid?
There are some clinical studies that support the weight loss effects of Phentermine. This is good to see because we at DietSpotlight prefer to see documented science that supports the product and its weight loss claims. If there is no research at all, we often see a big red flag.
Although there are some studies that support Phentermine, we feel that the serious adverse effects and numerous customer complaints are major concerns that should not be overlooked.
The Bottom Line: Does Phentermine Work?
So, should you buy Phentermine? Well, we like Phentermine's longevity as a product and some positive comments we saw about it online. On the other hand, we have some reservations about it because it can lead to some harsh side effects. Also, we're concerned about the dozens of customer complaints and long-term health effects of this diet drug.
If you'd like to see some serious fat loss, then we encourage you to go with a diet product that contains safe ingredients, does not cause harsh side effects and offers great bang for your buck.
Among the best products we've seen in 2016 is one called Leptigen. Its formula is a proprietary blend of four key ingredients, which have been proven in documented clinical research to help speed up fat loss and increase metabolism. Also, we can't find any complaints of side effects and customer comments found online indicate people are seeing solid results.
The makers of Leptigen are so confident in their product they're offering a Special Trial Offer, which is reassuring.