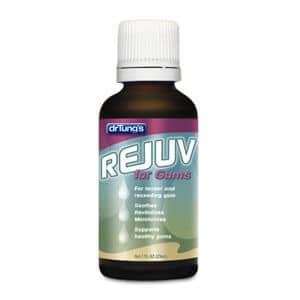 We've heard a lot of talk about Rejuv, so we decided to do one of our comprehensive reviews, to take a closer look at the product, the science behind it, and customer service. We went on to read hundreds of user reviews and testimonials from across the Internet. Then, we summarized and condensed it all to give you the info you are looking for.
EDITOR'S TIP:
Combine Rejuv with a proven fat burner such as
Leptigen
for better results.
What You Need to Know
Firstly, Rejuv is a common health supplement. It is supposed to be a complete solution for your gum and mouth related health, designed to treat and help prevent a number of diseases and problems. The product claims to be made using more than 25 herbs and shrubs of various plants. Though the product claims to be 100% natural, it does not provide a list of ingredients for us to review. All natural does not always mean safe.
We were not able to find an official website for this product, or to determine when the company was founded. We like the all-natural formula, but read on…
Not Designed for Weight Loss
While gum and oral health is important to your overall health, this supplement does not appear to do anything to help you lose weight. Even if there were weight loss ingredients such as sky burners or appetite suppressant in the formula, it appears to be nothing more than an oil pulling concentrate, which means you would spit it out when you are finished using it.
"We tend to caution against products that do not provide their full ingredient listings." said our Research Editor.
Scroll below for one of the best products we've seen in 2015.
Little Information About the Product Available
We could not find an official website for this product, and thus were unable to find customer reviews to support this product. We found the product on Amazon with a single five-star review, saying nothing more than "It works!". We're not sure what works for, or how it helps weight loss.
Our research indicates that if there's part of a diet program that's hard, like having trouble finding the product itself, customers will usually give up and move on to something else.
The Science
Because of the lack of information regarding ingredients in the formulas, we are unable to determine whether or not there is any science to support them. When we are unable to verify the scientific research behind products, we see red flags. Even still, we know this is not a diet and weight loss product, so we recommend finding another product.
The Bottom Line
We were initially excited to review Rejuv, as it looked like it may be a decent company and supplement. However, because they do not provide full ingredient information or pricing, we were disappointed.
If you'd like to drop some weight, we suggest purchasing a supplement that gives you safe and effective ingredients, at an affordable price so you get value for your money.
One of the best products we've seen so far this year is Leptigen. It is formulated with a unique blend of four clinically proven ingredients known for their ability to support metabolism and increased fat burning power. As we researched, we were unable to find negative mention of the product or side effects, which tells us users are seeing solid results.
We're thrilled to see the makers of Leptigen are so confident in their product they're giving new customers a special trial offer, which is always a good sign.