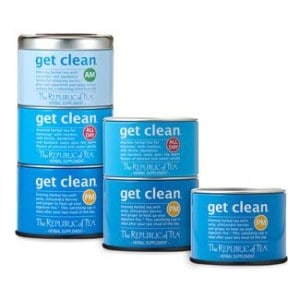 We've all struggled to find the right diet product. Let's take a look at Republic of Tea Get Clean to see if it's one of the good ones. We looked through the ingredients, side effects, customer service and clinical research. Reviews were also a big part so we read hundreds. Then, we summarized and refined to give you the bottom line.
What is Republic of Tea Get Clean?
Firstly, Republic of Tea Get Clean is a detox with organic rooibos, milk thistle, Indian sarsaparilla, dandelion root, chicory root, burdock root, red clover, natural vanilla and almond flavors. There's no caffeine in the formula. You're supposed to steep for five to seven minutes in boiling water. You may notice you spend more time in the bathroom, but the description also eludes to weight-loss.
Republic of Tea, the makers of Get Clean, was started in 1992 – that's more than two decades in the business. The official website does sell the product, along with tons of other varieties. We like that ingredients are listed in the description and the price isn't terrible, but read on…
Weight-Loss Results – "Not Exactly"
Our first concern deals with Republic of Tea Get Clean results. "We found not one or two complaints of no weight-loss – we found multiple," says our Research Editor. "We wouldn't normally expect a detox tea to help you lose more, but this one claims it can do just that."
"I'm on my third can and while I really enjoy the taste, no way is this helping me to lose weight," was the experience of one dieter.
A user also said, "I didn't see any weight loss, even though I've been eating healthy."
Not everyone saw the same outcome.
"I don't know if it will help with weight loss, but I surely do like the taste," offered up a customer.
A woman also shared, "It's very flavorful, and really does satisfy some of the cravings :)"
Scroll below for one of the best products we've seen over the last year.
Taste – "Not Good for Everyone"
The word "yuck" came up time and again and that makes it hard for the dieter to keep using Republic of Tea Get Clean.
"Well I'm not a fan of the taste, so didn't use long enough to know if it did work," explained a person who tried it.
"I'm giving it a 3 stars because I don't like the taste. I almost gagged the first time I drink it," offered another.
The taste wasn't a negative for all.
"Taste-wise, this is a strange concoction. Not bad, just different," a drinker claimed.
As another user put it, "Tasty stuff and amazingly smooth."
Our research shows it takes something miniscule, like a bad taste, to shatter your chances of long-term results. If Republic of Tea Get Clean doesn't settle well, there's no way the dieter will use it every day.
The Science – "Justified?"
We can say with a relatively high degree of certainty that the ingredients used in Republic of Tea Get Clean are not designed for weight-loss. A detox notoriously causes increased trips to the bathroom and water loss. That can lead to changes on the scale, but nothing long term. At DietSpotlight science needs to prove a product works and this time it doesn't.
The Bottom Line – Does Republic of Tea Get Clean Work?
Are we brewing a cup right now? Well, Republic of Tea Get Clean may help relieve water retention and you could see some changes in bowel habits, but we are skeptical about suggesting it. Diuretics are not healthy for long-term use as a weight-loss aid and not everyone saw results. Plus, the taste is a concern for many.
If you want to really lose weight, you may want to change things up and switch out Republic of Tea Get Clean with a clinically tested supplement that can help with weight-loss.
Among the best products we've seen in 2016 is one called Leptigen. This formula is packed with four scientifically tested ingredients and all have shown promise in boosting metabolism and fat loss. Reviews across the web are out of this world with dieters seeing amazing results.
Plus, there is a Special Trial Offer from the makers of Leptigen, as a show of confidence.