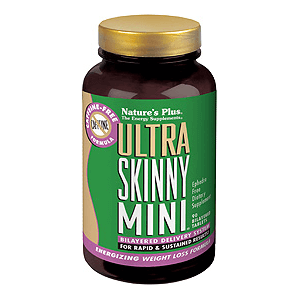 I'm here to cut through the noise and get you the bottom line on Skinny Mini. At DietSpotlight, we came up with a comprehensive review, looking closely at the ingredients, side effects, clinical research and level of customer care. We additionally focused on dozens of customer comments and reviews posted all over the web. At last, we then summarized and compressed the data we found to give you the important facts you need.
What You Need To Know
Skinny Mini is a supplement made by Nature's Plus, and it's claimed to help you "lose those stubborn pounds." This weight loss formula is marketed at women, and it is stated to be Ephedra-free. You simply take two capsules each day with eight ounces of water. A reduced-fat diet and exercise program are recommended. The ingredients in Skinny Mini capsules are as follows; Guarana Seed, Spirulina, Cacao Fruit, Green Tea, Rhodiola Rosea Root, Chromium, Vitamin B12, Citrimax (Garcinia Cambogia), ForsLean, Conjugated Linoleic Acid (CLA) and Bioperine.
Nature's Plus has been around for more than 40 years. You can buy Skinny Mini on Amazon for $24.97 (90 capsules). This company has a good BBB rating and there is a convenient store locator tool provided on the main website, which is helpful, but read on…
Fad Supplement Ingredient – Something to Think About?
According to our Research Editor, "Skinny Mini contains Garcinia Cambogia Fruit Extract as a main ingredient for weight loss. However, this fruit extract has not been clinically proven to help with weight reduction, which means it's a fad supplement ingredient."
One customer commented, "Got an energy boost the first few days, but after that didn't even notice a difference and definitely didn't result in weight loss."
Another user said, "No this does not make you skinny. It just makes you a lot fatter than before. I would advice you not to take it for your best interest."
Scroll below for one of the best products we've seen over the last year.
Lack of Real Results – Another Concern
From what we gathered, Skinny Mini does not produce the results many customers are after. In fact, one person stated, "I get a better energy boost from a cup of coffee. This stuff is not worth it!"
"No weight loss from Skinny Mini. Maybe a little energy, but not worth buying again," revealed another customer.
Our research has revealed if there is a particular facet of a diet pill or supplement that is very concerning or bothersome (fad supplement ingredients, pills that make you jittery, lack of real results) the odds of lasting weight loss results are slim. This means if Skinny Mini does in fact fail to produce real results in numerous users, this could be a serious issue.
The Science – Any?
At DietSpotlight, we need to see published science that supports the weight loss product and its ingredients. Sadly, we could not pinpoint any solid clinical research to back up the claims made about Skinny Mini capsules. While this product's ingredients are listed online, there is no mention of any clinical trial studies.
The Bottom Line: Does Skinny Mini Work?
So, should you run out and buy Skinny Mini? First of all, we like this company's longevity and some positive comments we saw about it online. However, we are uncertain about this diet product because it's not backed by any clinical research. Moreover, we're definitely concerned about the fad supplement ingredients it contains, as well as the lack of real weight loss results.
If you'd like to lose more weight, then we encourage you to choose a product that contains clinically proven ingredients for weight loss, is backed by encouraging user reviews and does not rely on fad supplement ingredients.
Among the best products we've seen in 2016 is one called Leptigen. This supplement uses a blend of four ingredients, which have been proven in published clinical studies to help increase fat loss and kick-start metabolism. We can't find any complaints of unpleasant side effects and user reviews and comments posted online reveal people are seeing excellent results.
The makers of Leptigen are so excited about their product they're offering a Special Trial Offer, which is very reassuring.