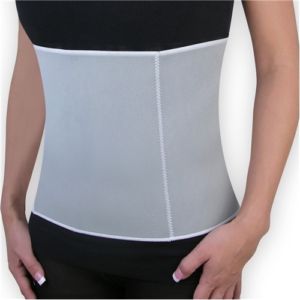 I did two things this week. I obsessed over every aspect of Slimmer Belt. Then I wrote this review about it, closely examining the side effects, ingredients, level of customer care and scientific studies. Also, I looked at hundreds of user comments and reviews that are posted around the web. At this point, I compacted all of the facts and feedback I collected to give you the bottom line.
What is Slimmer Belt?
First off, the Slimmer Belt is a fitness product that is strapped around the midsection to help increase perspiration. [1] It is made from soft Neoprene material, [2] and zipper closures are included to allow this belt to suit different sizes. It is claimed to provide back support [3] and help you look slimmer. This product has a "sauna-like" effect so it should help draw retained water weight from the tummy and abdomen area. It can be worn while jogging, [4] walking or during any other workout session in order to increase intensity. it is supposed to fit most people.
We are unsure when the Slimmer Belt first emerged, but it's easy to find online through dealers such as Amazon. Furthermore, this belt is easy to take anywhere and it's stated to be comfortable as well, but read on…
Poor Product Quality – "A Consideration?"
The first thing we considered with Slim Belt was the product quality. According to our Research Editor, "There are literally dozens of customer complaints regarding the makeup of this product. Naturally this is a big red flag. After all, if the belt does not hold up, it's not going to help you with your workouts."
One user stated, "The zipper is terrible. When you put it on and zip up. The zipper comes right down. I do not suggest this for anybody."
"Unfortunately, this was a waste. I read the reviews and still chose to order it. Love the concept, but it tore at the seem. Poor quality," said another user.
Yet another person commented, "Ripped after 4 uses."
Scroll below for one of the best products we've seen over the last year.
Real Results With Slimmer Belt- "Lacking"
From what we gathered, the Slimmer Belt fails to produce the results it claims. One customer complained, "I wasted my money, I very much regret buying it. It does nothing."
Another user said, "Do not buy. Waste of money. Cheaply made and does not work. It does make you sweat a little, but it's itchy and caused a rash on my torso."
According to the research we've done, if there is a particular part of a fitness product or supplement that is quite annoying or bothersome (poor product quality, lack of real results, too many complaints) the odds of lasting results are not very good. So, if Slimmer Belt fails to help people look slimmer, this could be a big problem.
The Science – "Any?"
At DietSpotlight, we like to see actual clinical studies or scientific research that supports the fitness product or supplement we're reviewing. However, we could not find any science that backs up the Slimmer Belt claims. Therefore we have trouble getting behind this workout product. [5]
The Bottom Line – Does Slimmer Belt Work?
So, should you run out and buy the Slimmer Belt? Well, we like that this product is reasonably priced and it's easy to find on distributor websites like Amazon. But, we have reservations because we do not like that it is not backed by any real research or scientific studies. Also, we're concerned about the poor product quality and lack of real results. [6]
If you really want to enhance your workouts and improve overall physical fitness, we advise you to go with a product that is supported by clinical research, comes with great customer service and is backed by positive user testimonials.
Among the best products we've found in 2016 is one called Leptigen. This supplement uses a blend of four key ingredients clinically tested and shown to help spark metabolism and boost fat loss. There's no talk of harmful side effects and user comments posted on the internet show people are seeing excellent results.
Also, the makers of Leptigen are so excited about their product they're offering every customer a Special Trial Offer.