Hot Belt Review

- 13 Things You Need to Know
Hot Belt Shaper is a device worn on the body designed to help shape the waist. The company claims the product helps lose weight, improve posture and get a good workout. But can a product that's just worn on the body really have an effect on weight?
Along with potentially concerning side effects from wearing the product, there is no real research to support the use of the product for weight loss. Our research team decided to examine the science behind the product to understand if it really can help people lose weight. Here's a summary of what they found out.
Hot Belt can be purchased through their Official Site.
Overview
What is the Hot Belt Shaper?
As Seen on TV, The Hot Belt shaper is a neoprene waist-shaping belt designed to help you lose weight, maintain good posture, and get a great workout. It's designed to compress your abdomen and support your lumbar spine.
According to this product's makers, this belt also increases body heat when it comes into contact with your skin. This is supposed to speed water weight loss and eliminate bloating.
The belt is also made of moisture-wicking material, so while it increases sweat production, wearers will remain as dry as English humor. The manufacturer notes that it coordinates well with most workout outfits and that it can be worn to the gym, to work, to school, or at home. This is a huge claim since I have personally tried other wraps and aren't necessarily fashion-friendly.
The company is not accredited by the Better Business Bureau (BBB), but they've been given a rating of "B". There have been no customer reviews, but there have been at least 25 filed complaints in the last 3 years.

Bottom Line – The manufacturer of the Hot Belt shaper claims that this item can speed weight loss, increase sweating and body temperature, support you through workouts, and improve posture.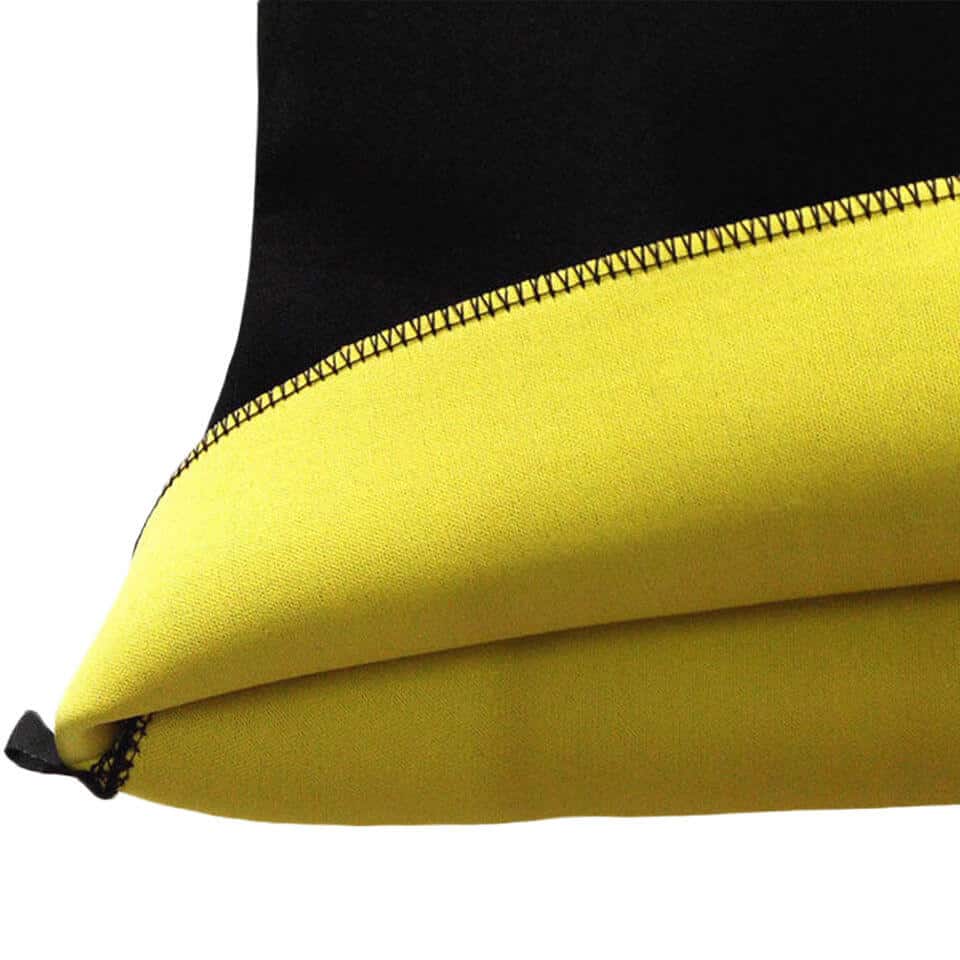 Hot Belt Competitors
Hot Belt Neotex – A Better Neoprene?
Neoprene is a synthetic rubber commonly used in laptop sleeves, compression clothing, and even insulation and auto parts. Neotex is a branded version of neoprene. We put our researchers to work and found that:
Neotex was advertised in the 1960s by the Columbian Carbon Company out of New York.
There is no clinical research proving Hot Belt Neotex is more effective than generic neoprene.
Bottom Line – This fitness belt is simply constructed in a way that allows it to provide compression while wicking moisture away from the skin.
Scroll below for one of the best products we've seen over the last year.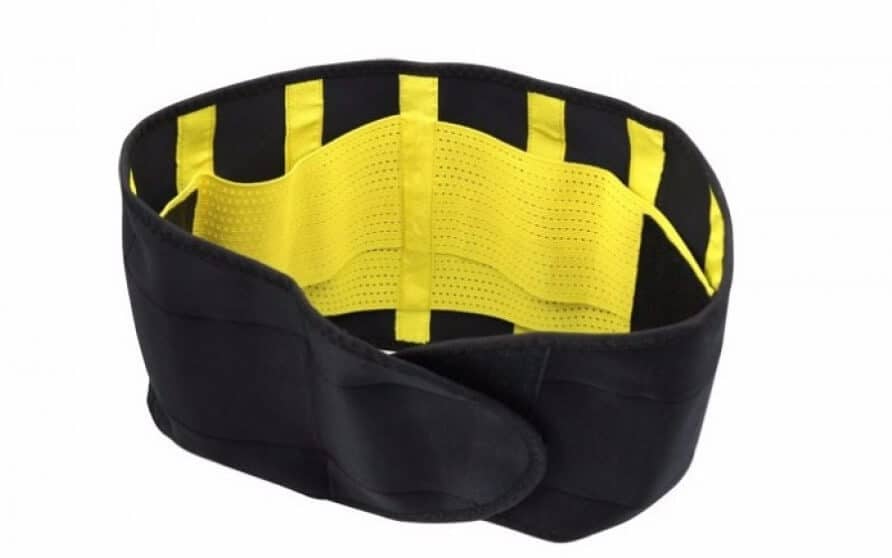 Does it Work?
Hot Belt Shaper – Does it Work?
As with any wearable fitness technology, like Flex Belt, which also targets the abdomen, there is some truth to the manufacturer claims that using Hot Belt to lose weight is an effective method. The belt is very similar to waist trainers' items, as it compresses the core and raises body temperature.
As you can see in the Hot Belt commercial, there are some pretty sweaty stomachs – and apparently, sweat means success to Hot Shaper.
However, the weight loss caused by waist trainers is primarily water weight loss due to sweating. Neotex and similar materials will raise your body temperature, which causes sweating – this doesn't mean you'll be successful using the hot belt to lose weight.
Because customers are told to use this product when exercising, the combination of exercise and wearing the Hot Belt will help lose water weight quickly. This may translate to a few pounds lost on the scale, and it may be helpful for those who feel bloated – so, there's that…but it's just not that easy.

Water weight loss, something often associated with a liquid diet, is much different from actual fat loss. While increasing your body temperature could help you burn a small number of calories, it is not nearly as effective as dieting or exercise for fat loss.
This belt has much in common with waist trainers, but it also has much in common with another popular category of clothing: compression gear. Compression gear has several benefits, including the following:
Improved blood flow
Reduced muscle soreness
Improved running economy
Improved joint awareness
Compression Clothing
What Exactly is Compression Clothing?
There's a new trend sweeping the fashion world, and it's something that's attracting everyone from athletes to homemakers.
Compression clothing.
The name sounds technical and maybe even slightly unsettling, but, in reality, it draws upon the same concepts of the traditional whalebone corsets of earlier eras.
What does compression clothing do?
Made from Lycra and Spandex, compression clothing does just what one would assume – compress. Available in everything from arm and calf sleeves to shirts and leggings, these products firmly hug the skin and form a specific portion of the body into the desired shape.
While athletes and stage performers use compression clothing to help heal injuries and strengthen the limbs, it has also been used to enhance the body's shape to give the wearer a slimmer look.
Researchers have been looking into compression clothing to determine if claims that they increase blood flow and oxygen delivery to the muscles are valid. After a thorough investigation and controlled experiments, the research found no comparable difference. However, she adds that if compression clothing makes the wearer feel better, that's reason enough to continue wearing the items.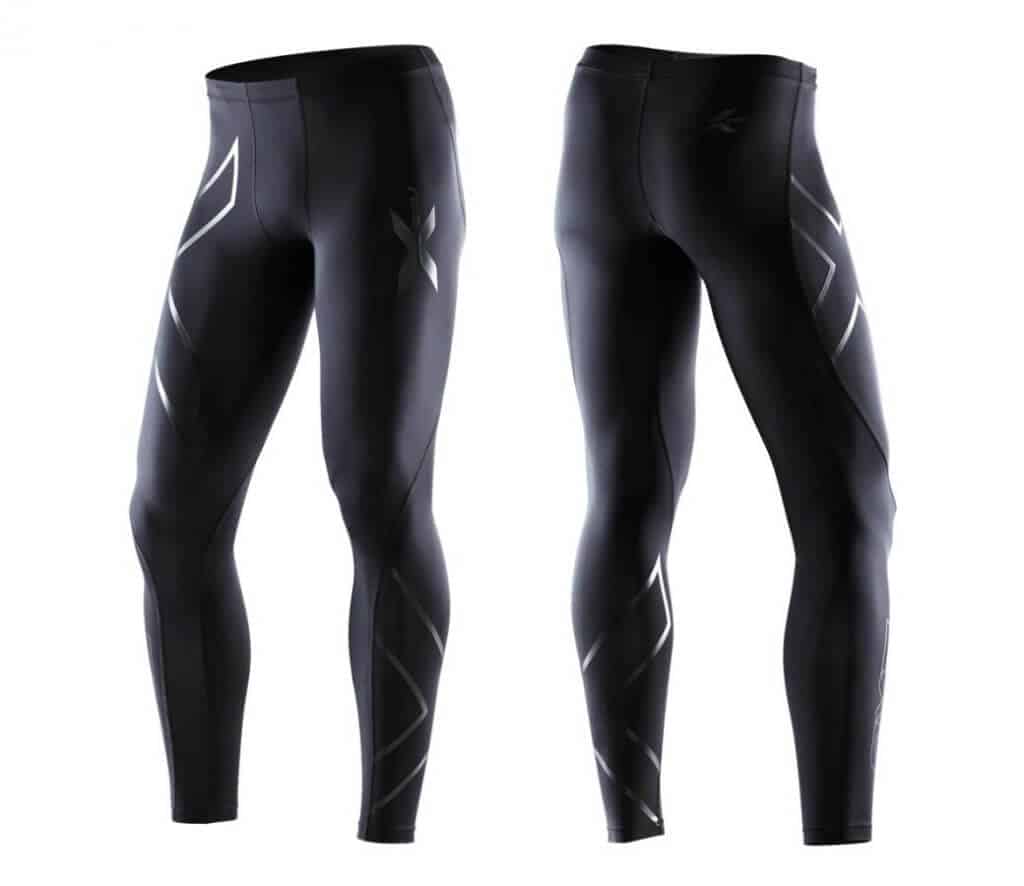 Is compression clothing safe?
It may seem that compression clothing constricts the life out of you, but don't fret. Ms. Stickford also said she found no evidence that wearing the items, at least for a short time, will create a danger to physical health. She adds that wearing compression clothing can promote good posture and provide added support, so, in that way, wearers may feel benefited by wearing them.
Can anyone use compression clothing?
While the healthcare field has been using compression wear for years to aid in patient recovery and maximize blood flow, the technology has been expanded to help athletes, performers, and average people for a variety of reasons.
While anyone, with the direct approval of a physician, can wear compression clothing, it's important to ensure you choose the correct compression level and size for your body. You won't be feeling too confident if look like you're in a full-body cast at the gym.
As long as you follow packaging guidelines, there's little reason to worry about negative effects from the short-term use of compression clothing. It simply provides support and enhances the body's biological functions.
Bottom Line – Compression clothing constricts the body, which can provide support and increase localized sweating.
Posture
Can Hot Belt Improve Posture Like They Say? 
It's unlikely that compression gear alone, like Hot Belt, improves a person's posture. Sometimes, wearing something marketed as a posture-improving garment can work almost like a placebo: it can influence that person to improve their posture.
Take, for example, a study published in the Journal of Chiropractic Medicine evaluated posture-cueing shirts and how they influenced cyclists' perception of their ride performance and recovery. The study found that "A posture-cueing, compressive shirt was rated to have a perceived benefit by experienced cyclists for riding posture, postride posture, spine discomfort, and postride recovery.
Many professional athletes have also been turning to "posture shirts," which are compressive garments with specialized bands designed to take the place of Kinesio tape. Some experts believe that these shirts have positive benefits for athletes and people who work at computers alike.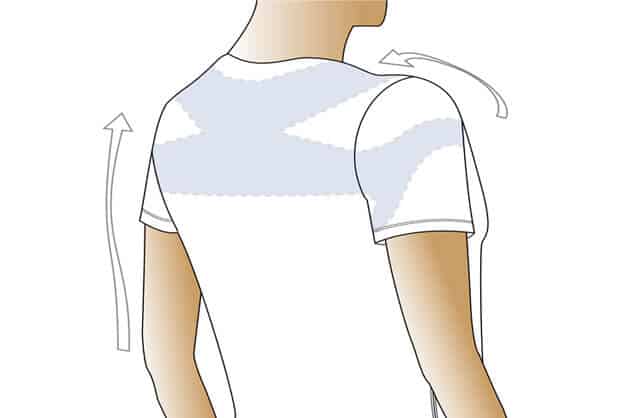 Hot Belt is not made with the specialized bands of compression shirts. Instead, it works to compress one portion of the body uniformly. This means that it could help your posture, but is most likely not as effective as medical-grade compression wear.
Bottom Line – There is some truth to the manufacturer's claims for this belt. It may increase body temperature and sweating, which will cause loss of water weight. Its compression may improve performance, and it is possible that it can positively influence posture.
Side Effects
Hot Belt Side Effects
While this product has brought some wearers positive results, it also can cause some negative effects. Below are some of the possible side effects, which have been noted by reputable websites or reported by users themselves.
Possible side effects may include:
Skin irritation. A few wearers have reported this effect in user reviews. It has been corroborated by The Corset Center, which explains that any product that is designed to cause sweating may also cause some skin redness and irritation. This effect may be unpleasant, but it is typically harmless.
Dehydration. The Corset Center explains that dehydration can affect wearing belts like this one for too long since excess sweating without drinking enough water can make you dehydrated. Additionally, the pressure caused by the belt may make drinking too much water uncomfortable, and this may also make dehydration likely.
Digestive issues. USA Today reports that doctors say wearing belts like this for long periods can cause or worsen heartburn and indigestion. This side effect can be incredibly uncomfortable, but it generally does not cause long-term issues.
Organ shifting. USA Today also explains that, according to some doctors, long-term use of very tight training belts can shift organs in the body. Depending on the severity of the shift, this can cause health issues eventually. This side effect is extremely rare.
Bottom Line  – While the side effects listed above may seem off-putting, many health professionals believe that belts and trainers like this product are largely safe for many people.
Hot Belt Cost, Sizes, Where to Buy and How to Return
Because the Hot Belt is small, light, and easy to ship, this product is available for sale from various online retailers and from the manufacturer itself. So, how much does Hot Belt cost?
Across the big three retailers – Walmart, Amazon and eBay, and the official website, the price can be anywhere from $19 to $75. It can also be purchased at Walgreens, Waist Secret, and Next Deal Shop for a similar price.
Amazon – $35.99
Walmart – $19.90
eBay – $25.00 to $75.00
As for sizing, Hot Belt is available from size small to 3XL. The exact measurements are difficult to find, but the general consensus is:

The Hot Belt Women goes up to a 4XL.
Returns
Returning Your Hot Belt
Hot Belt has no problem telling the world that they want their customers to be 100% satisfied – as any company would. But their return policy tells a different tale.
If you purchase your Hot Belt from the official website, you have a 30-day warranty to return it, but only if you have the original packaging. It's never been used…So this isn't that big of a deal – if you aren't getting the results that you want, simply step into your time machine, go back to when you received the package, and don't use it.
Their return policy also says that you must contact the customer service department before returning, and you're responsible for the return shipping cost. Again, not a problem – why wouldn't you pay to return an ineffective product?
So basically, you'll have to pay more if the product doesn't work. But you won't have to worry about that because they won't accept it if you use it.
Bottom Line – This belt is a product that is affordable and easy to get, and it is sold by several online retailers. The return policy is 30 days – just don't use the product at all, because then they won't accept it. And be prepared to pay for the return shipping costs.

Hot Belt Customer Service
Hot Belt customer service contact information points toward Florida, at the following address:
HOT SHAPERS
10480 NW 37 Terrace,
Doral, Florida 33178
Email: customercare@hotshapers.com
Phone: (800) 922-0352
However, the company prefers that customers reach out to contact them using a web form on their site. They also ask customers to get in touch by email.
Hot Belt and the Better Business Bureau – What's the BBB's Take?
Hot Shapers is not accredited by the Better Business Bureau. The BBB has given it a rating of "B".
2022 Update: The new stats for Hot Shapers are as follows:
25 complaints closed in last 3 years
6 complaints closed in last 12 months
0 Customer Reviews
Of the complaints filed against Hot Shapers, 24 had to do with problems with the product and 1 had to do with warranty.
While this product has no reviews on the BBB website, it has many reviews on other sites. Some of these reviews report good results, while others complain that the product does not work as advertised.
Bottom Line – While the Hot Shapers site appears official and the company gives customers several ways to reach out, the company's information on the Better Business Bureau site leaves something to be desired.
Hot Belt Vs the Competition
Here, we'll look at how this product stacks up against competitors.
HOT BELT VS BELT WAX
A waxed belt may, like the Hot Belt, increase your body heat in the affected area. However, this type of belt is often harder to adjust, and because it isn't as soft and stretchy, it may cause more irritation than the wearer is comfortable with.
In this particular match-up, Hot Belt is the preferred choice because it seems to lend all the same benefits – minus the potential discomfort.
Bottom Line  – While some competitors come close to the Hot Belt and some of the other gear produced by Hot Belt may have more benefits, this product remains one of the most effective waist-specific compression items available.
What Users Are Saying
What Users Are Saying
"Great product for slimming the waist down! Fits comfortably and loved that it doesn't roll up. I've had it for a week and feel a bit slimmer. Love that it supports my posture as well while exercising. Totally awesome!"
"It's comfy, but I was disappointed that it rolls down. I had to stop and adjust it throughout the day because it started rolling."
"I love how comfortable this is for daily use and even working out! It is adjustable, so as you change, it adapts to your needs. Love it!"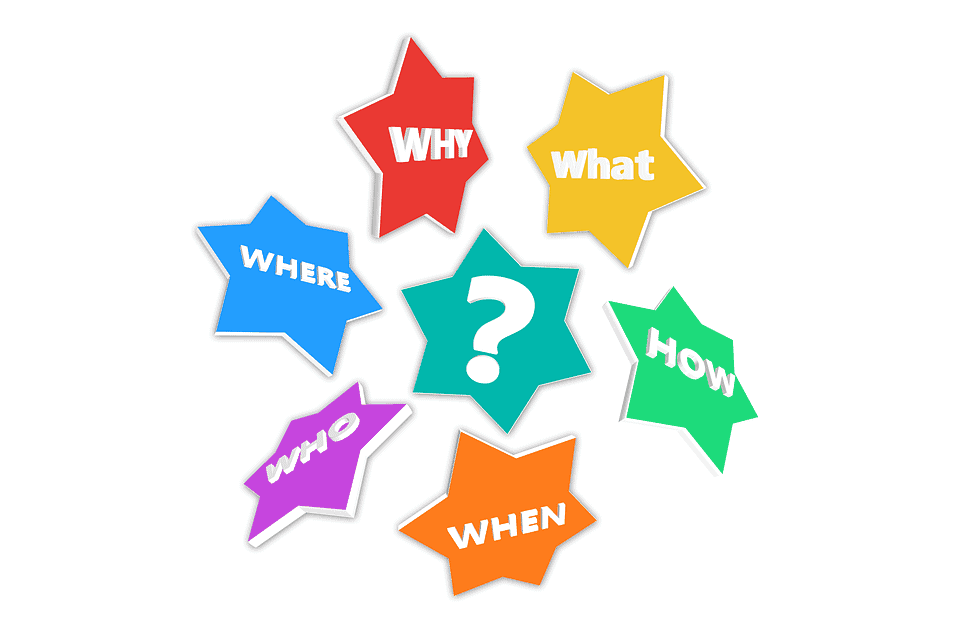 Bottom Line
The Bottom Line on Hot Belt – Does it Work?
The manufacturer of Hot Belt claims buyers can use it to lose weight, fix posture issues, and support performance. However, as mentioned above, most research suggests that using Hot Belt to lose weight simply results in loss of water weight. It may be beneficial for those who feel chronically bloated, but it is not a good way to actually lose fat. Here's our final take on  Hot Belt:
Pros:
This belt is affordable, which may make it worth a try to some.
It is flexible and can be worn as part of a workout outfit or for everyday wear.
It is made of high-tech, moisture-wicking fabric.
Cons:
The science behind it is inconsistent, and research indicates it probably does not support weight loss.
While it may have compression benefits, it is probably less effective than other types of compression gear.
The company's return policy doesn't make sense unless you can travel back in time.
It can cause redness and skin irritation, which is pretty much the last thing you need while working out, jogging or building your time machine.
The Hot Belt is about slimming the waistline, but research shows targeting belly fat doesn't work. What we suggest is choosing a program that focuses on your individual weight loss needs and helps you make healthier choices.
One of the best weight-loss programs we've found this year is one called Noom. The studies check out and customer reviews talk about amazing results with the program's personalized meal plans, human coaching, food and exercise tracking, and so much more.
Right now there's a free trial offer  of Noom for Dietspotlight readers for a limited time.
Learn More About Noom »