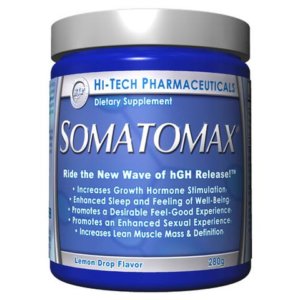 Looking at some diet products can be painful, especially if there's no scientific backing for the formula. Let's find out if Somatomax is in this group. We at DietSpotlight conducted an in-depth review, examining the side effects, ingredients, clinical research and overall customer service. Furthermore, we looked at hundreds of user reviews and comments from all over the internet. Finally, we summed up all of the facts and feedback we found to give you the info you need.
EDITOR'S TIP:
Combine Somatomax with a proven fat burner such as
Leptigen
for better results.
What You Need To Know
Somatomax is a powder formula that is intended to increase growth hormone stimulation, enhance sleep, increase muscle mass, improve bone density, boost fat metabolism and elevate your feeling of well being. It is directed to be taken 30 minutes prior to bedtime (one heaping scoop is added to a glass of water). The ingredients in Somatomax are as follows; 4-amino-3-Phenylbutyric Acid, Gamma Amino Butyric Acid, Macuna Pruriens Extract, L-Arginine HCL, L-Tyrosine, L-Phenylalanine and Vitamin B-6.
Somatomax is made by Hi-Tech Pharmaceuticals, Inc. and it's available online for $37.95. This supplement may help improve your mood and there are some positive comments about it posted online, but read on…
Side Effects – Concerning?
"Numerous customers have complained of side effects after taking Somatomax. These side effects include dizziness, headache, heart palpitations and odd skin sensations. This is very concerning," says our Research Editor.
According to one user, "This product makes you feel like you were drugged. Couldn't get out of bed until after noon. Still tired and dizzy. I cut the dose in half and still felt drugged the next day and extremely groggy."
"First time I took a full scoop. Within 30 minutes my face and arms felt like they had ants crawling on them. Next day was awful – dizzy, disoriented, sleepy. Cut back to 3/4 and was better, but still not good – had heart palpitations about an hour after taking and was still a bit woozy the next day," said another customer.
Scroll below for one of the best products we've seen over the last year.
Lack of Clinical Research
The official website does not provide any clinical research that supports Somatomax. In fact, one user stated, "If anything this product made it harder to get to sleep. It hasn't helped me to stay asleep any better, I still wake up wide awake after about 2-3 hours of sleep."
Another customer commented, "Does not help me get to sleep! I took the full scoop. Won't buy this again."
The intensive research we've done has shown if there is a certain part of a diet product that is very concerning or bothersome (side effects, lack of clinical research, high cost) the chances of lasting weight loss results are slim. This means if Somatomax does in fact lack clinical research and leads to side effects in numerous people, this could be problematic.
Any Solid Science?
Unfortunately the official website for Somatomax does not offer any clinical research results. In fact, the website does not even provide the price of this product. Here at DietSpotlight, we prefer to see some published clinical studies that support the weight loss product we'rereviewing.
The Bottom Line: Does Somatomax Work?
So, should you buy Somatomax? Well, we like that Somatomax contains some amino acids and there are some positive comments about it online. However, we are concerned about the effectiveness of this supplement because it's not backed by clinical research. Moreover, we did not like the numerous customer complaints about side effects, we found on the web.
If you'd like to get rid of more pounds, then we recommend you go with a product that does not cause any side effects, contains clinically proven ingredients for weight loss and is supported by encouraging customer reviews.
Among the best products we've seen in 2015 is one called Leptigen. This supplement uses a proprietary blend of four ingredients, which have been proven in published scientific research to help boost metabolism and speed up fat loss. We have not found any talk of harmful adverse effects and user comments posted online reveal people are seeing solid results.
The makers of Leptigen are so confident in their product they're offering a Special Trial Offer, which is very encouraging.