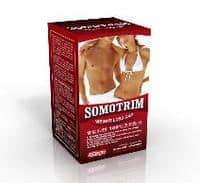 If you haven't looked carefully at Somotrim, now's your chance. We did one of our comprehensive reviews, focusing closely on the ingredients, side effects, customer service and scientific studies. We additionally read dozens of dieter comments and user reviews posted on the internet. At this point we summarized and condensed the data to give you the important facts you need.
EDITOR'S TIP:
Combine Somotrim with a proven fat burner such as
Leptigen
for better results.
What You Need To Know
Somotrim is a Puerto Rican weight loss supplement for women and men. This product should be taken daily with water. According to the website, Somotrim can help you drop at least 12 pounds in the first month. The ingredients in this supplement include; Trigonella Foenumm, Marumi Kumquat, Coleus Scutellarioides, Tuckahoe, Sweet Potato Fiber, Kola Nut, Cyamoposis Gum Powder, Alfalfa, Guttiferae Plant and Amor Phallus Konjac. The actual price of Somotrim is not presented on the website.
From what we gathered, Somotrim was released around 2008. This diet product contains some natural ingredients and a contact email address and phone number are provided on the official website, but read on…
FDA Warning – Is it Safe?
According to our Research Editor, "The FDA issued a warning regarding Somotrim, because this product contains a hidden drug called Sibutramine (a controlled substance), which was pulled from the market back in 2010. Sibutramine can lead to serious health risks."
One customer stated, "Did not lose any pounds, but had serious heart palpitations."
Another user commented, "This stuff makes my head hurt and my heart race. Don't buy it!"
Scroll below for one of the best products we've seen over the last year.
Side Effects – Another Concern
From what we gathered online, plenty of people have experienced adverse effects after taking Somotrim. One user complained, "Somotrim causes dizziness, headache, anxiety and accelerated heart rate."
"Not worth it! This stuff will make your heart pound out of your chest," said another customer.
According to our research, if there is a certain facet of a weight loss pill or diet program that is especially bothersome (FDA warning, side effects, unpleasant taste) the
likelihood of lasting success is minimal. Therefore if Somotrim does cause side effects in a lot of people, this could be a serious problem.
Any Real Science?
For us at DietSpotlight, we like to see solid science that backs up the diet product and its weight loss claims. As for Somotrim, we could not locate any clinical research that supports this diet pill. Therefore we can't get behind its serious weight loss claims.
The Bottom Line: Does Somotrim Work?
So, should you buy Somotrim? Well, we like that Somotrim contains some natural ingredients and that contact information is presented on the company website. But we have some reservations about this weight loss supplement because it's not backed by clinical research. Also, we're concerned about the FDA warning posted online and the side effects many customers have complained about.
If you'd like to get rid of more pounds of fat, then we recommend you choose a product that contains clinically proven ingredients, does not cause unpleasant side effects and is not frowned upon by the FDA.
Among the best products we've seen in 2015 is one called Leptigen. Its formula is a unique blend of four powerful ingredients, which have been proven in documented clinical research to help increase fat loss and elevate metabolism. We can't pinpoint any talk of harmful adverse effects and customer comments around the internet indicate people are seeing excellent results.
The makers of Leptigen are so confident in their product they're offering a Special Trial Offer, which is very encouraging.