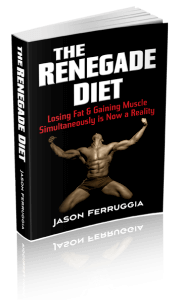 Don't laugh, but well over 50% of diet products and programs simply don't work. So what about The Renegade Diet? We at DietSpotlight did one of our in-depth reviews, investigating the ingredients, side effects, customer care and clinical research. Moreover, we looked closely at countless user comments and reviews from around the web. At last, we summed up the facts and feedback we collected to give you the information you actually need.
EDITOR'S TIP:
Combine The Renegade Diet with a proven fat burner such as
Leptigen
for better results.
What You Need To Know
The Renegade Diet was created by Jason Ferruggia, and it's claimed to help you get "absolutely ripped in 60 days." Ferruggia is a fitness expert and writer. According to the official website, this is not a complicated diet plan. More specifically, it does not encourage low-carb eating, because this can hinder mental and physical performance. However, The Renegade Diet does claim to target stubborn fatty areas, such as the hips, belly, love handles, chest and glutes. With this diet plan, you are supposed to be able to eat all of the foods you enjoy while burning off unsightly fat. Unlike some diet plans, this approach is intended to help with fat loss and muscle gain.
We are not sure when The Renegade Diet was first released, but it is available on the official website for $19.99 (eBook download). No special supplements are needed and you can find some customer before and after photos posted on the official website, but read on…
Daily Fasting – A Consideration?
"Regular fasting is a major aspect of The Renegade Diet. Therefore you need to be willing to take a 14-16 hour break from eating each day. According to the dieter reviews we found on the web, this does not work well for everyone," says our Research Editor.
"I don't see how this diet works. There is significant evidence leaning towards the fact that to maintain your weight/lose weight, you need to keep your blood sugar stable and prevent spikes.. Which means that by fasting for those many hours, and then eating lots of calories in a short period after the fast, your sugar will spike, realizing insulin and then extra to cover all those calories and in turn gain weight," said one person.
Another dieter commented, "In the book, he mentions a 14-16 hour fast, followed by a 4-hour underfeeding window. I don't like this."
Scroll below for one of the best products we've seen over the last year.
Another Concern – Dieter Complaints
We did spot several dieter complaints posted online regarding The Renegade Diet. "Not for me. I get dizzy and lightheaded when I don't eat for a few hours," stated one individual.
"Don't like the eating schedule. To be honest, I just feel hungry and annoyed," mentioned another person.
The extensive research we've done has proven that if there is one facet of a diet program that is quite concerning or bothersome (daily fasting, too many dieter complaints, high price) the chances of lasting weight loss are not very good. In other words, if The Renegade Diet does result in a lot of dieter complaints, this could be a major problem.
Is There Any Solid Science?
As with many diet programs, there is a great deal of hype presented on the official website for The Renegade Diet plan. However, we did not locate any solid science or clinical research pertaining to this method. This is unfortunate, because we at DietSpotlight need to see some published science that supports the weight loss program.
The Bottom Line: Does The Renegade Diet Work?
So, should you run out and buy The Renegade Diet? First of all, it's good to see that this eBook download is easy to acquire online and there are some customer before and after photos posted on the main website. On the other hand, we did not find any actual science that supports this weight loss program. Moreover, we are a bit concerned about the daily fasting involved with this diet, as well as the dieter complaints posted on the web.
If you'd like to get rid of some serious pounds, then we encourage you to select a diet program or weight loss product that is supported by actual science, does not require daily fasting and is backed by plenty of positive customer reviews.
Among the best products we've seen in 2015 is one called Leptigen. Its formula is a unique combination of four potent ingredients, which have been shown in published scientific studies to help speed up fat loss and increase metabolism. Moreover, we can't find any complaints of harmful adverse effects and customer feedback around the web shows people are seeing significant results.
The makers of Leptigen are so satisfied with their product they're offering a Special Trial Offer, which is a good sign.