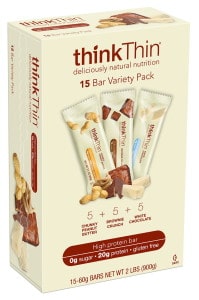 We've heard a lot of buzz about Think Thin's protein bars lately, so we decided to take a closer look. We did one of our in-depth reviews and examined the ingredients, side effects, clinical research, and customer-service quality. We followed that up by surveying scores of consumer reviews on the web; then we summarized and condensed our findings here to give you all the info you need.
EDITOR'S TIP:
Combine Think Thin Bars with a proven fat burner such as
Leptigen
for better results.
What You Need to Know
Let's get started. Think Thin protein bars are essentially a meal replacement product in the form of a snack bar. They don't have to be used as a meal replacement, but the 20 g of protein may be able to get you through breakfast. The full ingredient list is as follows: Vitamin A, Calcium, Calcium Caseinate, Whey Protein Isolate, Soy Protein Isolate, Hydrolyzed Collagen, Maltitol, Cocoa Butter, Chocolate Liquor, Calcium Carbonate, Dairy Oil, Lecithin, Vanilla, Hydrogenated Starch Hydrolysate, Glycerin, Peanut Butter, Peanut Flour, Natural Flavor, Salt, Mono and Diglycerides, Lecithin Emulsifiers, Tricalcium Phosphate, Vitamin C, Vitamin E, Niacin, Iron, Zinc, Pantothenic Acid, Vitamin D, Vitamin B6, Copper, Riboflavin, Thiamin, Folic Acid, Biotin, Iodine, and Vitamin B12.
These snack bars contain no sugar and are gluten free, so they are intended to be a healthy alternative to regular snacking. One plus is that they are easy to consume on the go or in the office.
Think Thin bars seem to be the first item that got Think Products started back in 2000, and the avoidance of sugar while packing in the protein is the product's biggest claim to fame. The bars are available in health stores like Vitamin Shoppe and on its official website. We like the longevity of Think Products, and the general consensus from the web seems to be that ThinkThin bars have a great taste, but read on…
Gastric Side Effects–"Are They Worth the Bloating?"
After looking through reviews, our first concern with Think Thin bars is the side effects. "If you regularly eat Think Thin bars as an alternative to meals or unhealthy snacking, your body with undoubtedly appreciate the lack of sugar," said our research editor, "but the high concentration of protein, the use of imitation sugars, and the other ingredients will probably leave you feeling bloated." If you eat two Think Thin bars per day, you will consume 22 grams of sugar alcohol (in this case, maltitol).
"A girlfriend of mine told me that these bars caused her excessive flatulence. I didn't believe her till I tried one…," said one user.
"Since I have been eating these, I notice major gas issues, bloating and minor diarrhea. I do not have a lactose allergy as far as I know since I can eat dairy problems without these symptoms," said another.
For those who consume more than two or three bars per day, the side effects will likely get continually stronger. The European Journal of Clinical Nutrition reported that 40 grams of maltitol per day triggered abdominal pain in a control group; combine that with all of the protein found in Think Thin bars, and you may find the bars to be more cumbersome than helpful.
Scroll below for one of the best products we've seen over the last year.
Another Concern–High Calorie Count
Another fact that we found to be surprising was the relatively high calorie count. "Too dense and calorie-laden," said one customer online.
"These bars are rather high in calories, and I did not like the texture," said another. In reading through forums, many customers agree. Some people looking for a weight loss product may be frustrated by the high count. "At 230 calories per bar (with 8g of fat – 12% of DV), you may 'think thin' all you want, it's just not gonna happen," said one person.
Our research over the last few years has shown that if there is a significant drawback or two in a product, the likelihood of long-term success is slim. If you begin experiencing severe gastric side effects from the sugar substitutes and protein or you need to cut down on your calorie intake, you should carefully consider whether these bars are the right choice.
A recent WebMD article quoted the following from Liz Applegate, a lecturer at UC Davis: "[Someone] may think that these bars are better than food. But there are ingredients in foods that are missing from these bars," Applegate says. "Just as you wouldn't want to live only on peaches or only on tuna sandwiches, you need a lot more in your diet than just energy bars."
The Science–Do Think Thin Bars Stand up to Their Claims?
From a scientific perspective, the sugar substitute maltitol isn't as bad as other choices. The National Library of Medicine has a number of published studies pointing to gastrointestinal side effects related to maltitol, but the flatulence and abdominal pain are more discomforts than dangers. The high calorie count, however, doesn't make Think Thin bars a friend to dieters. Losing weight is a simple process: burn more calories than you consume. ThinkThin bars seem more suitable to athletes needing the high-protein impact rather than to average people trying to burn a few pounds.
The Bottom Line–Should You Buy a Few Boxes at Costco?
Here's the gist: We like Think Thin's longevity in the market and the positive feedback we saw online about the taste, but we have reservations about the bars as they relate to weight loss. The high calorie count could be a detriment to dieters, and the sometimes-intense abdominal discomfort associated with that much protein and maltitol may discourage someone trying to trim down.
If you are trying to lose a few pounds or get a little bit more trim, you should probably look for a product that won't make you gassy and bloated. Also, your supplement shouldn't add to your daily calorie intake.
One of the best products we've seen in 2015 is one called Leptigen. It's a supplement that blends four powerful ingredient together in a proprietary formula proven to burn fat and boost metabolism. Better yet, each ingredient is clinically studied. There aren't any harmful side effects, and online reviewers are thrilled with its performance.
There is currently a special trial offer, which goes a long way in showing that the company stands behind its product.