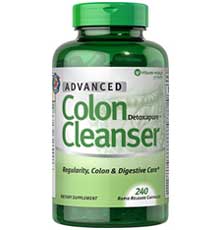 If you want the bottom line on Vitamin World Advanced Colon Cleanser, give me just two minutes of your time. We did one of our in-depth reviews, focusing on the ingredients, side effects, clinical studies and customer-service quality. We additionally read all kinds of user remarks and responses that are posted on the internet. At last, we summarized and compacted everything in order to give you the facts you need.
What is Vitamin World Advanced Colon Cleanser?
To begin, Vitamin World Advanced Colon Cleanser is marketed as a digestive care supplement. It is suitable for women and men alike. This product contains lactobacillus acidophilus, celery seed, barberry root, buckthorn bark, rose hips, papaya fruit, peppermint leaf, fennel, senna extract and psyllium husk. Four capsules is a serving. This formula should be taken daily with plenty of water. It's claimed to improve regularity, encourage a healthy digestive tract, and cleanse the body of toxins and impurities.
We are not sure when Vitamin World Advanced Colon Cleanser was first released. It is one of many supplements available from Vitamin World. This company has been around since 1977. They are located in Holbrook, NY. You can easily buy this formula online via stores like Amazon, but read on…
Side Effects – "Concerned At All?"
One issue is Vitamin World Advanced Colon Cleanser side effects. According to our Research Editor, "Some users have reported adverse reactions such as diarrhea, constipation, nausea and abdominal pains. Naturally this is concerning."
One customer stated, "Gives me bad diarrhea. Makes me feel nauseated. I can't take this."
On the other hand, a different user said, "Works okay. Not sure about some of the Vitamin World Advanced Colon Cleanser ingredients. But it seems to cause bowel movements."
Another commented, "Still waiting. I have been using it for a few days. Hope it works."
Scroll below for one of the best products we've seen over the last year.
Vitamin World Advanced Colon Cleanser Results – "Uh Oh"
Another concern is minimal results. For example, one person posted, "Vitamin World Advanced Colon Cleanser does not work like I expected. At first, it helped. But now I feel constipated."
Then again, another person revealed, "It's okay. Makes me gassy though. Not sure about this one for any long-term use."
"Seems to make me use the restroom more. I guess that's all it does. No weight-loss or anything," said another.
Our research has shown if there is some particular part of a diet supplement or weight-loss program that is especially problematic (side effects, minimal results, user complaints) the likelihood of long-term success is slim. So, if Vitamin World Advanced Colon Cleanser does cause unwanted adverse reactions in a lot of people, this could be a serious issue.
The Science – "Solid?"
At DietSpotlight, we prefer to see some real science that supports the supplement we're reviewing. As for Vitamin World Advanced Colon Cleanser, there is no documented research presented. However, this product does contain some natural laxative herbs that may help increase bowel movements.
The Bottom Line – Does Vitamin World Advanced Colon Cleanser Work?
Now the moment you've been waiting for. Here is our bottom line on Vitamin World Advanced Colon Cleanser. First off, we like that this formula contains natural herbs. It's also good to see that this company has stood the test of time. Then again, we have some reservations about this supplement because it's not supported by any documented studies. Also, we're concerned about the side effects that some users experience.
If you'd really like to get rid of some pounds, then we suggest you go with a product that is backed by solid clinical research, does not lead to any unwanted adverse effects and is supported by numerous user testimonials.
Among the best products we've seen in 2016 is one called Leptigen. Its formula is a proprietary blend of four powerful ingredients, which have been shown in documented clinical research to help accelerate metabolism and improve fat loss. Moreover, we can't find any negative user feedback, and comments around the web indicate people are seeing great results.
The makers of Leptigen are so satisfied with their product they're offering a Special Trial Offer, which is a good sign.