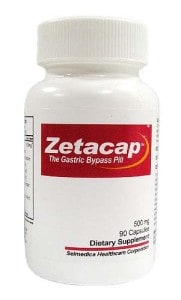 Why are people talking about ZetaCap? We decided to put the spotlight on ingredients, side effects, clinical research and customer service quality. Additionally, we analyzed hundreds of customer comments and reviews. Then, we summarized and refined to give you the info you need.
EDITOR'S TIP:
Substitute ZetaCap with a proven fat burner such as
Leptigen
for better results.
What is ZetaCap?
First off, the ZetaCap ingredients include xanthun gum, Chinese red ginseng root, panax ginseng root, Siberian ginseng, astragalus root, cayenne fruit, echinacea root, fo ti root, guarana seed and golden seal.
The manufacturer says the product works the same way as gastric bypass surgery works, by blocking the stomach which makes you feel full. They claim dieters will feel like they've eaten a full meal and will lose weight by helping you reduce the amount you are actually eating. They also claim this will only take 90 days. We like that this is a nonsurgical option but read on…
Side Effects – "Not Good!"
The main concern with ZetaCap side effects was the frequency. "When a supplement contains some natural ingredients, you think it'll have a positive effect," said our Research Editor. "But if the formula causes adverse reactions, we start to have bigger concerns about it."
"I was shaky, jittery, and just didn't feel well. This one is not for me," reported a customer.
We found that some customers taking ZetaCap didn't experience any side effects. "So far no side effects that I can tell. I'm not ripped by any means, but I've noticed that I can fit clothes now that were previously too tight," stated a dieter.
"Good at cutting cravings and between meal snacks without any side effects," commented another.
Scroll below for one of the best products we've seen over the last year.
The Price – "Breaking the Bank?"
ZetaCap ingredients being more expensive than comparable supplements was a concern reported by some customers.  "The ingredient list is all herbal, so I don't know why the pills are so expensive," said a dieter.
"Didn't do anything to curb appetite, never made me feel full and they were more expensive that other out there," commented a user.
Some customers didn't mind the cost, as long as they were seeing results. "There are definitely some better pills out there, but for the price you pay, this is one of the better ones," said a dieter.
"Another good thing about ZetaCap is the price, less than other options," stated a consumer.
The Science – "Evidence?"
After spending a lot of time looking for information on this supplement, we noticed the science simply isn't there to support the claims. The company doesn't have a website where it can provide information and doesn't offer any scientific proof on the packaging. This is never a good sign, for us at DietSpotlight. Without this sort of information, it's impossible to know what claims can be authentically backed up.
The Bottom Line – Does ZetaCap Work?
So, here's our final thoughts on ZetaCap. Well, we like that it contains a few natural ingredients and that we found some favorable customer comments, but the lack of research is a bit concerning to us. We're also skeptical about this one because of customer reports of negative side effects and high price.
If you really want to lose weight, we recommend choosing a supplement that provides both value and clinically-tested ingredients.
One of the best supplements we've seen in 2016 is one called Leptigen. It's made with some clinically-tested ingredients, which are well known for their ability to increase fat loss and metabolism. We were unable to find any negative reviews about the product or side effects, indicating consumers are pleased with their results.
The makers of Leptigen are so sure of their product they're providing new customers with a Special Trial Offer, which is an excellent sign.