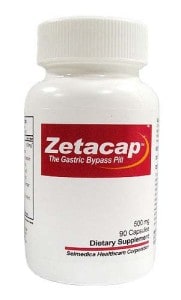 A lot of people have been in the media talking about the benefits of gastric bypass surgery. While this is a proven weight loss technique, it isn't accessible to many people who want to lose weight. The makers of Zeta Cap insist their product is a safer and more accessible option for those who are considering gastric bypass surgery. We looked at the available data and reviews to put together all the information you'll need to make an informed decision.
EDITOR'S TIP:
Substitute ZetaCap with a proven fat burner such as
Leptigen
for better results.
What You Need to Know
The ingredients in Zeta Caps include Xanthun Gum, Chinese Red Ginseng Root, Panax Ginseng Root, Siberian Ginseng, Astragalus Root, Cayenne Fruit, Echinacea Root, Fo Ti Root, Gurana Seed and Golden Seal Root.
The manufacturer says the product works the same way as gastric bypass surgery works, by blocking the stomach which makes you feel full. They claim dieters will feel like they've eaten a full meal and will lose weight by helping you reduce the amount you are actually eating. They also claim this will only take 90 days. We like that this is a nonsurgical option but read on…
Safety Concerns
The main concern with Zeta Cap is the claim of blocking the stomach. This approach has caused many in the medical community to share their concern. Our research editor says, "I worry when biological processes are physically hindered without proper medical supervision."
There are a few other concerns reviewers have mentioned, such as feeling bloated, constipated, stressed out, and anxious. One consumer said, "I was shaky, jittery, and just didn't feel well. I know everyone reacts to supplements differently, but this one is not for me."
Scroll below for one of the best products we've seen over the last year.
The Price – Not That Much Less
One of the big claims the company makes is how much more affordable Zeta Caps are than opting for surgery. While this is true, it doesn't mean the product is inexpensive. The company recommends one to two capsules before each meal, which at the high end is six per day. A bottle of 90 capsules costs $75, which means you'll need at least two bottles a month. So if you don't take the maximum dosage every day your cost will be around $150 a month. That's a lot of money for something that is supposed to be affordable.
However, you don't need a physician's prescription to obtain the product. This means you will save money on the doctor's visit you would need for surgery.
The Science
After spending a lot of time looking for information on this supplement, we noticed the science simply isn't there to support the claims. The company doesn't have a website where it can provide information and doesn't offer any scientific proof on the packaging. This is never a good sign, for us at DietSpotlight. Without this sort of information, it's impossible to know what claims can be authentically backed up.
The Bottom Line
We were excited about reviewing Zeta Cap because of the popularity of the gastric bypass procedure. If it was truly as effective as the surgery, and for a much smaller investment of time and money, then it would indeed be worth trying. However, the cost is still quite high for a product that has negative reviews and no studies to support efficacy.
If you really want to lose weight, we recommend choosing a supplement that provides both value and a scientifically proven formula.
One of the best supplements we've seen is Leptigen. It's made with clinically proven ingredients, which are well known for their ability to increase fat loss and metabolism. We were unable to find any negative reviews about the product or side effects, indicating consumers are pleased with their results.
The makers of Leptigen are so sure of their product they're providing new customers with a special trial offer, which is an excellent sign.