Updated: 09/29/2015 - Sponsored by Leptigen
Amberen Review - Does This Menopause-Relief Supplement Really Work?
Are Amberen's FTC lawsuit and side effects deal breakers?
PUBLISHED: 08/29/2015 | BY: SUMMER BANKS, SENIOR REVIEWER
Editor
's Review:
3.5
/ 5.0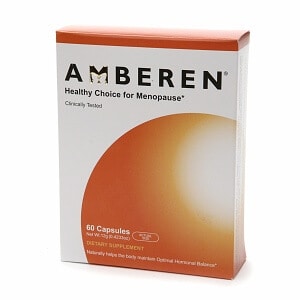 We've seen a great deal of buzz about Amberen, so we wrote and in-depth review, closely examining the ingredients, side effects, customer-service quality and clinical research. Also, we scrutinized countless user reviews and customer comments found online. Lastly, we condensed all of the facts to give you the information you need.
EDITOR'S TIP:
Combine Amberen with a proven fat burner such as
Leptigen
for better results.
What You Need To Know
Amberen is a supplement made specifically for women suffering from symptoms of menopause. This product is claimed to address the following symptoms; menopausal weight gain, hot flashes, low sex drive, sleeplessness, fatigue, night sweats and low energy levels. To use Amberen, you simply take two capsules (one orange and one white) each morning after breakfast. As for the ingredients used in this supplement, they include; Ammonium Succinate, Calcium Disuccinate, Magnesium Disuccinate, Zinc Difumarate, Glycine, Tocopherol Acetate and Pharmaceutical-Grade Monosodium L-Glutamate.
Amberen is made by Lunada Biomedical, a company located in Van Nuys, CA. It was first released in 2010 and is sold with a 45-day money-back guarantee. An FTC lawsuit and negative Facebook community were red flags for us. Also, a few success stories are posted on the official website and you can buy this product directly from the website ($99.98 for a three-month supply), but read on…
FTC Lawsuit
According to our research editor, "After doing extensive research on Amberen, we discovered that the FTC sued this company over Amberen's weight loss claims. The FTC stated that there are no clinical studies to support Amberen's claims regarding weight loss."
According to one customer, "This product just didn't work. I've been suffering from pre-menopause for years and have been trying to find something 'natural' to help me. This product kept me awake all night long, made be feel cold all the time and saw an increase of facial hair. It also didn't do anything for my mood and anxiety either. Wouldn't recommend to anyone."
Another complained, "This product did absolutely nothing for me."
Scroll below for one of the best products we've seen in 2015.
Side Effects – Be Careful!
There are many customer complaints concerning adverse reactions related to this product. One user said, "Amberen may work for some people but the negative effects I had made me want to write this review. First, I took this supplement for two months and NOTHING happened. I did not drop a pound, my hot flashes increased and became unbearable and I got heartburn so badly I had to stop taking the pills."
"I had to stop taking it after 16 days…I have a rash and hives…I have never in my life had a reaction like this before. I had a constant headache and I think it kept me up at night. On the plus side, increased energy, but I actually GAINED weight on this product. So disappointed," said another.
Our research has told us that if a particular facet of a diet supplement or weight loss program is significantly troublesome (serious side effects, company lawsuits, no clinical evidence) the actual chances of long-term results are low. If Amberen does in fact cause a lot of people to experience side effects, this could be quite serious.
The Science
We noticed that the official website for Amberen talks about proven clinical science. However, if you take a close look at the studies, you will see that they do not support weight loss as claimed. This is why Lunada Biomedical got in trouble with the FTC. For us at DietSpotlight, we have to see real scientific research supporting the supplement's claims.
The Bottom Line
Although Amberen is an interesting supplement formula, we can't recommend this product for long-term weight loss. There is simply no factual evidence supporting this women's menopause supplement. Furthermore, the FTC lawsuit is very concerning, and plenty of women are clearly experiencing side effects from Amberen.
Dieters who want to drop pounds and slim down quickly, you should go for a supplement that does not cause side effects, is backed by real clinical results and doesn't break your bank account.
Among the highest-rated diet products we've spotted in 2015 is Leptigen. Its proprietary blend of four ingredients have been proven in documented clinical studies to help accelerate metabolism and improve fat-loss results. Moreover, we can't find any user complaints about side effects and the customer feedback on the web reveals that dieters are seeing incredible results.
Also, the makers of Leptigen are so confident in their product they're offering a Special Trial Offer, which is a good sign.