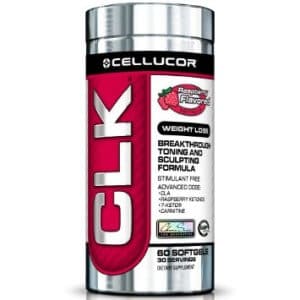 If you want the bottom line on Cellucor CLK, give me just two minutes of your time. We did one of our comprehensive reviews, examining the side effects, ingredients, clinical research and level of customer service. Plus we investigated hundreds of user comments and dieter experiences from all over the web. Finally, we summed up all of the facts and details to give you the information you need.
What You Need To Know
To begin, Cellucor CLK is one of several supplements available in the Cellucor product line. This supplement is marketed as a "stimulant free" fat loss formula that contains Slimpro Technology. According to the company website, Cellucor CLK helps you tone and sculpt your body, while getting rid of unwanted fat. You need to take three softgels in the morning and again in the afternoon. This product contains conjugated linoleic acid (CLA), L-carnitine tartrate, Razberi-K raspberry ketones and Slimpro protein.
Cellucor CLK has been available since at least 2013, and this supplement can be purchased conveniently through the official website. Both women and men can use product, and there are a few positive customer reviews posted online, but read on…
Fad Ingredient – "Something to Think About?"
One Cellucor CLK ingredient is the first concern we had. According to our Research Editor, "This supplement contains raspberry ketones as the key ingredient to help break down fat cells. However, there is no clinical research that supports this as an effective fat loss aid."
"I followed the instructions, but it doesn't work for me at all. Somehow my weight increased after I used this item," said one customer.
"I noticed zero changes in my weight, even though I maintained my diet exactly as before," mentioned another user.
Scroll below for one of the best products we've seen over the last year.
Adverse Effects – "Uh Oh"
After reading some online customer reviews it's obvious that Cellucor CLK side effects may be a problem. In fact, one person stated, "Do not buy this product! This product gave me extremely bad explosive diarrhea. I was literally running to the bathroom every 2 hours to paint the toilet bowl."
"I only took one in the morning and it made my stomach burn so much," revealed another customer.
Our research has shown if there is some particular part of a fat burner supplement or diet product that is especially bothersome or concerning (fad supplement ingredient, adverse effects, high cost) the odds of lasting weight-loss success are slim. This means if Cellucor CLK does in fact cause negative reactions, this could be problematic.
Any Real Science?
We at DietSpotlight like to see some real science that backs up the diet product and the ingredients it contains for weight-loss. However, there is no clinical research presented on the official website to support Cellucor CLK. In fact, the key ingredient, raspberry ketones, has not been proven to help with fat reduction at all.
The Bottom Line – Does Cellucor CLK Work?
Now the moment you've been waiting for: our bottom line on Cellucor CLK. Well, we like that it is easy to use anywhere and it does contain some natural ingredients. There are even a few positive customer comments posted on the official website. Then again, we have some concerns because it's not actually supported by any clinical research. Moreover, we're leery about the adverse effects that some customers have experienced.
If you'd like to shed more weight, then we encourage you to select a product that does not cause any unpleasant adverse effects, contains clinically proven ingredients for weight-loss and gives you plenty of bang for your buck.
Among the best products we've seen in 2016 is one called Leptigen. This product offers a proprietary blend of four ingredients, which have been shown in published scientific studies to help improve fat loss and elevate metabolism. We have not found any mention of harmful adverse effects and comments around the web indicate people are seeing substantial results.
The makers of Leptigen are so excited about their product they're offering a Special Trial Offer, which is very reassuring.