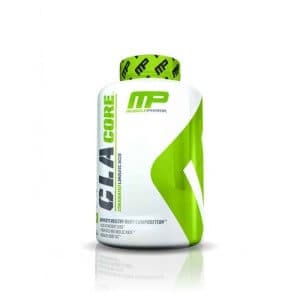 You're about to learn everything you need to know about CLA Core. We delved deep into the ingredients, side effects, clinical studies and customer service. Furthermore, we concentrated on hundreds of consumer comments and reviews. We then scrutinized and summarized to give you the info you need. We've heard from so many dieters who're tired of trying one thing about another only to end up right back at the start. After walking through everything we found, we're not positive this one will work any better.
What is CLA Core?
First off, MusclePharm CLA Core is a weight-loss supplement consisting of Conjugated Linoleic Acid, Extra Virgin Olive Oil and Avocado Oil. The recommended serving size is one to two capsules per day, which supposedly helps dieters lose more weight. One important benefit for the busiest of people is portability.
The supplement, introduced by MusclePharm in 2008, does not use synthetic ingredients, a bonus. You can buy the product on the official website and through trusted retailers. We like that there are some favorable customer comments and a money-back guarantee, but if you're looking for that definite connection with weight-loss, keep reading…
Poor Customer Service – "Hello? Anyone There?"
The first negative aspect of CLA Core service was an unwillingness to resolve concerns. "When dieters purchase supplements from a company, there's a chance there will be questions," said our Research Editor. "Customers expect exceptional care or they'll spend their money elsewhere."
"I ordered some products and did not receive them. I've contacted the company and they are refusing to assist me," commented one user.
"Muscle Pharm failed on their claim to respond to their contact us form within the 24 hour claim. I have YET to receive a response from your company," said a customer.
We looked around for positive experiences with the MusclePharm customer service department, but we were unable to find any.
Scroll below for one of the best products we've seen over the last year.
FDA Judgments –  "Is This a Concern?"
On November of 2014, MusclePharm was involved in a lawsuit about a supplement other than CLA Core. The premise of the complaint related to the amount of protein in a formula. This may not directly pertain to this product, but it's a concern because it measures the company's honesty. The issue has yet to be resolved.
Side Effects – "Any Reported Reactions?"
According to multiple consumer comments, CLA Core side effects can be troublesome.
"Started taking this with my vitamins and eating a well-balanced diet and after a week of use I notice that it got harder and harder for me to go to the bathroom," reported a dieter.
"It started giving me a rash on my face so I couldn't continue using it, unfortunately I was excited to use it as well, but I have to pass on it," said a user.
"This made me break out in pimples like crazy!," said a consumer.
Though there are some negative experiences, we can't help but share the positive ones, too.
One person said, "No side effects other than constant burping the first week or so."
"Easy to use with little to no side effects" according to another.
Our research shows that if any part of a supplement is a concern, such as side effects, dieters may not experience long-term success. If CLA Core does in fact cause reactions, the dieter, without a doubt, will go with a formula that's clinically tested and safe.
Is There Any Legit Science?
Although the official CLA Core website states the supplement aids in weight-loss, we couldn't find any published science supporting the claims. That's a shame because all the dieter wants is a product that will help them reach weight-loss goals. Having another option that may not live up to claims is a disappointment. At DietSpotlight, locating research is critical. If a company can't provide clinical studies, we move on.
Does CLA Core Really Work?
So, we gave this one the once over and after careful consideration of CLA Core, we've come to a conclusion. The positives include the money-back guarantee and the availability of the product, but we are hesitant about it because the formula is not linked to published clinical research showing a strong connection with weight-loss. Plus, we have concerns about the poor BBB rating, customer service complaints and reported side effects.
If you'd like to slim your waistline and you're tired of trying one product after another, we suggest looking for a formula with clinically tested ingredients and customer support that's strong and positive.
We've been through hundreds of products in 2016 and the best we've found is called Leptigen. The four-ingredient proprietary blend has been shown in clinical testing to help boost metabolism and fat loss, exactly what the dieter has been looking for. Reports of side effects are nearly non-existent, but customer support is through the roof as more and more people report weight-loss.
The company behind Leptigen shows confidence in the supplement by providing a Special Trial Offer, which means that extra weight is ALL you have to lose.
Leptigen orders are available with fast, reliable worldwide shipping. So, customers in India, Saudi Arabia, or others, can choose a country from the drop-down menu on the order page – it's really that simple!