Updated: 09/29/2015 - Sponsored by Leptigen
Dexaprine Review - Does This All-Day Thermogenic Really Work?
Are dangerous ingredients and serious side effects deal breakers?
PUBLISHED: 08/23/2015 | BY: SUMMER BANKS, SENIOR REVIEWER
Editor
's Review:
3.5
/ 5.0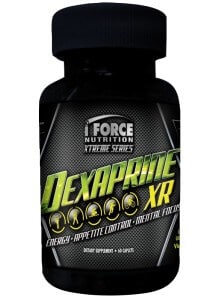 There's been a lot of buzz about Dexaprine thermogenic fat-burner, so we did some serious research and created a detailed review, examining the side effects, ingredients, scientific studies and customer-service quality. We additionally read through dozens of user reviews and customer responses from around the web. Finally, we summed up all of the facts and specifics to give you the information you need.
EDITOR'S TIP:
Substitute Dexaprine with a proven fat burner such as
Leptigen
for better results.
What You Need To Know
Dexaprine is advertised as an all-day thermogenic fat-burning powerhouse. This product is made by IForce Nutrition, which is located in Vista, CA. With this supplement, you only need to take one capsule each day. According to the website, Dexaprine helps minimize hunger pangs, elevate mood, target fat and provide extended energy all day long. The ingredients used in this supplement are; Acacia Rigidula Extract, Citrus Aurantium (contains Synephrine), Caffeine Anhydrous, Green Tea Extract, Isopropyloctopamine and Rauwolfia Serpentina.
Dexaprine has been available since 2012 and can be used by women and men alike. It's convenient that this supplement only has to be taken once each day, and it can be acquired online for $28.99, but read on…
Dangerous Ingredients – Look Out!
According to our Research Editor, "Dexaprine contains Synephrine, which is known as a cousin to Ephedra. This ingredient may cause rapid heartbeat, increased blood pressure, jitters, heart attack or stroke."
One customer commented, "I took one full capsule today morning on empty stomach and the result was too bad. I had irregular heart race and felt restless."
"I literally felt like my heart was going to explode any second. My sitting heart race was insanely fast, I was scared to even check my pulse for the fear of panicking and making my pulse go up even more," said another user.
Scroll below for one of the best products we've seen in 2015.
Serious Side Effects – Be Careful
We have noticed a lot of customer complaints regarding serious adverse effects. In fact, one customer complained, "I just felt really horrible and couldn't stop my heart from racing and felt like puking my brains out."
Another user said, "This is a totally horrible product. I took it threw up within in an hour. My heart started racing, I got nauseated while I was taking a shower, vomited
several times. Made my hands shake and then I broke into a brief sweat took several hours to feel its effects go away."
The research we've done has shown that if there is a certain facet of a fat-burner pill or diet program that is very burdensome (a painful/difficult exercise routine, dangerous ingredients, serious side effects) the probability of extended weight loss is low. In other words, if Dexaprine does cause serious side effects in a lot of users, this could be quite problematic.
The Science
While there is a thorough explanation of the ingredients used in Dexaprine provided on the official website, we did not locate any real science. Unfortunately at DietSpotlight, we need to see actual clinical research that supports the diet product and its key ingredients for weight loss. Here we see a big red flag.
The Bottom Line
Some people will appreciate that Dexaprine is boasted as a hardcore fat burner, but you need to keep in mind the negative customer reviews posted online. It's clear that this supplement contains a potent ingredient blend, but the adverse effects people have experienced are quite frightening. Therefore we do not recommend Dexaprine for safe weight loss.
Dieters that wish to shed pounds of fat more quickly, we encourage you to try a diet supplement that contains safe ingredients, does not cause adverse effects and is backed by real clinical studies.
Among the finest weight loss products we've come across in 2015 is Leptigen. This diet pill contains a proprietary blend of four ingredients, which have been proven in documented clinical studies to help increase fat loss and elevate metabolism. Moreover, we were unable to find any talk of unpleasant side effects and user feedback found online shows people are seeing significant results.
Also, the makers of Leptigen are so confident in their product they're offering a special trial offer, which is a good sign.