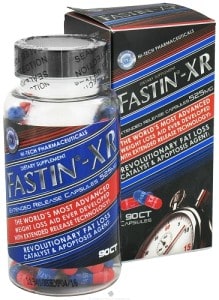 We're hearing a lot of buzz about Fastin-XR, so we dove deep into the ingredients, side effects, customer service and clinical research. We collected comments from hundreds of user reviews and statements. Then, we gathered, condensed and summarized to give you the info you need.
What is Fastin-XR?
First off, Fastin-XR is a weight-loss supplement that contains caffeine, 1,3 dimethylamylamine, methylsynephrine and two forms of phenylethylamine. You take up to three capsules a day and that's supposed to boost energy and help you lose weight. You'll have no trouble taking this one with you, a good thing.
The product, introduced by Hi-Tech Pharmaceuticals after the company started in 1993, lists some of the ingredients online, a positive. We like that some customers report results and the BBB rating is an "A-", but read on…
Side Effects – "A Major Issue?"
The first issue deals with Fastin-XR side effects. We found more than a few reports of dieters noticing significantly negative changes after taking the supplement. "There are a few ingredients in the formula with some clinical support," explains our Research Editor. "But, the user has to take into consideration the parts that may cause problems as they take precedence over any positive."
"I was very positive when purchasing this based on the reviews but when I took 1 tablet, my heart was racing. I thought it would jump out of m throat! I then tried 1/2 tablet and still the same result," explains a dieter.
"I tried a whole tab and I thought my heart rate was way too fast," says a user.
Another describes something different, "It made my heart race, but I realized I was taking too many. Cut down to one and I was okay."
Scroll below for one of the best products we've seen over the last year.
FDA Action – "What's That About?"
Hi-Tech Pharmaceuticals has been the subject of multiple FDA investigations. The latest letter was sent to the company in April 2015. According to the communication, several products, including Fastin-XR were mislabeled. They were told to stop selling all supplements claiming acacia rigidula was a source of Beta-methylphenethylamine. We checked the official website and it appears they have complied with the order.
Ineffectiveness – "Not Effective?"
Hi-Tech Pharmaceuticals claims the supplement is the "strongest and most technologically advanced diet aid ever developed." That's some pretty big shoes to fill, considering Fastin-XR ingredients may not be effective. "After giving the product a full month I found it pretty worthless," offers one user.
"I am a trainer therefore I know what it takes to lose weight, I am not one of those people who expect a miracle pill, however i have not shed 1 pound," says a consumer.
A disappointed dieter explains, "I have been on this for 30 days and have been watching my intake. I haven't lost a pound, in fact I gained a couple. I do not recommend this product, I am going to try something else."
We found that some Fastin-XR reviews offered another side of the story. "Jump starts the energy, but nothing too terribly bad," said a customer.
"No negative side effects so far," offered another.
Based on our research, it takes one thing, like side effects, to ruin your chances of long-term success. If Fastin-XR causes jitters and shakes, among other reactions, the dieter may well stop taking it within a few days.
The Science – "Where's the Proof?"
All you get from Hi-Tech Pharmaceuticals is a long description packed with product claims. We didn't find a single reference to clinical studies. We were able to locate research supporting caffeine as a metabolism-booster, but it didn't point toward this formula. Both synephrine and 1,3 dimethylamylamine are associated with some pretty harsh side effects like increased heart rate and increased blood pressure. The fine print for Fastin-XR does say it can cause issues with BP and it may interact with medications.
The Bottom Line – Does Fastin-XR Work?
So, what's the final word on this one? We were quite interested in taking a closer look at Fastin-XR. The supplement does offer a decent price and Hi-Tech Pharmaceuticals has been around for more than 20 years, but we have some reservations about supporting a product that potentially causes side effects with ingredients that are not clinically proven. We're also concerned with the FDA's interest in the company and the fact that they are currently involved in a lawsuit with the FTC.
If now is your time to lose weight, we suggest going with a supplement that gives you clinically proven ingredients that's not in the cross hairs of any government agency. It is a huge benefit if there are no side effects, either.
Among the best products we've seen in 2016 is one called Leptigen. The formula consists of four ingredients in a proprietary blend supported by clinical research showing it helps boost fat loss and spark metabolism. We've not found a single dieter talking about adverse side effects, but we found plenty telling others about seeing great results.
Also, the company that makes Leptigen is confident in the product so they're offering a Special Trial Offer, a rarity.