Updated: 09/29/2015 - Sponsored by Leptigen
Fat Killer Review - Does This Diet Pill Actually Work?
Are hefty price tag and lack of real science deal breakers?
PUBLISHED: 09/12/2015 | BY: SUMMER BANKS, SENIOR REVIEWER
Editor
's Review:
3.1
/ 5.0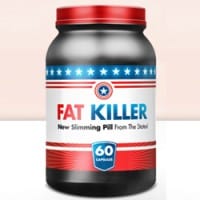 There's been plenty of chatter about Fat Killer diet pills, so we wrote a comprehensive review, examining the ingredients, side effects, customer care and clinical studies. Plus we took a look at dozens of dieter comments and user reviews found all over the web. Finally, we compacted the data we found to give you the imperative information you need.
EDITOR'S TIP:
Substitute Fat Killer with a proven fat burner such as
Leptigen
for better results.
What You Need To Know
Fat Killer is a European weight loss supplement that appears to be made in Austria or Germany. This diet aid is primarily marketed at women. Fat Killer capsules contain the following; Vitamin B5, Garcinia Cambogia, African Mango, Green Coffee Bean, Guarana, L-Carnitine, White Willow Bark, Green Tea Extract and Korean Ginseng. This "slimming pill" is claimed to burn off fat three times faster and target problem areas such as the midsection. It should be taken daily (two capsules) for maximum results. No specific diet or exercise plan is mentioned with this supplement.
Fat Killer has been around since 2013, and it does contain some natural ingredients. Also, this supplement is for people of all sizes, and it provides antioxidants, but read on…
The Price Tag – Ouch!
"It looks like the actual cost of Fat Killer diet pills, after shipping and handling, is about $100 per bottle, which is a one-month supply. This is certainly not affordable for many people trying to lose weight," says our research editor.
According to one dieter, "Too expensive for me, and I can't even tell if it works."
Another user said, "Better off just eating less. It's a lot cheaper."
Scroll below for one of the best products we've seen in 2015.
Lack of Real Science
From what we gathered, there is no clinical trial research provided to support the claims made about Fat Killer diet pills. One customer stated, "Are you sure this pill actually works??"
"Don't see the weight loss! It's been four weeks now!," said another dieter.
Our research has revealed if there is some individual facet of a diet pill or fat-loss program that is very concerning (serious side effects, high price, no real science) the chances of real weight loss success is quite minimal. Therefore, if Fat Killer pills do not yield real weight loss results in numerous people, this could be a big problem.
The Science
There is no real science or clinical studies presented to support Fat Killer diet pills. In fact, we could not even locate an official website, which means this weight loss product has likely been discontinued. Here at DietSpotlight, we need to see actual scientific studies to support the diet product's weight loss claims.
The Bottom Line
It's important to be cautious when shopping around for a weight loss product. The reality is many of them are not backed by any real research. This appears to be the case with Fat Killer pills. We also noticed that this weight loss aid contains fad diet ingredients such as Garcinia Cambogia. Moreover, there is no official website found any longer for Fat Killer.
Those who really need to shed more pounds and get into shape faster, we recommend you select a diet supplement that is both affordable and backed by actual clinical studies.
One of the most promising diet products we've come across in 2015 is Leptigen. It contains a unique blend of four key ingredients, which have been shown in documented scientific research to help kick-start metabolism and encourage more fat loss. We have not discovered any talk of negative side effects and user reviews around the internet show people are seeing excellent results.
Also, the makers of Leptigen are so confident in their product they're offering a special trial offer, which is a good sign.