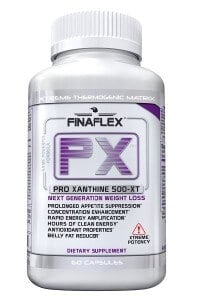 If you haven't looked carefully at Finaflex PX, now's your chance. Our in-depth review focused on the ingredients, side effects, scientific research and the quality of customer service. Additionally, we examined hundreds of user comments and experiences. Then, we summarized and refined to give you the info you need.
What is Finaflex PX?
First off, Finaflex PX is a weight-loss supplement designed to increase energy and help burn fat. The ingredients are caffeine, Irisin XD green tea extract, Theobroma cacao seed, blueberry Powder, theobromine, Advantra Z citrus aurantium, rauwolfia vomitoria, thiamine disulfide butyrate (Sulbutiamine), b-phenethylamine hcl, schisandra chinensis (Schizandrol A) and hordenine hcl. The suggested use is one capsule, once or twice per day. You'll take one upon waking and the other about six hours later. The company recommends not using for more than 45 consecutive days.
Finaflex PX is produced by Finaflex. The company was founded in 2008. The online store as well as trusted retailers sell the supplement. We like that we found some positive customer comments and that it contains a few natural ingredients, but read on…
Lack of Results – "Any Weight-Loss?"
The first concern was the lack of results from Finaflex PX ingredients. "The ingredients are rather promising," said our Research Editor. "But, a solid profile doesn't always equate to weight-loss."
"No weight loss for me, just an abnormal amount of pent up energy," said one user.
"Finaflex PX seems to work for some people, but my body just doesn't react to it the way others do. I haven't lost a single pound, but I do have more energy," explains another.
This idea of a boost is something we found time and again. According to one user, "One pill is all you need for nice clear energy."
Another shares, "I do have a boost in energy. This energy mellows out throughout the day."
Scroll below for one of the best products we've seen over the last year.
Negative Finaflex PX Side Effects – "Another Concern?"
We searched Finaflex PX side effects to see what customers had to say. "I had to cut back to half the recommended dosage to minimize the negative side effects from the stimulants," said a user.
Another commented, "I started with this supplement with high hopes, but after 2 weeks of nothing but a high heartbeat, I had to stop taking Finaflex PX completely."
You have to look at both sides of the story, right? Well, as one dieter put it, "The first couple days of this made me a bit jittery, but after that I was fine."
Another revealed, "Gave me a 'pick me up' without feeling jittery."
Our research shows that when any part of a weight-loss supplement is concerning, like being connected to adverse reactions, long-term success may be reduced. So, if Finaflex PX causes negative side effects, this could be problematic.
The Science – "Legit?"
Finaflex PX is proven to help you lose weight, according to the company's website. Unfortunately, the clinically proven ingredients, like green tea and caffeine, can be purchased for a fraction of the cost of this supplement. No dedicated studies were found that pertained exclusively to Finaflex PX. Being able to find credible scientific information is important to us at DietSpotlight having no definitive proof is discouraging and disappointing.
The Bottom Line – Does Finaflex PX Work?
Alright then. What's the word on this supplement? There are several things to be excited about with Finaflex PX. The longevity of the company, the professional website and easy to find products, but we feel hesitant putting our stamp of approval because of the lack of scientific data behind the weight-loss claims. We're also concerned about the negative side effects listed in many reviews and the absence of a money-back guarantee
If you'd like to slim down and get to your goal weight, we suggest trying out a supplement that does have the scientific research that Finaflex PX is missing. A product with published data, clinical studies and real-life reviews backing up its weight-loss claims without the negative side effects.
Among the best products we've seen in 2016 is one called Leptigen. This formula contains a proprietary blend of four ingredients that have all been studied in clinical trials and proven to boost weight-loss by improving metabolism and encouraging fat burning. We've looked at online reviews for this supplement and are unable to find any complaints about unintended side effects or problems, but we were able to find quite a few reports of dieters seeing great results.
Right now, the makers of Leptigen are even offering a Special Trial Offer. It's always good to see a company stand behind their product, so this is a good sign.