Updated: 09/29/2015 - Sponsored by Leptigen
Finaflex PX Review - Does This Weight Loss System Work?
Are lack of results and negative side effects deal breakers?
PUBLISHED: 09/16/2015 | BY: SUMMER BANKS, SENIOR REVIEWER
Editor
's Review:
3.5
/ 5.0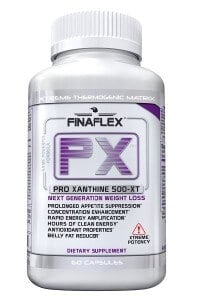 Finaflex PX is a fairly new weight loss supplement, and we've heard a lot about it recently. Because of the interest in this new product, we decided to take an in-depth look at Finaflex PX, and do one of our detailed reviews. We looked at the ingredients, any negative side effects, the science behind this product, and the quality of their customer service. We also scoured the web for reviews and comments to see what actual users had to say about this weight loss supplement. This DietSpotlight review has all the information you need summarized and condensed for easy reading.
EDITOR'S TIP:
Substitute Finaflex PX with a proven fat burner such as
Leptigen
for better results.
What You Need to Know
Finaflex PX is a weight loss supplement designed to increase energy and help burn fat. The supplement takes advantage of a proprietary blend of ingredients that includes caffeine, green tea, blueberry extract, Methyl Synephrine, Schizanadrol A, and several other mood elevators and stimulants. Each does does contain over 400mg of stimulants, which can be too much for those sensitive to caffeine. The capsules are convenient and easy to take, and they're designed to be taken 2 pills per day, meaning that one $30 bottle will last about a month.
Finaflex PX is produced by Finaflex, and the PX stands for Pro Xanthin. This company has been around for several years, which is an encouraging sign. They also offer a wide variety of products to help supplement this particular product, and all of their products are readily available online, and via the Finaflex official website. Finaflex has a good overall rating with consumers, and many positive reviews online, but read on…
Lack of Results
As is typical with weight loss supplements that rely on high dosages of stimulants, many users complained about their lack of weight loss when using Finaflex PX. "Because of the high dosage of stimulants," said our research editor. "Finaflex PX is helpful to some trying to lose weight, but ineffective in others. It all depends on how individuals react to stimulants." Finaflex does not offer a money back guarantee on their products, and if the results are mixed, it can be risky banking on this product as your weight loss supplement.
"No weight loss for me, just an abnormal amount of pent up energy," said one user.
"Finaflex PX seems to work for some people, but my body just doesn't react to it the way others do. I haven't lost a single pound, but I do have more energy," said another.
Scroll below for one of the best products we've seen in 2015.
Negative Side Effects – Another Concern
Along with typical results, we also like to look at typical side effects to see how the average user copes with any supplement. Unfortunately many people online did see some type of negative side effects including a racing heartbeat, jitters, and perspiration. For those sensitive to caffeine or other stimulants, Finaflex PX may prove to be too potent to take at the recommended dosage. "I had to cut back to half the recommended dosage to minimize the negative side effects from the stimulants," said one review
Another had to stop altogether: "I started with this supplement with high hopes, but after 2 weeks of nothing but a high heartbeat, I had to stop taking Finaflex PX completely." Some people saw better results when mixing a minimal dosage of this supplement with another weight loss supplement to combine the benefits and minimize the unintended side effects: "I started taking one capsule a day, in addition to my existing routine, and did see some slow but consistent results," said one positive review.
Our research shows that when a weight loss supplement, diet, or exercise routine has something more difficult or troublesome than usual (painful/difficult workout, pills that make you jittery, lack of immediate results, etc.), the likelihood of losing weight and keeping it off is slim. If Finaflex PX really does cause jitters because of the high stimulant content, this could be problematic to many trying to lose weight.
The Science
Finaflex PX is "scientifically proven" to help you lose weight according to the company's website. Unfortunately, it's also scientifically proven to be ineffective in helping you lose weight. There have been multiple studies about the effectiveness of this diet supplement, and while some studies have produced positive results, others have produced no results at all. This conflicting data makes it hard to ascertain whether positive results come from a lifestyle change, or from Finaflex PX. In order to find out, a double blind study would need to be conducted to see how well Finaflex PX performs when compared to a placebo, but no such study with a large enough sample size exists. Being able to find credible scientific information is important to us at DietSpotlight, so having conflicting studies, like we do for Finaflex PX, is discouraging and disappointing.
The Bottom Line
There are several things to be excited about with Finaflex PX. The longevity of the company, the professional website and easy to find products, and the affordability of this product make it seem like the ideal choice for anyone trying to lose weight, but we cannot put our stamp of approval on this product because of the lack of scientific data behind the weight loss claims. We're also concerned about the lack of results that actual users have seen, the negative side effects listed in many reviews, and the absence of a money back guarantee
If you'd like to slim down and get to your goal weight, we suggest you start taking a supplement that does have the scientific research that Finaflex PX is missing; a product with published data, clinical studies, and real-life reviews backing up its weight loss claims without the negative side effects.
So far in 2015, one of the products we've been hearing a lot of good things about is a product called Leptigen. This product contains a proprietary blend of four ingredients that have all been studied in clinical trials and proven to boost weight loss by improve metabolism and encouraging fat burning. We've looked at online reviews for this product, and are unable to find any complaints about unintended side effects or problems with Leptigen.
Right now, the makers of Leptigen are even offering a special trial offer. It's always good to see a company stand behind their product, so this is a good sign from the makers of Leptigen.