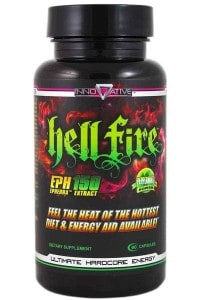 There's been a lot of discussion about Innovative Hellfire as an alternative to banned drugs, but does it work? We cut through the noise to get to the facts behind this supplement. We looked at the ingredients, side effects, research, customer service, and more. We also read hundreds of reviews from confirmed users and compiled what we found into an easy to read review.
EDITOR'S TIP:
Click here
to combine Innovative Hellfire with a proven testosterone booster such as Pronabolin for better results.
What You Need to Know
Innovative Hellfire is a diet supplement designed to mimic the effects of banned substances. It provides energy and supposedly helps burn fat with ingredients like caffeine, green tea, tannins, vasicinol, peppermint, PEA HCL, and more. There are several known stimulants that do provide additional energy, and the pills are easy to take.
Innovative Hellfire came around several years ago after Ephedra was banned. The product mimics the effects of Ephedra and has some of the same effects on dieters. Some early recipes for Innovative Hellfire may have even included Ephedra, and the website is unclear as to whether or not it is included now. We like that this product is easy to find online, is affordable, and offers some ingredients that do provide energy, but read on…
Lack of Results–Too Much Work for No Results?
When researching a new supplement, the first thing we look at is how much weight people lose with the product. "Many reviewers saw only minimal weight loss that could be attributed to weight fluctuation or water weight," said our research editor. "Very few people see significant weight loss with Innovative Hellfire."
"I stuck with it through the whole bottle, but I only lost 2 pounds in 2 months," said one user.
"This seems to work for some, but I didn't see any results," said another.
Scroll below for one of the best products we've seen over the last year.
Harmful Side Effects–A Serious Concern
Because Innovative Hellfire intends to mimic the results of a banned product and a banned ingredient, we were concerned about the side effects that this could cause. Sure enough, the high quantities of stimulants led many dieters to complain about heart palpitations, excessive sweating, jitters, shakiness, and more. Innovative Hellfire has also been indirectly linked to heart and liver failure when taken long term. "I've been sweating a lot and am getting dehydrated with this product," said one customer.
"Innovative Hellfire caused jitters and insomnia in me," said another. Some dieters offered advice but still urged caution when it comes to the health concerns: "If you're going to take this at all, start slow. The side effects are nothing to take lightly," said one person.
Our research shows that diet pills with particularly troublesome elements (bad taste, lack of results, harmful side effects, etc.) are less likely to lead to sustained results and long-term weight loss. If Innovative Hellfire really does have several unintended side effects, it could be difficult for dieters to lose weight and keep it off with this product.
The Science–Enough Evidence?
Innovative Hellfire does have some known benefits. The caffeine and green tea extract are known for providing increased energy, but they also can cause harmful side effects if the quantities are too high. Because it is a proprietary product, the exact amount of each ingredient is unknown, and we're unable to find out if there is enough of each ingredient to be helpful or too much of the ingredients to cause side effects. We also were concerned with the lack of studies that featured this product. We value third-party research and unbiased studies, and without that, it's difficult to know if this product is safe enough to take and if it really does offer weight loss results.
The Bottom Line–Is It Worth the Risk?
We were excited to review Innovative Hellfire because the company has been around for a while, the product is affordable, and it does offer known stimulants, but we're concerned about the lack of scientific research behind their formula and the lack of clinical studies featuring the product. We're also concerned about the harmful side effects seen in a majority of reviews and the possible inclusion of a banned ingredient.
If you'd like a safe way to lose weight, we suggest you go with a product that has minimal ingredients without fillers and is supported by published scientific research.
Among the best products we've seen in 2016 is one called Pronabolin. With a proprietary blend of four ingredients, Leptigen minimizes unintended side effects. The ingredients have also been featured in clinical studies and published research, and this product has been proven to be an effective weight loss tool by helping dieters burn fat and boost their metabolism. Users seem to agree that it offers proven weight loss without any known health concerns.
Right now, the makers of Leptigen are showing just how confident they are that you'll lose weight by offering a special trial offer.