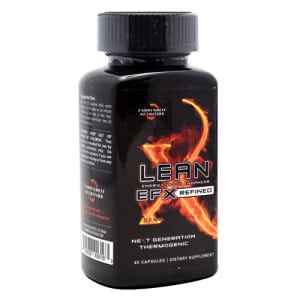 We're all searching for the right diet product. There's intrigue surrounding Lean EFX, so we concentrated on ingredients, side effects, clinical studies and customer service. Furthermore, we scrutinized hundreds of consumer comments and reviews. We then condensed and refined to give you the info you need.
What You Need to Know
First off, Lean EFX is a fat reducing pill, containing caffeine, cassia nomame, taraxacum, green tea extract, bearberry, thiamine disulfide, 1,3 dimethylamylamine, phyllanthus emblica, bitter orange, 5-hydroxytryptophan, n-acetyl tyrosine, ginseng. The recommended serving is one to two capsules per day, which supposedly increases weight-loss. One benefit is you can take the supplement on the go.
The product, introduced as a weight-loss supplement in 2009 by Fahrenheit Nutrition, doesn't appear to contain artificial ingredients, a good start. You can buy the dietary aid on the official website and through trusted retailers. We do like that there are some positive customer comments, but read on…
Side Effects – "Worrisome?"
The first concern we had was Lean EFX side effects. "When dieters take a supplement containing caffeine, there is a chance they will feel more alert or energetic," said our Research Editor. "If a formula, such as Lean EFX, contains multiple stimulants, that could cause negative reactions."
"I took my first pill at about noonish and 10 to 15 mins later had the most severe allergic reaction I have ever had. I called someone immediately to take me to the ER. Reaction included: dizziness, stomach curl/cramps, sweating, fast heartbeat, itchy skin, burning skin, blotchy, welts, hot, shivering/shaking, thirst, body swelling, later came throat closing, heavy breathing, extreme exhaustion.," said one customer.
"Approximately 15 mins after taking it she came out red all over. It was like she had been severely sun burnt. She describes the feeling as the same, her skin was burning. Even the whites in her eyes had started turning red due to the amount of blood going to them. She had the chills through her body and most of her body was pretty warm," offered a user.
Scroll below for one of the best products we've seen over the last year.
FDA Warnings
In April of 2012, Fahrenheit Nutrition was contacted by the Food and Drug Administration about Lean EFX and 1,3-dimethylamylamine. The letter states the ingredient is generally considered unsafe as it "narrows the blood vessels and arteries, which increases cardiovascular resistance and frequently leads to elevated blood pressure." The product has since been refined to meet government expectations, but the old formula is still being sold.
Ineffectiveness – "A Consideration"
We found more than a few customers claiming Lean EFX ingredients weren't effective. "I haven't lost any weight I have only been taking it for five days," reported a dieter.
"After taking it for about 3 days or so, any time after that it hasn't really seemed to have the same effect. No energy boost and no curb in my appetite," commented a customer.
"I started taking this this morning with a healthy day of food. I don't feel any different," said a user.
The Science – "Proven Effective?"
The official website states Leaf EFX is "formulated to help reduce body fat and sculpt your body", but we can't find published clinical research supporting these weight-loss claims. At DietSpotlight, finding studies linking ingredients to losing weight is critical. If a company can't provide the facts, why bother buying it?
The Bottom Line – Does Lean EFX Work?
Give me a drum roll ladies and gentlemen. After careful consideration about Lean EFX, we've come to a conclusion. The product has some positives, like some favorable customer comments and the availability of the supplement, but we have issues with recommending it because of the lack of scientific research supporting weight-loss claims. Plus, we're concerned about the FDA judgments against the company and the potential negative side effects.
If you'd like to drop the pounds, we suggest going with a product that is both effective and free of side effects. The price should be affordable, as well.
Among the best products we've seen in 2016 is one called Leptigen. The formula contains a proprietary blend consisting of four ingredients, which has been shown in published clinical studies to help ignite metabolism and boost fat loss. We haven't heard anyone talking about negative side effects and reviews around the web show customers are seeing excellent results.
The company making Leptigen, in a show of confidence in the product is offering a Special Trial Offer, which is a good decision.