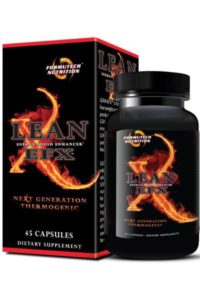 We're all searching for the right diet product. That's why we decided to concentrate on Lean EFX side effects, ingredients, clinical studies and customer service. Furthermore, we scrutinized hundreds of consumer comments and reviews. We then condensed and refined to give you the info you need.
What is Lean EFX?
First off, Lean EFX ingredients are caffeine, cassia nomame, taraxacum, green tea extract, bearberry, thiamine disulfide, 1,3 dimethylamylamine, phyllanthus emblica, bitter orange, 5-hydroxytryptophan, n-acetyl tyrosine, ginseng. The supplement promotes weight-loss by helping you reduce body fat. The recommended serving is one capsule per day. The company does suggest not using for more than 45 consecutive days.
Lean EFX was introduced as a fat burner by Formutech Nutrition in 2009. You have the ability to purchase the supplement through the official website and trusted retailers. We do like that we found some positive customer comments and that it contains a few natural ingredients, but read on…
Side Effects – "Not the Good Kind!"
The first concern centered on Lean EFX side effects. "When dieters take a supplement containing caffeine, there is a chance they will feel more alert or energetic," said our Research Editor. "But, a formula containing multiple stimulants could cause negative reactions."
"I took my first pill at about noonish and 10 to 15 mins later I was dizzy and had a headache," said a dieter.
"Approximately 15 mins after taking it she had the chills through her body," reported a customer.
Side effects are rare. We found some users that didn't mention negative reactions.
"Within 15 minutes you start feeling the boost, and within 5 minutes of my workout I get an intense sweat going," commented a customer.
Scroll below for one of the best products we've seen over the last year.
Ineffectiveness – "Losing Any Weight?"
According to customer comments, Lean EFX ingredients weren't effective. "I haven't lost any weight I have only been taking it for five days," reported a dieter.
"After taking it for about 3 days or so…no energy boost and no curb in my appetite," commented a customer.
On the other hand, some users did notice results. "I started taking this this morning with a healthy diet. Starting to feel the energy boost," said a user.
"The clean energy is pretty good," commented another.
Based on our years researching supplements, we've found that any particular aspect of a supplement deemed concerning, like it not producing results, could reduce the chances of long-term success. If you use Lean EFX and don't lose weight, isn't it time to consider an alternative?
The Science – "Research-Based?"
The official website states Leaf EFX is "formulated to help reduce body fat and sculpt your body", but how? The inclusion of green tea could possibly boost metabolism, but the amount isn't disclosed. But, there's no published clinical research connecting the ingredients and weight-loss. Also, the multiple stimulants in the formula are linked to serious side effects. At DietSpotlight, solid science is a critical part of the review process. If a company can't provide the facts, why bother buying it?
The Bottom Line – Does Lean EFX Work?
Is Lean EFX the right one for weight-loss? Well, we like that we found some favorable customer comments and the reasonable price, but we're concerned about this one because there's no connection between the ingredients and you losing weight. We're also a bit hesitant about suggesting it due to customer complaints about it not producing results and causing adverse reactions.
Weight-loss is a journey. On your path to success, we suggest going with a supplement containing ingredients shown to work and not connected to harmful side effects.
Among the best products we've seen in 2016 is one called Leptigen. The formula promotes weight-loss by featuring four clinically-tested ingredients, which has been shown to help ignite metabolism and boost fat loss. We haven't heard anyone talking about harmful side effects and reviews around the web show customers are seeing great results.
The company behind Leptigen is so confident in their supplement, that they're offering a Special Trial Offer; an excellent choice.