Updated: 07/21/2015
Leptigen Review: 2015 Editor's Choice
Editor
's Review:
4.8
/ 5.0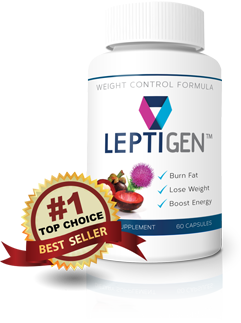 If you haven't heard the whispers, there's a new supplement that's got executives in the diet industry interested. Out of the more than 300 products we've reviewed this year, this particular supplement, a weight-control product called Leptigen, is our 2015 Editor's Choice.
First off, the formula, a proprietary blend of Meratrim, ChromeMate, Green Tea Extract and Caffeine, is backed by science, instead of the usual fluff. In fact, Leptigen references several published scientific studies to support its weight-loss claims.
For example, two placebo-controlled clinical studies published in Obesity and Journal of Medicinal Food, both prestigious peer-reviewed journals, showed the effectiveness of Meratrim, one of Leptigen's main ingredients. Combined results demonstrated significant reduction in weight, as well as smaller waist & hip circumference. In fact, after just eight weeks, participants receiving Meratrim instead of the placebo steadily experienced weight loss.
ChromeMate (chromium polynicotinate), Leptigen's other main ingredient, was found in randomized, placebo-controlled studies at Georgetown University and University of Texas to support healthy blood-sugar and cholesterol levels, as well as preserve healthy body weight.
Leptigen's formula also includes Green Tea Extract, which has been shown in numerous studies, including one published in the American Journal of Clinical Nutrition, to result in sustainable weight loss, when combined with a healthy diet and moderate exercise.
Lastly, Leptigen contains a moderate amount of Caffeine to stimulate the metabolism of fatty acids, but without an unpleasant jittery feeling.
In addition to the proprietary formula backed by science, it's worth noting the makers of Leptigen have been in business for seven years and have sold to over 200,000 customers. Their long-term success in this industry is borderline inexplicable so we decided to ask the company's Chief Marketing Officer his secret.
"It's not complicated," said the CMO. "We sell a great product backed by science. Customers are smart – if you create a product that can benefit millions of Americans and it works, it's going to sell. That's what we've done here."
Despite early success, Leptigen hasn't been perfect. Because the product's key ingredient is a rare combination of plant extracts known as Meratrim, being able to keep up with the demand has been a challenge. "It's a good problem to have, but one we struggle with everyday," said the CMO. "Reality is, the supply is limited and keeping up with our customers isn't easy. As we continue to work out the kinks in our supply chain, the best advice I can offer at the moment is if you see it, buy it, before you miss your opportunity. I think you'll be impressed by the results."
As it turns out, unlike many other weight-control supplements, combined with exercise and a healthy diet, within a short amount of time, Leptigen helps:
Support accelerated fat loss
Diminish weight-loss plateaus
Boost metabolism
The makers of Leptigen are so confident in their new product they're offering every customer a 120-day money-back guarantee and multiple-bottle discounts. If you're interested in trying Leptigen, feel free to click here. If you are not able to buy it online now, you can check back in a few weeks to see if supplies have been replenished.
GD Star Rating
loading...