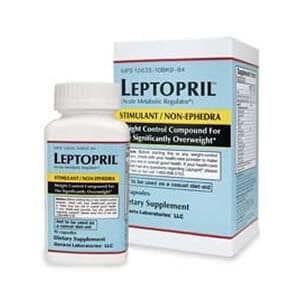 My love of diet products is bested only by my passion for reviewing them 🙂 For Leptopril, we wrote and in-depth review, examining the side effects, ingredients, customer-service quality and scientific research. Furthermore, we read hundreds of dieter comments and reviews posted online. At this point, we summed up the information we found to give you the bottom line.
EDITOR'S TIP:
Click here
to substitute Leptopril with a proven fat burner such as Leptigen for better results.
What You Need To Know
First off, Leptopril contains green coffee bean, caffeine, schizonepeta tenuifolia SE, rhodiola rosea, L-alanine, L-valine, L-methionine, L-cysteine, L-leucine, L-isoleucine, L-glutamine, coleus forskohlii root, forsythia suspensa vahl and green tea leaf. This diet pill is marketed specifically to individuals who are considered obese or significantly overweight. It's described as an "acute metabolic regulator" that helps with weight control. In order to use this formula, you simply take two capsules with lunch and dinner. The bottle is portable and east to travel with.
Leptopril was released back in 2010, touted as an alternative to prescription diet pills. This weight-loss supplement is made by Generix Laboratories, and it can be purchased via the website for $74.99 for a one-month supply. Also, there are user reviews posted on retail websites, but read on…
No Real Science – "A Problem?"
The first issue we came across with Leptopril ingredients was lack of support. "Even though studies are mentioned, there is no elaboration. Put simply, we didn't find any documented clinical research to back this diet aid," says our Research Editor.
One user stated, "I've yet to see any results that these supplements claim. Wouldn't waste my money."
Another customer said, "Did not loose any weight. Would not recommend this product to anyone."
Scroll below for one of the best products we've seen over the last year.
Side Effects – "Yikes!"
There have been many customers who've complained about adverse effects from taking Leptopril capsules. One dieter said, "Made me feel sick from it. It gave me a rash all over and upset my stomach."
"When I take these I feel like I have sand behind my eyes and I keep falling asleep, it makes me the opposite of what it should. I gave it a week, then I even bumped it up to 2, but that made me even more sleepy," said another user.
Our research has concluded that if one particular facet of a diet program or weight-loss pill is especially concerning (side effects, lack of science, high price) the chances of long-term success are quite low. Therefore, if Leptopril does in fact cause adverse reactions for some people, this could prove to be a major problem.
The Science – "Legit?"
If you take a close look at the company website for Leptopril, you will see that studies are mentioned in the FAQ section. Unfortunately there's nothing more than this statement available. You have to take into consideration the fact that green tea leaf is clinically proven, but that's not enough to set this one apart from other similar formulas. At DietSpotlight, we absolutely have to see documented science regarding a weight-loss supplement, and the ingredients it contains, or else we can't support the product.
The Bottom Line – Does Leptopril Work?
Drum roll please. So, what's the final take on this one look like? Some people will appreciate that Leptopril is for seriously overweight individuals and not casual dieters, but we have reservations about giving this one our support, because no real science backs product claims. Furthermore, this diet pill is pretty expensive to not come with any money-back guarantee. There are not even any customer testimonials posted on the website.
If you'd like to shed some serious weight and get fit, we recommend you try going with a diet supplement that contains safe ingredients, does not cost a fortune and is backed by real science.
Among the best products we've seen in 2016 is one called Leptigen. This diet formula contains four important ingredients, which have been proven in documented scientific research to help increase fat loss and ignite metabolism. We did not find any mention of harmful side effects and customer reviews found online express people are seeing great results.
Plus, the company behind Leptigen is so confident in their formula they're offering a Special Trial Offer, which is a positive note.