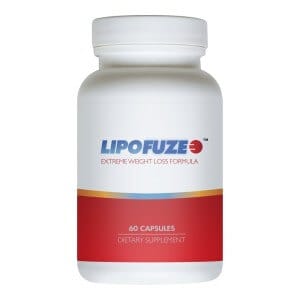 The results of my research into LipoFuze were somewhat surprising. Here at DietSpotlight we conducted an in-depth review, scrutinizing the side effects, ingredients, clinical research and level of customer service. Plus we examined all sorts of user comments from around the internet. At last, we compressed all of the data and feedback we discovered to give you the bottom line.
What You Need To Know
To start, LipoFuze is advertised as an "extreme weight-loss formula" for women and men. According to the official website, this supplement helps eliminate binge eating, burns off fat, boosts energy levels and builds lean muscles. The ingredients are Garcinia Cambogia, Green Tea Extract, Purple Tea with GHG, Natural Caffeine, Theobromine and Higenamine. It should be taken twice each day and one capsule is a serving. A healthy diet and regular exercise are encouraged.
LipoFuze is made by Synergistic Nutritional Compounds, LLC and it's been available since at least 2012. You can buy this product directly from the official website and there are a few customer success stories posted on the website, but read on…
Questionable Ingredients – "Concerning?"
The first thing that worried us with LipoFuze ingredients was the potential for side effects, but users seem to be more worried about lack of results. "We took a close look at the label and discovered that it contains Higenamine. According to WebMD, this substance can potentially cause adverse reactions," says our Research Editor. "But, it doesn't look like that's the first thing on dieter's minds."
According to one customer, "It didn't work for me at all!!! And after I took this, I felt sick…don't waste your money, try something else."
"I took this with exercise and proper diet..it gave me too much energy and when I ran it felt like my heart was going to explode," said another user.
Scroll below for one of the best products we've seen over the last year.
Too Many User Complaints!
There are quite a few customer complaints posted on dealer websites such as Amazon. One user commented, "I purchased Lipofuze and experienced extreme heartburn from the product! It did not help me lose weight either."
Another person stated, "Tried this product and felt like I actually gained weight. Don't waste your money."
Our research has proven if there is a certain aspect of a weight-loss supplement or diet program that is very troublesome (questionable ingredients, too many user complaints, high cost) the odds of long-term success are not good. Therefore if LipoFuze does in fact lead to unhappy customers, this could be problematic.
The Science – "Is There Any?"
At DietSpotlight, we prefer to see some solid science that supports the diet product we're reviewing and its claims regarding weight-loss. As for LipoFuze, there is no actual clinical research presented on the official website. We can look around and find some evidence that green tea and caffeine are worth a try, but these are available for less than $10 at your local pharmacy.
The Bottom Line – Does LipoFuze Work?
So, should race out to buy LipoFuze? Well, we like that it's is easy to purchase via the official website and there are some positive reviews posted online. However, we are a bit concerned about it because it's not backed by real clinical research. Moreover, we have some reservations about this product's ingredients and the user complaints we found posted on the web.
If you'd like to get rid of more pounds, we encourage you to select a product that does not contain any questionable ingredients and is backed by plenty of positive customer reviews.
Among the best products we've seen in 2016 is one called Leptigen. This supplement contains a proprietary blend of four ingredients, which have been clinically tested and shown to possibly help speed up fat loss and elevate metabolism. User feedback posted online indicates people are seeing excellent results.
The makers of Leptigen are so confident in their product they're offering a Special Trial Offer, which is very encouraging.