Updated: 09/29/2015 - Sponsored by Leptigen
Lipored Review - Does This Fat Burner System Work?
Are cost and negative side effects deal breakers?
PUBLISHED: 09/18/2015 | BY: SUMMER BANKS, SENIOR REVIEWER
Editor
's Review:
3.5
/ 5.0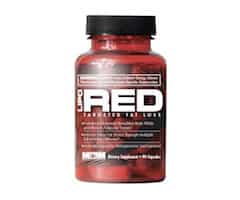 Lipored is a popular fat burning supplement used primarily for building muscle and losing fat. It's gained popularity online, so we did an in-depth review of the side effects, price point, contents, scientific studies, and customer-service quality. We also read user comments and reviews on forums and product websites and compiled what we found to provide the details necessary to make an informed decision about Lipored.
EDITOR'S TIP:
Substitute Lipored with a proven fat burner such as
Leptigen
for better results.
What You Need to Know
Lipored targets fat in order to help body builders, workout junkies, and dieters lose fat and replace it with muscle. The before and after pictures seem a bit unrealistic, but their ingredients do have research backing up their inclusion in this product. With ingredients like caffeine, white willow bark, fruit extracts, raspberry ketones, and more, Lipored offers quality ingredients in an easy to consume capsule.
This supplement has only been around for a few years, and it's produced by Max Muscle, which is a well-known company in diet supplements, but it's already growing in popularity, especially among the body building community. Their products are easy to take anywhere, seem to provide decent results when combined with other recommended products, and the company that produces them has a good reputation in the weight loss and exercise communities, but read on…
Price – "Yee-Ouch"
Our first concern about Lipored is the total cost. Each canister is designed to last 3-4 weeks, and cost $60, which is a reasonable price for a fat burning supplement. However, there are several products that Max Muscle recommends that you take with Lipored including a multivitamin, a metabolism booster, and a meal replacement supplement. "When you add the total cost of all the recommended products," said our research editor, "you're total monthly cost is closer to $200 a month." This high price tag has turned many customers away from using the recommended product combinations, and sticking with just Lipored, which minimizes the results.
"I couldn't afford the recommended products, so I stuck with just Lipored, and saw minimal results," said one user.
"The recommended stack sounds great, but I can't afford $199 a month," said another.
Scroll below for one of the best products we've seen in 2015.
Side Effects – Another Concern
Many supplements that contain stimulants can have significant side effects, especially for those that are sensitive to caffeine. Lipored has 275mg of caffeine, and is designed to be taken multiple times per day, so the high amounts of caffeine lead to some uncomfortable side effects including jitters, palpitations, excessive sweat, and more. "I took 3 pills the first day, and I was bouncing off the walls and my heart was racing," said one customer.
"These pills gave me energy to work out, but they also made my heartrate spike and made me feel restless for the rest of the day," said another. Many people had similar side effects, but some offered advice for those trying Lipored for the first time. "If you're new to stimulating supplements, start slow with Lipored, try one capsule per day and increase once you can handle that," said one helpful review.
Our researchers have seen that when there is some aspect of a diet that is abnormally difficult (painful routines, cost, negative side effects, poor taste, etc.) the likelihood of sustained, long-term weight loss is reduced. If Lipored really does cause these defects because of the high stimulant content, it could be difficult for dieters to lose weight and keep it off.
If you do want to try Lipored, our experts recommend that you start with a minimal dosage, and only increase when you know your body can handle the excessive caffeine. With each pill containing as much caffeine as 2-3 cups of coffee, it is important to start slow.
The Science
The ingredients in Lipored do have significant scientific data proving that they are effective in weight loss, but because the amounts are not listed on the bottle for each ingredient, it's impossible to know if there is enough of each ingredient to be effective. For companies that have proprietary blends, we like to see published clinical trials proving that their proprietary blend of ingredients is effective, and doesn't rely on the data provided in preexisting trials or studies. Because there is no data proving that Lipored does perform better than more affordable fat burners, we see red flags with this product.
The Bottom Line
We like that Lipored is made by a company that is well known in diet supplements, and that their products can be easily purchased online, but we can't recommend this as an effective weight loss supplement to our readers because their weight loss claims are not backed up by unbiased clinical trials. We're also concerned about the high cost of the recommended stacks, the negative side effects, and the high stimulant content.
If you'd like to lose weight without the high price tag or negative side effects, we suggest you find a supplement that is proven to be a healthy way to lose weight and is backed by published scientific research.
One of our favorite products from 2015 that has plenty of research behind it is called Leptigen. This new product has a proprietary blend of four ingredients that have been proven in published research to help dieters lose weight through targeted fat burning and increased metabolism. Leptigen has been featured in double-blind trials, and significantly outpaced a placebo in weight loss results. We've read hundreds of reviews online, and users seem happy with the weight loss results they achieve with Leptigen, and there doesn't seem to be any talk of harmful side effects.
The makers of Leptigen are so confident in their product's results, that they're offering a special trial offer for a limited time.