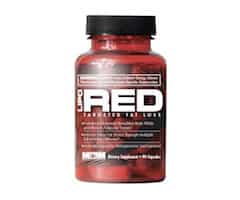 No joke – over 50% of diet products simple won't work. What about Lipored? This one has gained popularity online, so we did an in-depth review of the side effects, ingredients, scientific studies and customer-service quality. We also read user comments by the hundreds. Then, with that information in hand, we condensed and refined to give you the bottom line.
EDITOR'S TIP:
Click here
to substitute Lipored with a proven fat burner such as Leptigen for better results.
What You Need to Know
To begin with, Lipored targets fat in order to help body builders, workout junkies and dieters lose more and gain muscle. The before and after pictures seem a bit unrealistic, but some of their ingredients do have research backing up the formula. It has caffeine, white willow bark, fruit extracts, raspberry ketones and more. The capsule is easy to take with you.
This supplement has only been around for a few years and it's produced by Max Muscle, which is a well-known company. Their products seem to provide decent results when combined with other recommendations and the business has a good reputation in the weight-loss industry, but read on…
Price – "Yikes?"
Our first concern about Lipored is the total cost. Each canister is designed to last up to four weeks at a cost of $60. This is a reasonable price for a fat burning supplement, but there are several products Max Muscle recommends you take with Lipored including a multivitamin, a metabolism booster and a meal replacement. "Just one may not put too big of a dent in your wallet," says our Research Editor. "But combine them all and you've got a price tag upwards of $200."
"I couldn't afford the recommended products, so I stuck with just Lipored, and saw minimal results," said one user.
"The recommended stack sounds great, but I can't afford $199 a month," said another.
Scroll below for one of the best products we've seen over the last year.
Side Effects – "Could Mean Trouble"
Lipored has 275mg of caffeine and is designed to be taken multiple times per day. This can lead to some uncomfortable side effects including jitters, palpitations, excessive sweat and more. "I took 3 pills the first day, and I was bouncing off the walls and my heart was racing," said one customer.
"These pills gave me energy to work out, but they also made my heartrate spike and made me feel restless for the rest of the day," explains a dieter.
Our researchers have seen that when there is some aspect of a diet that is abnormally difficult (painful routines, cost, negative side effects, poor taste, etc.) the likelihood of sustained, long-term weight-loss is reduced. If there are adverse reactions associated with Lipored, that's enough reason to leave this one behind.
The Science – "Legit?"
There is some research showing that caffeine can boost metabolism and energy, but this is the most widely available ingredient on the market. There's no science saying Lipored is superior to the competition. At DietSpotlight, the clinical support is what we're looking to find. If that's not there, we wave the red flag.
The Bottom Line – Does Lipored Work?
Well now ladies and gentlemen, what's the final verdict for Lipored? We like that it is made by a company that is well known in the industry and that the products can be easily purchased online, but we are skeptical about recommending this as an effective weight-loss supplement because the claims are not backed up by unbiased clinical trials. We're also concerned about the high cost of the recommended stacks, the negative side effects and the high stimulant content.
If you'd like to lose weight without the high price tag or negative side effects, we suggest you find a supplement that is proven to be a healthy way to slim down and is backed by published scientific research.
Among the best products we've seen in 2016 is one called Leptigen. This new formula has a proprietary blend of four ingredients that have been proven in published research to help dieters lose weight through targeted fat burning and increased metabolism. Users seem to be happy with their results, based on consumer reviews and there's no mention of harmful side effects.
The makers of Leptigen are so confident in their product's results, that they're offering a Special Trial Offer for a limited time.